How Freddie Freeman and his father developed his elite swing
On most days of his childhood, Freddie Freeman and his dad, Fred, would drive to an open baseball field by their house in Orange County with a bucket of exactly 48 balls.
For about an hour, father would throw son batting practice.
And pitch after pitch, bucket after bucket, day after day, and year after year, the swing of a future MLB superstar began to take form.
"My dad didn't have a book of, 'This is what we're gonna do to make you be a major league baseball player,' " Freeman said. "It was just, my dad loves the game of baseball, and I love the game of baseball, so … we're gonna have batting practice, and we're gonna have fun."
Indeed, the making of Freeman's swing — the one that has made the Dodgers slugger a career .300 hitter over 14 seasons, that has led to seven All-Star selections and a 2020 MVP award, and that has him on track to likely one day reach the Hall of Fame — isn't the typical modern baseball story.
The left-handed hitter never had a full-time hitting coach growing up. He never devised a plan to maximize his mechanics as a rising prospect. He has never viewed his game through the data-driven, launch-angle lens that has overtaken the sport during his time in the majors.
Instead, he crafted his trademark, line-drive, opposite-field approach through simpler methods — starting with the near-daily batting practice sessions with his dad.
Every time they went to the field, Fred would throw Freeman three buckets' worth of balls. On the first bucket, Freeman would try hitting exclusively to left field. The second, he would attempt to line back up the middle.
Only on the third bucket would Freeman go to all parts of the diamond, launching the 48 balls from foul line to foul line. But even then, as Fred recalled, "he usually just ended up hitting them to left field anyway," setting an early foundation that continues to guide Freeman's approach at the plate.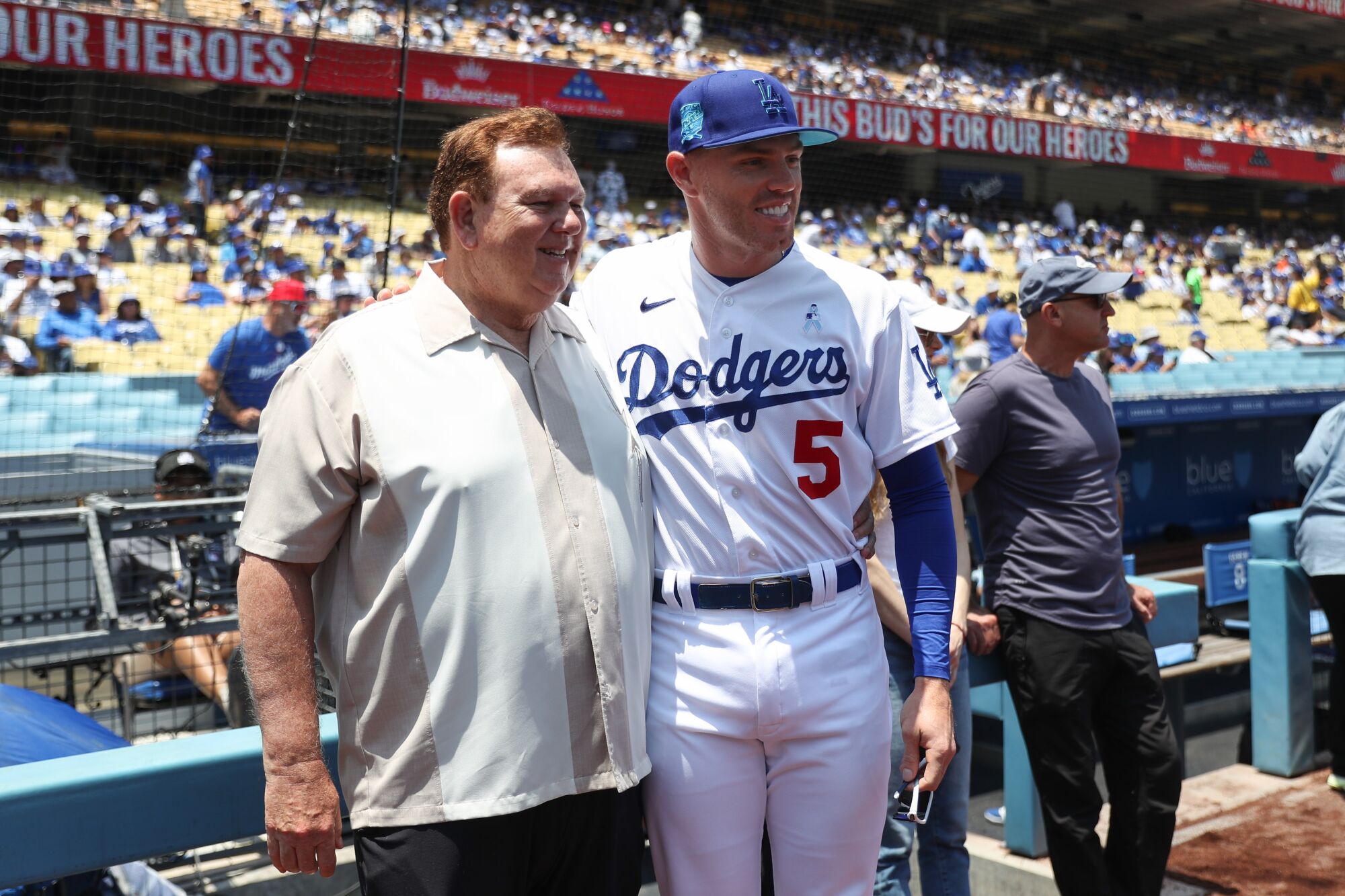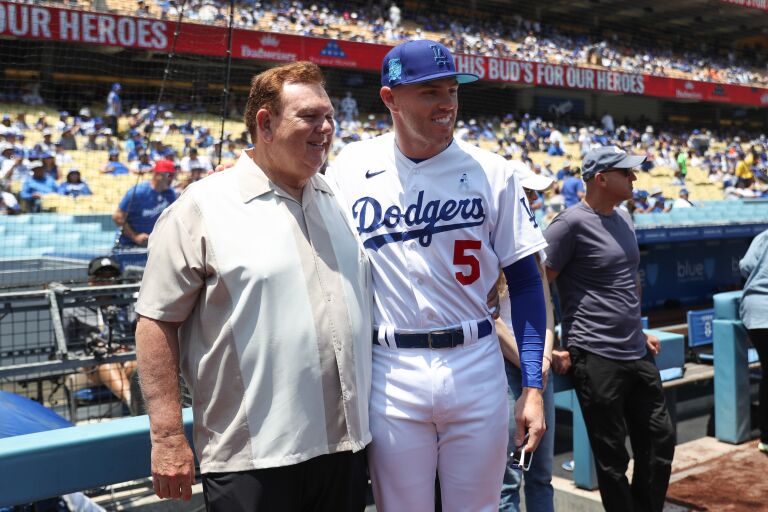 "Little did we know we were creating my base swing, which is obviously left-center," Freeman said recently, twirling a bat in his hands during an interview in the Dodgers home dugout. "The only thing we were gonna work on is, making sure I hit the ball the other way."
Decades later, it has given Freeman one of MLB's most envied swings — a compact, consistent motion that has remarkably remained nearly unchanged since the 33-year-old first baseman broke into the league.
"I'm jealous of guys like Freddie, who's had the same swing his whole career," teammate Chris Taylor said this spring, contrasting Freeman with many other big leaguers (including Taylor) who have to constantly tinker with their mechanics to sustain prolonged success.
"Guys like that, they're gifted," Taylor added. "Not to say he doesn't work his ass off. But he was gifted to hit. And he has a great swing."
This year, it is culminating in perhaps Freeman's best all-around performance.
He is batting .333, which would be his best over a full-length campaign and the highest by a Dodgers hitter since Adrian Beltre in 2004. He is on pace to eclipse the 200-hit mark for the first time, closing in on one of the few offensive objectives he has yet to achieve.
With 23 home runs, 83 RBIs and an MLB-best 45 doubles (10 more than any other player), Freeman is also in the thick of the MVP race.
Entering Sunday, he ranked third in the National League in on-base-plus-slugging percentage (.986) and Fangraphs' version of wins above replacement (5.9), trailing only ex-Atlanta Braves teammate Ronald Acuña Jr. and current Dodgers teammate Mookie Betts in both categories.
"I've played with a couple people that are similar and very simple [with their swing] like Freddie," Betts said, drawing parallels to David Ortiz and Dustin Pedroia. "But I haven't played with another Freddie, though."
Manager Dave Roberts took his praise a step further.
"In the batter's box, he is the modern-day Tony Gwynn," Roberts said, comparing the first baseman with his legendary late San Diego Padres teammate. "Hitting is harder than it's ever been … so for him to be able to do that, it's remarkable. It really is."
Freeman's dad first got the idea while looking out his office window.
A partner in a family-run accounting firm in the mid-1990s, Fred's business was right next door to Villa Park High. And as a lifelong baseball fan, he had the office that looked straight out to the school's modest field.
One day, when Freeman was still only 6, Fred noticed another baseball father he knew throwing batting practice to his two boys: Former Angels All-Star Bob Boone, with his future big league sons Bret (an eventual three-time All-Star) and Aaron (a one-time All-Star who is now the manager of the New York Yankees).
As Fred watched the budding prospects, he noticed they hit most of their line drives the other way, seemingly on purpose. So, the next time he saw the Boones training, he went over and asked Bob about their opposite-field approach.
"We do that to make sure they stay inside the ball," Bob explained.
"Wow," Fred thought, the seeds of his own future batting practice drills taking root. "That's a really good idea."
By that point, Freeman was already ahead of the curve as a player. The youngest of three baseball-playing brothers, he'd swung a bat practically since he could walk. He was also bigger than most of his peers, sprouting early into what is now a lanky 6-foot-5 frame.
"In the batter's box, he is the modern-day Tony Gwynn."
— Dodgers manager Dave Roberts, on Freddie Freeman
While he was right-handed dominant, he'd also grown comfortable with his left-handed batting stance — so much so that, when his first T-ball coach insisted on flipping him around to the other side of the plate (as is standard for young kids batting opposite of their primary hand), Freeman's mom, Rosemary, followed instructions from Fred to pull their son off the field.
"I told her, 'He hits left-handed, so if the coach turns him around, take him home,' " Fred recalled with a laugh. "Rosemary was a 5-foot-5, red-headed Irish woman. [The coach] could not get her to bend."
Just a few years later, though, the Freeman family was struck by tragedy.
Rosemary had been diagnosed with melanoma. And after fighting the skin cancer off for several years, it ultimately claimed her life when Freeman was 10.
In the midst of their grieving, Freeman and Fred used baseball as their escape, turning their occasional batting practice sessions into a daily activity to distract from their pain.
"It was just something for us to do," Fred said. "I'd pick him up after school at 2 o'clock, and then we'd go hit balls."
Fred didn't administer many coaching instructions. He certainly wasn't yet envisioning Freeman's potential as a future MLB star, either.
Yet, remembering the advice he'd gotten from the Boones years earlier, he did encourage his son to hit the ball the other way. Before long, their three-bucket routine was born. And for the next seven years, Freeman began crafting his opposite-field swing, learning how to manipulate his motion and drive the ball straight over the shortstop's head.
"I hit with a purpose," Freeman said. "I wasn't just out there trying to hit home runs to right field, because what is that going to do? And it was never like, 'We're gonna focus on [mechanics].' It was just, the only thing we're gonna work on is, make sure you hit the ball the other way."
Freeman did have other influences growing up. For a few years, he took weekly hitting lessons with Ira Green, the father of then-Dodgers outfielder Shawn Green. His varsity coach at El Modena High, Steve Bernard, also became a key mentor, helping Freeman blossom as one of Southern California's top prep prospects in the 2007 draft class.
Still, up until the Braves made him a second-round pick, Freeman and Fred continued their daily rounds of BP, staying late after Freeman's high school practices to continue their three-bucket routine.
"I tell his dad Fred, 'You did a great job,' " said Dodgers designated hitter J.D. Martinez, one of many modern sluggers who needed a major swing overhaul to find success in the majors.
"I asked Fred, 'How'd you do this?' and he said, 'I just told him to hit every ball the other way, and he's had the same swing ever since,' " Martinez added. "It's amazing. Sometimes that works, sometimes it doesn't. But for those guys, it really did. He's got a great swing."
It took just three games earlier this season for Freeman to know something was off.
Over a 13 at-bat stretch from May 7-9, he recorded only one hit. Instead of smacking line drives to the opposite field, he sliced lazy pop flies and rolled over on weakly pulled ground balls.
Freeman knew some long-time bad habits — like opening his front shoulder too early, or getting too bent over at his hips and cutting across his body with his swing path — had evidently reappeared.
But, where most players might spend long hours watching video or seek a biometric breakdown with hitting coaches, Freeman opted for a simpler remedy.
He went through a checklist of drills in the hitting cage, trying to recalibrate his movements. He took extra rounds of batting practice on the field, seeking to hone back in on lining the ball the other way.
"I know [my swing] now like the back of my hand," Freeman said. "I know what I need to do to make it work."
Indeed, in a May 10 game against Milwaukee Brewers left-hander Wade Miley, everything suddenly began to click again.
With Miley's sliders running away from the plate, Freeman was forced to stay inside the ball and eliminate over-rotation in his hips. He synced up his timing and found a familiar, fluid feel with his mechanics.
And instead of letting a brief offensive blip turn into an extended midseason slump, he went on a tear for the rest of May, batting .457 over his next 20 games en route to being selected the NL's player of the month.
"Not many people understand themselves the same way he does," said Dodgers outfielder Jason Heyward, whose friendship with Freeman dates back to their days together in Atlanta's farm system. "That's not an easy thing to do."
While Freeman hasn't changed his swing as a professional, he hasn't stopped trying to perfect it, either.
He began choking up on the bat during his first spring training with the Braves, turning a temporary measure for addressing a hand blister into a permanent adjustment that gave him better control of the barrel.
He developed a behind-the-scenes routine early in his big league career — most notably, a "L-screen" drill in which he will stand an arm's length away from a net in the batting cage, and try to swing without touching it, promoting the inside-out motion his dad had long preached.
And, just as he entered the prime of his career, Freeman escalated his production in 2016, when Braves hitting coach Kevin Seitzer encouraged him to treat every at-bat like the count was already 0-and-1, a defensive mindset at the plate that paired perfectly with his trademark opposite-field approach.
"My swing is what it is. We know it works," Freeman said. "So then it was, how can I be a more consistent player every single time? And that wasn't swing-related for me. It was not deviating [from my approach]. It was, 'This is what I'm doing, and I'm doing it every single day.' "
Looking back, Freeman knows that he could have gone another direction with his swing over the years. He's never had a 40-homer season. He's never been known for hitting high, majestic drives.
His priorities have always been different: He has wanted to collect hits (he ranks fourth among active players with 2,065); pad his batting average (since 2013, only Jose Altuve has bettered his .307 mark); and deliver in high-leverage situations (over the last decade, he's hit .360 with runners in scoring position).
It's the way his dad first encouraged him to swing in their daily batting practice sessions. The approach he embraced during his rise to the majors. The method that has turned him into one of his generation's defining players.
"Compare it to Ken Griffey Jr. and yeah, my swing isn't that [great]," Freeman said jokingly when asked if, all these years later, he actually likes the way his swing looks. "But it works for me and how I do things and how my body works. And that's the key."