How Tour de France cyclists are handling the heatwave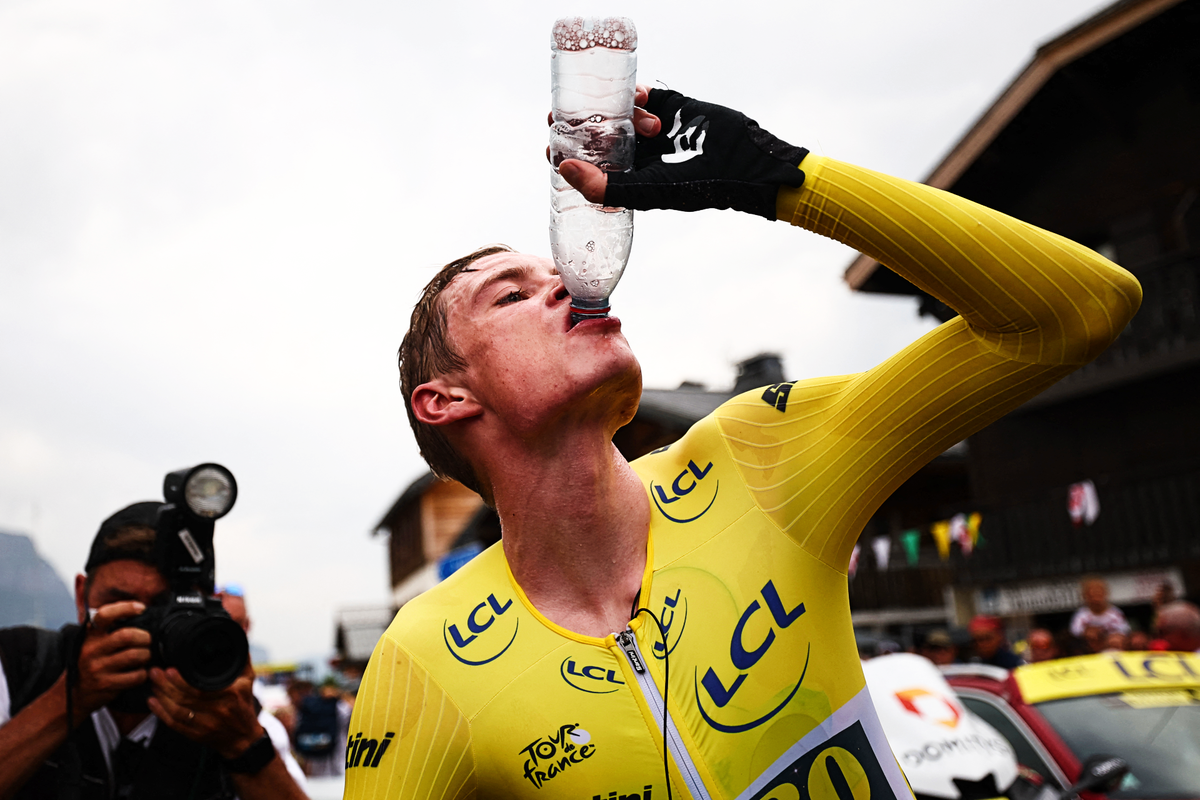 IIn the final minutes before the hottest stages of the Tour de France, the man in the yellow jersey, Jonas Vingegaard, can be seen donning a CryoVest – a bewitching vest made of ice. By keeping his body temperature low, he at least delays the inevitable climb a little, and once the race is over he cools off in front of an industrial-size fan while a staff member douses his neck with ice-cold water.
It has been unbearably hot in southern France for the past few days. Temperatures hit 39C and a weather warning has been issued in Alpes-de-Haute-Provence, where the Tour enters its third week of tough racing. The road surface a few centimeters under the drivers' feet reaches 60°C, giving drivers the heat of a pizza oven. Cyclists may be anatomical anomalies, but they're pushed to their limits and the inevitable heat can wreck them.
In the peloton, ice cubes are stuck in helmets, down jerseys and specially designed socks. Chilled bidons are pushed over the back and wet towels are wrapped around the shoulders. Briton Tom Pidcock wears his own cooling jacket, which consists of 20 individual pockets. On the way, they meander to the side sheltered by trees or a few shop awnings, and then team doctors assess weight loss and their urine.
The area where small gains could be made has changed in phases over the years: the focus has been on body fat percentage, diet and sleep (Team Sky brought a driver's personalized bedding to each new hotel); key data points such as functional threshold power and Vo2 max; Improvements in aerodynamics and altitude training. And thermal customization is fast becoming a crucial tool in a rider's arsenal.
Vingegaard's closest rival, Slovenia's Tadej Pogacar, has a reputation for struggling in the heat, while Vingegaard – who grew up in Denmark's much flatter terrain and cooler climate – oddly copes on hot and humid days in the high mountains. Pogacar took extra measures this year, training in Spain's Sierra Nevada desert, where he wore extra layers of clothing to stress his body and restricted food and water intake to replicate the exhaustion of a burning day.
It's important to carry enough energy with you before and during a hot day of racing. Elite riders train themselves to eat as much food as possible while literally stretching their stomachs – another secret discipline of the sport. If they can't afford more, it can get costly. "I have to evaluate a bit but I think I just didn't have enough energy," said Ineos' Tom Pidcock after losing valuable time on the mountainous Stage 14 due to heat exhaustion. "Yesterday was a late phase, late dinner and I just couldn't eat enough."
Sodium refilling has become an industry unto itself. A company, Precision fuel and hydrationworks with Belgian team Lotto-Dstny to develop customized refueling strategies based on each rider's sweat rate and their sodium loss per liter of sweat. Sweat beads are sucked up by a device on the arm and carefully analyzed: everyone sweats differently (it has nothing to do with fitness or aerobic capacity) and therefore every energy need is unique.
These all affect the body's ability to respond to a rising core temperature. I recently tested this in the Porsche Human Performance Center at Silverstone by riding a Watt bike in a heat chamber set at 40ºC for 30 minutes to get a minimal taste of what a Tour de France rider might experience. Even in this short time, the heat was suffocating at a manageable cadence and the legs felt noticeably drained.
My core temperature was measured throughout the experiment to make sure it didn't go above 40°C, as the test would have stopped at that point. Below 38°C, the body can work at high efficiency, but once a rider's temperature rises above 39°C, the brain tells the muscles to slow down and fatigue sets in. Above 40°C, heat exhaustion is involved (losing too much water and sodium through sweat). ; Above 41°C there is a serious risk of heat stroke (if temperature regulation fails) and body shutdown.
My temperature reached very close to 40C before stabilizing in the high 39s. When I got off my bike and left the chamber half an hour later, I was relieved.
Touring riders have an arsenal of weapons at their disposal to deal with such extreme conditions, but ultimately there is only so much they can do when out on the road. They have no choice but to race through the heat, and a balance needs to be found between saving power and pushing hard: the faster they finish, the faster it's over.
On the other hand, for Vingegaard, the more difficult the race and the tougher the conditions, the greater the chance of winning another yellow jersey. After two and a half weeks of grueling racing, from the vast Spanish Basque coast to the high alpine roads, in pouring rain and sweltering sun, he's almost there.