Hunt prioritises tackling inflation over tax cuts amid pressure from Tory MPs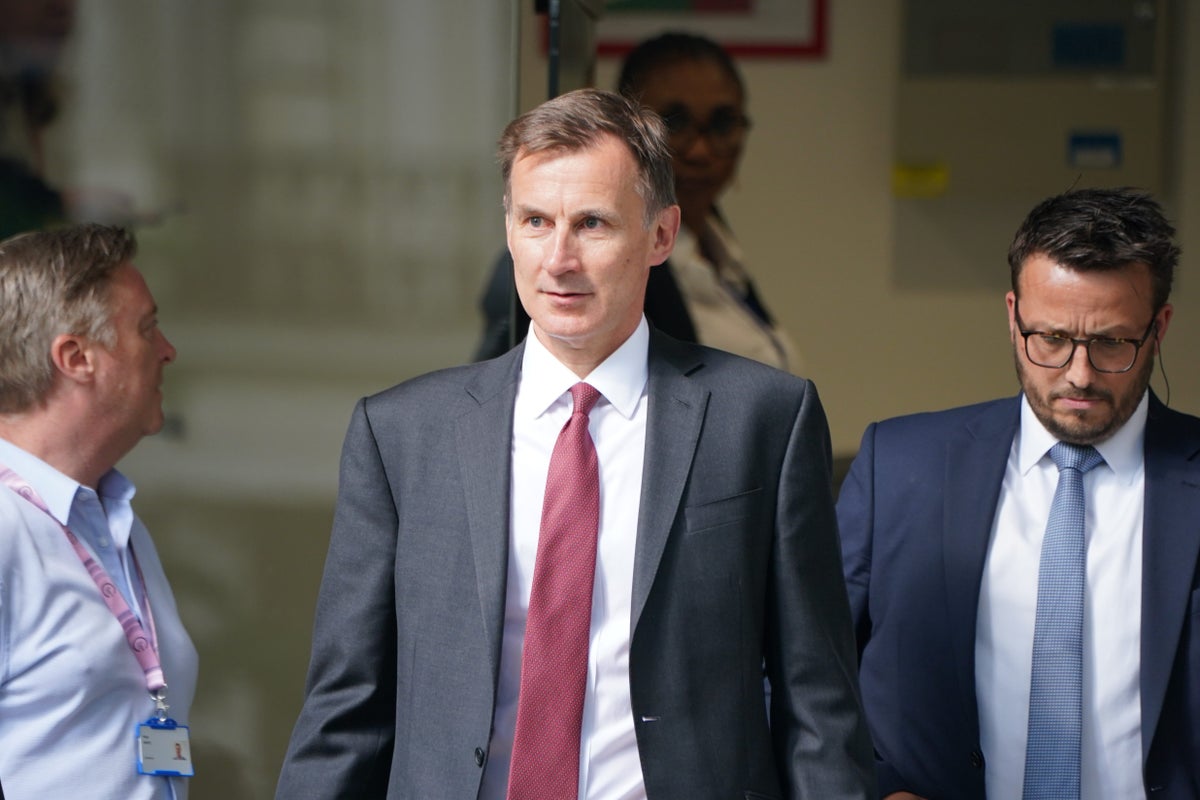 Jeremy Hunt will say he is prioritizing fighting inflation over tax cuts, in a blow to Tory MPs who are clamoring for a pre-election gift.
In his first speech at Mansion House as Chancellor on Monday, he will say that cutting rising prices "puts more money in people's pockets than any tax cut".
The comments will further unnerve Conservatives, who have been pushing for tax cuts to boost economic growth and win voters as the party lags Labor in the polls.
Before presenting longer-term reforms to make UK capital markets more attractive, Mr Hunt will say that unless inflation is eliminated, there can be no sustainable growth.
Rishi Sunak wants inflation to halve to around 5% by year-end, but the rate is stubbornly stuck at 8.7%.
Mr Hunt is expected to say: "In January the Prime Minister made halving inflation this year the first of his five priorities." Our ultimate goal is to deliver solid money.
"That means making responsible decisions about public finances, including public sector salaries, because more borrowing is itself inflationary."
"It means recognizing that bringing inflation down puts more money in people's pockets than any tax cut.
"And it means recognizing that there can be no sustainable growth without addressing inflation, which discourages investment and undermines consumer confidence.
"Fighting inflation therefore unlocks the Prime Minister's other two economic priorities – growing our economy and reducing debt – but as it is a prerequisite for both, it must come first."
The Treasury chief previously appeared to rule out bigger tax cuts this autumn, although some Tories were calling for them ahead of the next January 2025 election.
In his thematic address to the City of London, Mr Hunt will promise the average earner a £1,000 a year increase in pensions and introduce reforms to encourage pension funds to make riskier investments in high-growth companies.
He said there is a "perverse situation" where UK institutional investors are not putting as much money into UK start-ups as their international counterparts, with defined contribution plans investing 1% in unlisted shares, compared with around 6% in Australia.
He will welcome an agreement with leading pension companies to put 5% of their investments in early stage fintech, life sciences, biotech and cleantech companies by 2030.
Dubbed the Mansion House Reforms, the changes could help increase the retirement savings of an average earner who starts saving at age 18 by 12% over their career, or over £1,000 more a year if they start saving at age 18 work stops, said the Chancellor.
What's more, it could unlock £50 billion in investment if the rest of the industry follows suit.
So far Aviva, Scottish Widows, Legal & General, Aegon, Phoenix, NEST, Mercer, M&G and Smart Pension are participating.
Pension companies welcomed the fact that Mr Hunt did not make the move mandatory, which the industry had warned against.
They are expected to make investment decisions "based on long-term returns and not just costs" while underperforming pension schemes are being unwound by the regulator as part of consolidation measures, Mr Hunt also said.
The government will also incentivize investment vehicles to allow programs to invest money in unlisted companies.
The Lord Mayor of the City of London, Nicholas Lyons, said he was "proud to have brought together key players in the industry to make this commitment" to invest more assets in unlisted shares.
In a speech, he will say that this move "will ensure that high-growth companies in sectors such as fintech and biotech can stay and grow in the UK, and will support the development of much-needed new sustainable infrastructure in areas of the country that are deserting." felt." lag behind while improving the retirement income of millions of UK pension savers."
Mr Hunt will pledge to prioritize a "strong and diversified" gilt market, meaning he will not force companies to choose riskier investments over lower-risk ones offered by the government.
He will also set out a "golden rule" stating that changes must never be made that "endanger" the UK's position as a leading financial center.
The government will discuss doubling existing private equity allocations to local government pension schemes to 10% and speeding up the transfer of their assets into pools worth more than £50bn.
The Chancellor will also set out plans to make London the "global capital for capital", including by simplifying the prospectuses companies must submit to raise cash.
He will announce the repeal of nearly 100 pieces of retained EU financial services law to streamline the UK's regulatory framework.
Sir Jonathan Symonds, Chairman of GlaxoSmithKline, said: "The changes will help boost investment returns for pension savers through improved access to all asset classes, including in high-growth sectors, and ensure that the UK's most innovative companies are better supported by UK capital to stay in this country they scale to maturity."
Brent Hoberman, Co-Founder and Chairman of the Founders Forum, said: "This should be welcome news for Britain's industry of the future. Their ability to attract more capital will create more national champions and generate growth, jobs and higher tax revenues."