Hurricane Ian swamps Florida hospital, rips part of roof off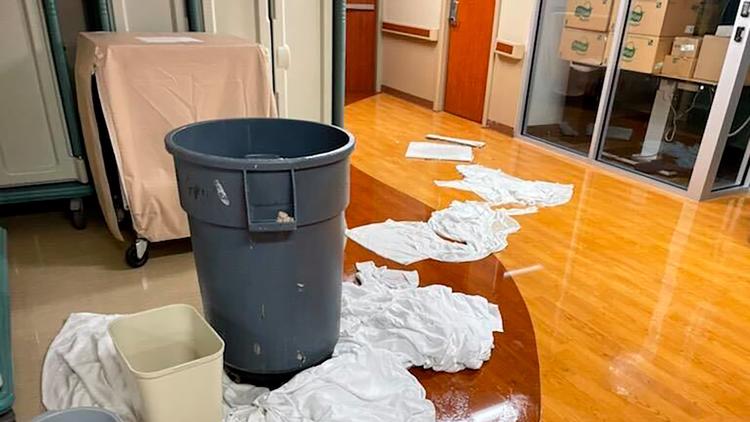 The storm surge inundated the basement emergency room on Wednesday, while high winds tore off part of the roof of the fourth-floor intensive care unit.
PORT CHARLOTTE, Fla. — Hundreds of hospital patients were evacuated from facilities across the Fort Myers area on Thursday after damage from Hurricane Ian cut water supplies. A hospital in the area began assessing the full extent of the damage, with high winds tearing off portions of its roof and flooding the emergency room.
Other health systems along Ian's journey, from the state's Gulf Coast to the Atlantic Ocean, were also transferring patients because of flooding.
Although the problem in much of the state was too much water, at least nine hospitals in Southwest Florida had the opposite problem.
"We have a large health care system in Southwest Florida that has no water in any of its facilities. And so they are quickly approaching a point where they can no longer safely care for their patients. So that's an urgent focus to move these patients," said Mary Mayhew, president of the Florida Hospital Association.
Mayhew said another 1,200 patients would be evacuated.
Meanwhile, other hospitals could continue to be burdened, she said.
"Significant efforts are being made to rescue people who also need medical care. And to identify hospital beds that are available either in the region or elsewhere," she said.
Hurricane Ian swamped HCA Florida Fawcett Hospital in Port Charlotte from above and below as the storm surge inundated the basement emergency room, while high winds tore part of the fourth-floor roof off the ICU, according to a doctor working there.
dr Birgit Bodine spent the night in hospital expecting the storm to weigh things down, "but we didn't expect the fourth floor roof to blow off," she said.
Water poured into the intensive care unit from above on Wednesday, forcing staff to evacuate the hospital's sickest patients – some of them on ventilators – to other floors. Staff grabbed towels and plastic bins to try to clean up the sodden mess.
The medium-sized hospital has four floors, but patients have been forced down only two floors because of the damage.
Bodine plans to spend another night in hospital as storm injuries could make matters worse.
"The ambulances may be coming soon and we don't know where to put them in the hospital at this point," she said. "Because we're doubled and tripled."
Despite the flooding, Bodine said, for the most part, patients have been understanding and optimistic.
"For us, everything is horrible and we're exhausted … as long as our patients are doing well and nobody ends up dying or having a bad outcome, that's important," Bodine said.
In Orlando, residents at the Avante nursing home were evacuated to ambulances and waiting buses by floodwaters in a neighborhood that doesn't normally get flooded. Paramedics rolled the residents out one by one on stretchers and wheelchairs. Cars were submerged in the parking lot at the neighboring Palm Island at Baldwin apartment complex.
RELATED: Power outages: Nearly 1 million reported in Tampa Bay area, 2.5 million nationwide
RELATED: Ian leaves trail of devastation through Florida downgraded to Tropical Storm
https://www.king5.com/article/news/nation-world/hurricane-ian-swamps-florida-hospital/507-bf6c4c2b-e263-436f-8150-769aade4c897 Hurricane Ian swamps Florida hospital, rips part of roof off