Husky basketball players pitch in at summer camp for kids impacted by cancer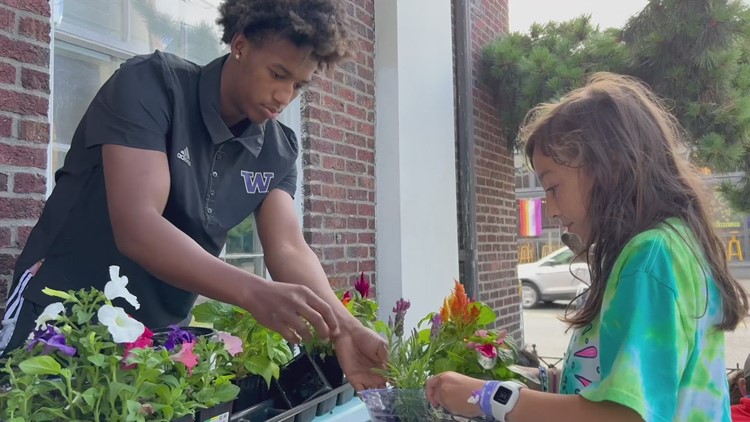 Camp Sparkle is for kids who are diagnosed with cancer or whose loved ones have cancer.
SEATTLE — Camp Sparkle, a summer camp for kids impacted by cancer, had a few extra camp counselors this week. 
The camp played host to members of the University of Washington men's basketball team who pitched in during a number of activities with the campers.
Camp Sparkle is a week-long summer celebration for kids and teens who are diagnosed with cancer, or whose loved ones have or have had cancer. 
The Huskies joined campers for some painting and planting led by counselors like Michelle Massey who has been with the nonprofit Cancer Pathways, which runs Camp Sparkle, for more than 15 years. 
"Planting therapy gardens with these athletes makes the kids feel special, and they deserve that," Massey said. "I always tell our counselors that it takes one person to make a difference in the life of a child, to change that trajectory. So when we build community with our campers we're fighting depression, anxiety and PTSD symptoms."
Husky Junior Forward Keion Brooks said he was honored to give back to the kids this week. Brooks said he could have used something like Camp Sparkle when he was a kid. 
"I lost both my grandmother and grandfather to cancer," said Brooks.  "I think this is a great program for kids to feel like they're not the only one going through this." 
Teens and youth who participated in last week's camp also got a unique close-up experience with some UW athletes. Campers made a field trip to the University of Washington where they toured the athletic facilities with football players and got to explore Husky Stadium. 
Forty campers a week participate in Camp Sparkle in Seattle. Due to demand, the camp has spread from one to five camps being hosted by Cancer Pathways, including camps in Bellevue Everett, Tacoma, Spokane and a virtual option
Cancer Pathways Executive Director Anna Gottlieb said she's passionate about Camp Sparkle because her own mother had cancer when she was young and no one wanted to talk about it with her, so she frequently felt fear and confusion. Gottlieb said creating a safe place where kids and teens impacted by cancer can come together and bond in a safe place takes time, resources and staff, but still they offer their services at no cost.
"We always say you can't put a price on what we give, but we need millions of dollars, so free is very expensive," Gottlieb said. "Everything we do is free to the community."
Camp Sparkle is an extension of Cancer Pathways, which offers services, support and community all year long. You can learn more on the Cancer Pathways Website. 
RELATED: Camp Sparkle provides fun, friendship for kids and teens facing cancer
RELATED: Cancer survivor attends Taylor Swift's Eras Tour, has special interaction with singer's parents