I-405 closure coming up for Main Street Bridge reconstruction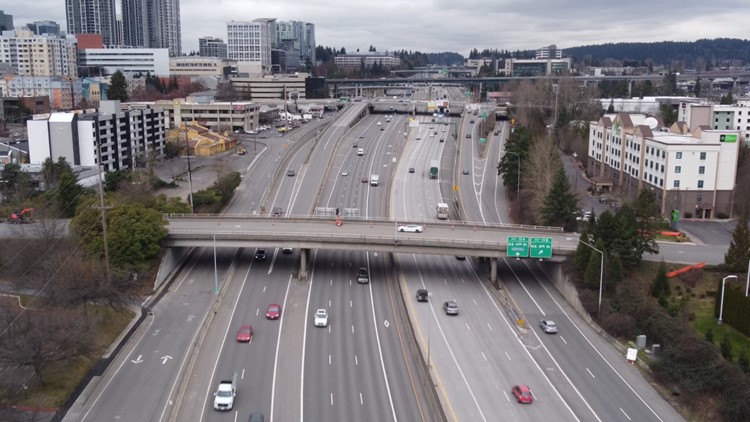 The bridge closure is the first step in a major closure scheduled to take place next weekend that will close all lanes of I-405 in downtown Bellevue.
BELLEVUE, Wash. — The Main Street Bridge over Interstate 405 in downtown Bellevue could be closed for up to five months beginning Monday to allow crews to reconstruct the bridge, according to the Washington State Department of Transportation (WSDOT).
Traffic on Main Street between 112th Avenue Northeast and 116th Avenue Northeast will be closed Monday as the first step in a major closure scheduled for next weekend that will close all lanes of I-405 under the bridge.
This weekend, all lanes of I-405 between Southeast Eighth Street and Northeast Fourth Street will be closed beginning Friday 10:00 p.m. through the morning hours of Monday, June 20. The closure will allow crews to demolish the Main Street Bridge safely.
The closure is expected to cause significant delays through the weekend. WSDOT encourages drivers to plan ahead.
Travelers traveling southbound on I-405 can take the Northeast Fourth Street exit, go south on 112th Avenue Northeast and use the Southeast Eighth Street ramp, according to the WSDOT. Those traveling north on I-405 may take the Southeast Eighth Street exit and re-enter at Northeast Fourth Street.
>> Download KING 5's Roku and Amazon Fire apps to watch live newscasts and videos on demand
Over the next few months, crews will rebuild the Main Street Bridge to accommodate the widening of I-405 as part of the I-405, Renton to Bellevue Widening and Express Toll Lanes Project, which WSDOT says will build a new lane in each direction between State Route 167 in Renton and Northeast Sixth Street in Bellevue.
https://www.king5.com/article/news/local/bellevue/bellevue-main-street-bridge-closure-405-construction/281-19c16bd9-c72f-495c-b7e1-35814e7bd3f4 I-405 closure coming up for Main Street Bridge reconstruction