I-405 to close in downtown Bellevue this weekend due to Main Street Bridge demolition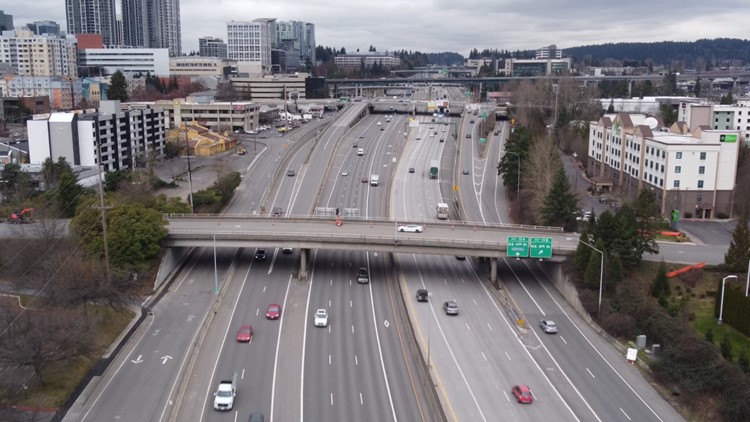 The highway closure will take place to safely demolish the Main Street Bridge.
BELLEVUE, Wash. — Both directions of Interstate 405 in downtown Bellevue will be closed between Northeast Fourth Street and Southeast Eighth Street this weekend to allow crews to safely demolish the Main Street Bridge.
The lane will be closed at 10pm on Friday 17 June and will reopen at 5am on Monday 20 June. However, the Washington State Department of Transportation (WSDOT) said the schedule and timing "depends on the weather and other factors." "
Southbound drivers can take the Northeast Fourth Street exit, go south on 112th Avenue Northeast, and then rejoin the interstate at Southeast Eighth Street.
Northbound drivers must exit at Southeast Eighth Street to go north on 116th Avenue Northeast and rejoin the freeway at Northeast Fourth Street.
Crews will demolish the Main Street Bridge during the closure as the WSDOT plans to build a new bridge. Work on the Main Street Bridge began Monday, and the bridge itself will be closed for up to five months.
I-405 is scheduled to reopen Monday, but traffic in the area is expected to continue for months until the new bridge is completed.
The WSDOT has no plans to close the freeway again in the area, but Renton and Bellevue residents can expect various full weekend closures in the coming years as part of the department's Renton to Bellevue project.
Upon completion, the WSDOT said the Renton to Bellevue project will add one new lane of traffic in each direction of I-405 between State Route 167 in Renton and Northeast Sixth Street in Bellevue.
This weekend's closure coincides with June 16, which takes place on Sunday, and could cause additional traffic.
Click here to learn more about the weekend closure of I-405.
Click here for more information on the Renton to Bellevue Widening and Express Toll Lanes project.
https://www.king5.com/article/traffic/i-405-close-bellevue-main-street-bridge/281-b7d6b690-713c-4d25-963b-e0da566d9fbb I-405 to close in downtown Bellevue this weekend due to Main Street Bridge demolition