'I don't feel a day older than I did last night': WWII bomber pilot turns 100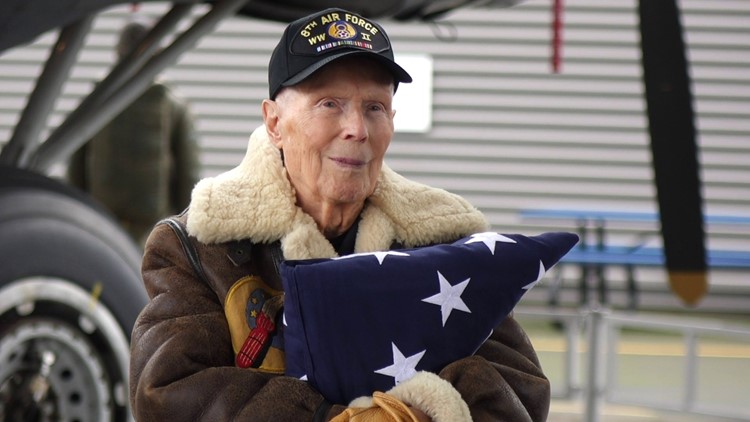 Richard Nelms' 100th birthday celebration included a flag raising ceremony, special guest speakers and a personal flight for the World War II Nelms Stinson AT-19.
AUBURN, Wash. – Richard Nelms has entertained visitors at the Museum of Flight since 2016.
Nelms volunteers at the museum and shares stories from when he was a bomber pilot during World War II.
Nelms had some serious historical views to share as he made 35 missions into Germany, France, and other Nazi-occupied territories. He has faced battle damage in those 25 missions.
He joined the Army Air Forces in 1942. It was the direct predecessor of the United States Air Force, and in 1943, Nelms was assigned to Bomb Group 447, 8th Air Force at Rattlesden, Older brother.
Nelms said after the fourth mission, he needed a new plane. He returned from a mission in Berlin with more than 300 holes in his Rowdy Rebel II plane.
His next plane, Pandora's Box, has completed 31 missions and Nelms has won numerous bravery awards for his service. The outstanding Flying Cross, five Air Medals, the Presidential Unit Commendation and the French Legion of Honor are all part of Nelms' decorated military history.
This week, Nelms joined another elite club called the centenarians. Nelms turns 100 years old on Friday.
There was a special celebration at the museum where Nelms shared his personal stories alongside a retired B-17, an aircraft built by Boeing beginning in the 1930s.
"I was almost overwhelmed," Nelms said. "This is something I have never experienced before."
A crowded museum with military uniforms and smiling faces greeted him.
"I don't feel a day older than last night!" he joked.
The birthday celebration included the salute of the Honor Guard flag of Joint Base Lewis-McChord, special guest speakers and a personal flight for the World War II Nelms Stinson AT-19.
The classic Stinson AT-19 was a military version of the Stinson Reliant, a popular luxury aircraft of the time.
This particular aircraft flew for the Royal Navy in the East Indies during the war and is currently stationed at Auburn as part of the Rainier Squadron of the Commemorative Air Force.
Nelms currently participates in the Living History and Speakers Bureau programs at the Museum of Flight. He has spoken to schools, professional athletes and at many special events.
You can hear Nelms' stories for yourself while continuing to volunteer at the Museum of Flight every Saturday from 10:30 a.m. to 1:30 p.m. near the 5-17 jumbo bomber.
https://www.king5.com/article/news/local/wwii-bomber-pilot-turns-100/281-7371194c-4091-4b8d-935e-829a61b37246 'I don't feel a day older than I did last night': WWII bomber pilot turns 100