I knew it was my turn – Josh Kerr was confident he would beat Jakob Ingebrigtsen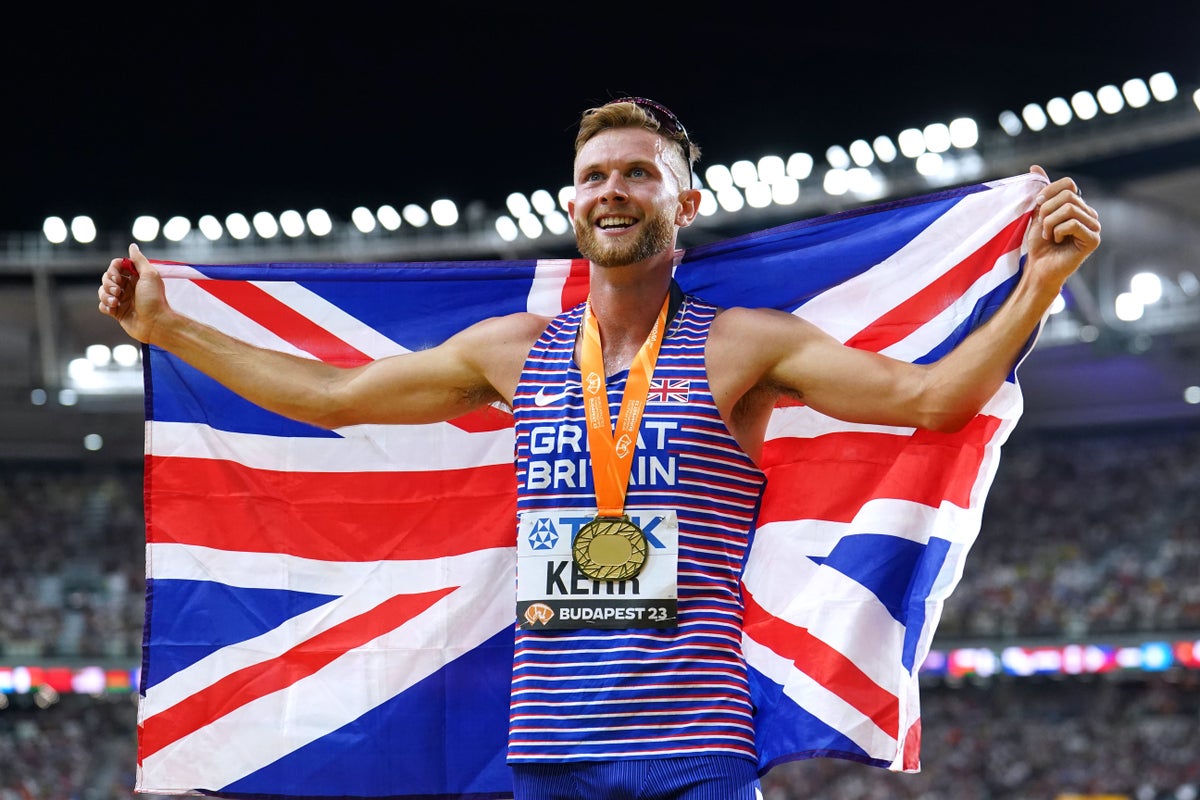 New world champion Josh Kerr knew he would beat Jakob Ingebrigtsen when he stormed gold in the 1500m and revealed he played mind games with the Norwegian.
The Scot managed to defeat Ingebrigtsen by a time of three minutes and 29.38 seconds, forcing the overwhelming favorite to settle for silver at the World Championships in Budapest.
Kerr emulated Jake Wightman's win at Eugene last year and with the injured Wightman absent in Hungary, Ingebrigtsen – runner-up in 2022 – was again denied the world title.
"I could feel him breaking down and I just had to stay strong," said Kerr, adding to his Olympic bronze.
"I looked at the screen to make sure nobody came on my outside, but with 50 meters to go I knew I had made it.
"With 200m to go I felt like there was a slight weakness. I had to stay on lane two for a minute but I'll fight to the end regardless of whether I broke it or not.
"I've competed in four major championship finals and only got bronze. I knew it was my turn. If you are the outsider, you must come and take what is yours, you will not be given anything. It was about going there and taking what's mine."
Kerr, who was fifth last year, admitted he tried to anger Ingebrigtsen on Wednesday after wearing a similar vest to Wightman in Eugene.
"I'm not saying I wore the special one to bring back some nightmares, but I needed every single gram I had. That was the vest I chose," he added.
Wightman, watching from the BBC studios at the National Athletics Centre, dubbed his Edinburgh AC club-mate the 'Terminator' after the win.
"I like it (the Terminator moniker), back-to-back world champions, nobody's ever done that," Kerr said.
"Especially in consecutive years because it wasn't possible. Britain has something in the water. We must continue to produce world champions."
Ingebrigtsen made his move on the final lap, only for Kerr to retaliate with about 200 yards to go – almost a copy of Wightman's win in America.
Ingebrigtsen couldn't resist down the stretch as Kerr met his challenge and won his first major world title.
The 25-year-old, who trains in Seattle, also revealed he cut communication ahead of the championships to focus on his goal.
"I hadn't had my phone for about two weeks before that. Just about eight people or so," he said. "I'm not a big social media guy when it comes to World Cups.
"You just have to believe in yourself. My fiancee has my phone for when something big comes up, I have my other phone for the people who are hugely important in this process.
"Since 2021 it's the same phone, it's about making sure I'm focused on the plan. All I have is the Premier League app, which I'm incredibly comfortable with, and Duolingo while trying to learn Spanish."
Wightman, who missed the championship with a foot problem, welcomed Kerr.
"Our little club in Edinburgh have had back-to-back world champions," he said.
"That's unbelievable. Jakob Ingebrigtsen will start hating us Brits, won't he? I think Josh Kerr knew what to do there. You saw it when he got on Jacob's shoulder.
"He has shown promise for so long that the medal in Tokyo was just the beginning. When Josh Kerr gets it right and runs well, he's absolutely successful. I think Ingebrigtsen underestimated how well he was doing at the moment."
Ingebrigtsen said he's had a sore throat this week and wasn't feeling "well," adding, "I just wasn't feeling well enough."
When asked how he sees Kerr as a global rival now, he added: "It's completely different. We've been competitors for a long time, he's a great runner but it is what it is."
Neil Gourley, who finished ninth in the final, said: "I'm really happy for Josh, I knew this was coming, I knew he was going to be up front, the gaps are okay at this level."
"I knew that he would compete with Jakob this week. The way he acted, the way he looked, he was full of confidence."
Meanwhile, Britain's Molly Caudery finished fifth in the pole vault, Australia's Nina Kennedy and USA's Katie Moon shared the win with a personal best of 4.75m, while Karsten Warholm took the 400m hurdles title.