News
'I was lucky': Pilot who survived crash landing in the water at Alki Beach shares his story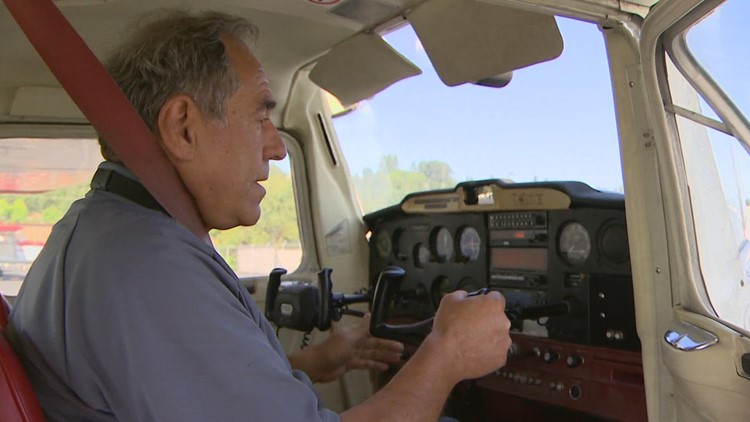 The pilot said he was lucky to be alive and grateful to those who helped pull him out of the water.
SEATTLE — While investigators investigate what caused a plane to make an emergency landing in the water at Alki Beach, the pilot was airborne again Thursday.
He said he was lucky to be alive and thankful for those who helped pull him out of the water.
"It's getting lower and lower and the engine is slowing down," pilot John La Porta told air traffic control as he flew back from Tacoma to Boeing Field.
La Porta said oil pressure was also beginning to drop.
"I didn't think I was going to make it across land, so I made the decision to stay afloat and tried to make it around the top of Alki," said La Porta.
Air traffic control warned that landing in the water is at La Porta's own risk.
"That was what went through my mind. How do I get this thing down so I don't hurt anyone else and possibly get out myself? I think I got lucky," said La Porta.
La Porta made an emergency landing in a small empty waterhole on Alki Beach early Tuesday evening. Two days later, La Porta showed KING 5 what happened in the same type of aircraft.
"I pulled that back to get the nose as high as possible so it wouldn't completely tip over if I hit the water," La Porta said.
People rushed to the water to help him pull him out, but just before impact, La Porta pulled his shoulder harness, trapping him. La Porta said for a brief moment he didn't know if he was going to make it, but said that ultimately it was up to get up and save his life.
"It stopped me from jerking my head forward and passing out. The water came pretty quickly, I probably would have drowned at that point," La Porta said.
Now he is appealing to all pilots to have a tool ready.
"If I had had the knife, I could have cut both (the straps). I could have gotten out," La Porta said.
The 66-year-old pilot has been flying since 1974 and said he was lucky but didn't hesitate to take to the air.
"You just have to think positively. Anything mechanical can break. In a car you just stop, but on a plane you just start going through the 'how do I get down' process," La Porta said.
La Porta is back in the air Thursday teaching new pilots how to fly. This time with new insights.
"If you give up, you're done, but if you keep looking and find a way, you might make it. I was lucky. I have," La Porta said.
https://www.king5.com/article/news/local/seattle/pilot-survived-plane-crash-alki-beach/281-b511c077-c51f-4d13-a7f5-2456d477d781 'I was lucky': Pilot who survived crash landing in the water at Alki Beach shares his story