'I'm proud of everything we've accomplished here'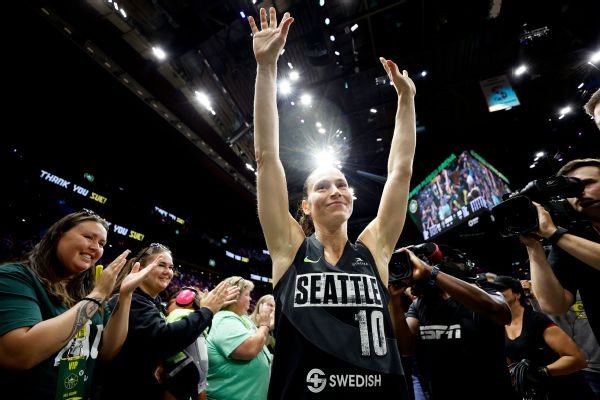 SEATTLE — After Sue Bird played her final game of the WNBA on Tuesday when the Las Vegas Aces eliminated their Seattle Storm from the playoffs with a 97-92 win in Game 4 of their semifinal series, Sue Bird wasn't sure how she should feel her career is coming to an end.
"I think initially I was sad about the season and the game," Bird said after the game. "I think then as the emotions surfaced that was also what I know deep down, that was my last game. So it was a combination of those two things, but overall it just feels kind of weird. "
A year after Storm fans chanted "One more year!" After a playoff exit at the hands of Phoenix Mercury that helped convince Bird to return for a 19th season in the WNBA, the feeling after that loss was one of gratitude.
First, Bird headed towards the locker room with teammates and coaches before reversing course and staying on the court. Bird was hugged by all members of the Las Vegas team and coaching staff, and then thanked the crowd by raising her hand several times, causing a long ovation that lasted until she finally walked into the dressing room.
"I didn't really want to leave the court," Bird said. "It felt like everyone was going there, so at first I just followed. But I also wanted to have one last moment to say thank you for soaking it all up, because in a way it's a happy thing.
"I am proud of everything we have achieved here. Of course I'm sad, but it's also lucky to be able to have a moment like this with the fans, to let them sing like they did. I know the tears don't look like tears of joy, but there's a lot of happiness."
Seattle's coach Noelle Quinn, who played alongside Bird for the Storm before becoming their coach, also stayed in the arena bowl to witness Bird's farewell.
"I wasn't here to witness our last time [regular] Season game and feeling that energy, so I wanted to stay and feel that today," Quinn said. "It's amazing what she has done for the city of Seattle, for the organization and for this team.
"It's tough not to end this season with a win on a white horse, but she's won enough for both of us so she's just proud to be a part of her journey."
Likewise, Birds All-Star teammates Jewell Loyd and Breanna Stewart lamented being unable to help her complete a picture book ending on what she announced in June as her senior year.
"Obviously it was disappointing, sad," Loyd said of the team's mood in the dressing room. "Little laughs. But I think for us, we've played with Sue for so long – we're the last three [left] since she came in We obviously didn't want to end up like that for them. It's a shame, but that's the way it is."
Stewart was comfortable with the idea that Bird would no longer be a daily presence on the team.
"As sad as it is that we can't fight for a championship," she said, "I think what's even more devastating is the fact that we won't be on the court with Sue anymore. We won't see her in training, we won't play her in games. I think that hurts the most – when it becomes a reality really, really fast.
Acknowledging the void the retirement will leave, Bird said she won't even try to replicate the emotion that the sport has offered at the highest level for two decades.
When Bird walked away after six playoff games with 46 assists and just six turnovers, there was no doubt about her decision.
"Of course my body feels good," Bird said, "that may fool you, but there's a reason I felt good and confident that this was my final year. Being able to say that out loud was a big hurdle. After sort of skipping that, I knew I did the right thing because I felt like it."
https://www.espn.com/wnba/story/_/id/34539735/sue-bird-bids-farewell-final-game-seattle-storm-proud-everything-accomplished-here 'I'm proud of everything we've accomplished here'