Improvements in flood mitigation infrastructure and technology since Hurricane Agnes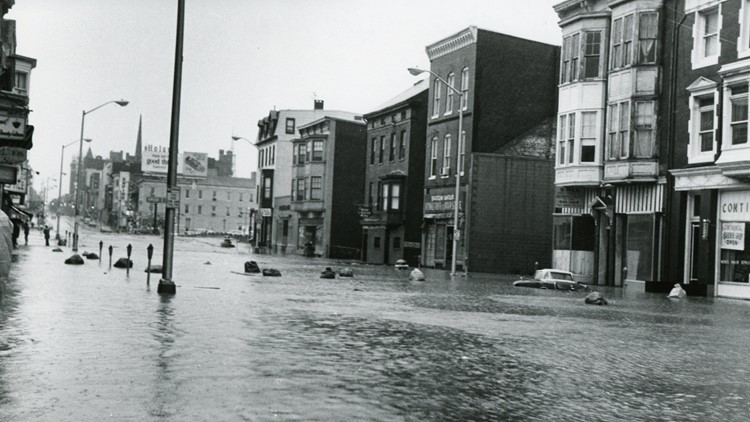 Experts say we're better prepared for another storm in the future, which is likely to happen if our climate continues to change.
YORK, Pennsylvania — From the levees of northeastern Pennsylvania's Wyoming Valley to the Indian Rock Dam in southern Pennsylvania, heavy rain from Hurricane Agnes put flood control infrastructure throughout Pennsylvania to the test. Since then, both technology and infrastructure have improved to help us weather the next storm even better.
Indian Rock Dam in York County experienced its greatest rainfall event during Hurricane Agnes in 1972. Steve Young, Head Dam Operator for Indian Rock Dam, says the reservoir saw a dramatic surge in water during the event.
"On June 21 it was 3:57 p.m., the height of the reservoir. On June 22 it was 64.54 feet and rising. So that's a dramatic difference," says Young.
The Agnes flood was the first and only time the Indian Rock Dam has seen an overflow. While the city of York still experienced devastating flooding during the storm, the Indian Rock Dam kept it from getting any worse.
The Indian Rock Dam is just one of many flood control projects across Pennsylvania. From dams to dikes, reservoirs and more, there are several groups that have flood control at the forefront.
One such group is the Susquehanna River Basin Commission (SRBC). Ben Pratt, a water resource engineer at SRBC, says one of the big improvements in flood preparedness has been upstream.
"The other thing that we didn't have during Agnes was flood control ponds," Pratt told FOX43. "We've had a few, but there were a few that were built after Agnes that had a significant impact on flood risk reduction in parts of the upper Susquehanna."
From the Susquehanna itself to its tributaries such as Codorus Creek, Agnes flooded at every level.
Alex Baldowski, levee safety program manager with the Baltimore District Army Corps of Engineers, says Hurricane Agnes was a 1,000-year flood event for Codorus Creek and much of the surrounding area.
He says the levees around the Codorus in downtown York were flooded on many occasions during Agnes. This, along with flooding inside, led to the devastating floods the city experienced.
A lot has changed around the dikes since then, says Baldowski.
"Over the past few years, the Army Corps has received approximately $15 or $16 million to make repairs to the Codorus Creek project. One of them here is the flood wall on Penn Street. It's almost a 600ft floodwall replacement that connects to the Penn Street Bridge over here and has other improvements to make along the way such as: B. the rehabilitation of pipes," he says.
Earlier this year, the US Army Corps of Engineers, Baltimore District, announced it would receive an additional $62 million in funding. A portion of these funds will go to the Codorus Creek Project and Indian Rock Dam.
The Wyoming Valley Levee Project also received over $11 million in flood risk mitigation support, benefiting the communities of Plymouth, Kingston-Edwardsville, Hanover, Wilkes-Barre and others.
In addition to building and maintaining flood infrastructure throughout Pennsylvania, improving technology is also of great help these days.
"Our forecasting capabilities 50 years ago are nowhere near what they are today. We now have access to a lot more data and are therefore much better able to understand and predict events like Agnes," says Pratt.
The Susquehanna River Basin Commission combined with the US Army Corps of Engineers and other groups to form the Silver Jackets. The group is a multi-agency team that comes together to reduce flood risk and damage.
One of these projects is the Susquehanna Flood Warning and Response System. This tool for Wyoming Valley officials and emergency managers provides flood data so they can better prepare for floods at multiple levels.
It's a project they hope to expand on in the future.
Experts say that with improvements in infrastructure, technology and cross-agency teamwork, we are now in a better position to deal with flooding, although there is still work to be done.
"It's not a question of whether or not it's going to happen again, it's really a certainty. Mother Nature will always surpass herself, I've learned that over my years in the business," Pratt told FOX43. or in a hundred years, that is the question."
Download the FOX43 app here.
https://www.fox43.com/article/weather/improvements-flood-mitigation-infrastructure-technology-hurricane-agnes/521-5901b196-a8db-4482-934f-0de2d1aac389 Improvements in flood mitigation infrastructure and technology since Hurricane Agnes