In deadly Maui wildfires, communication failed. Chaos overtook Lahaina along with the flames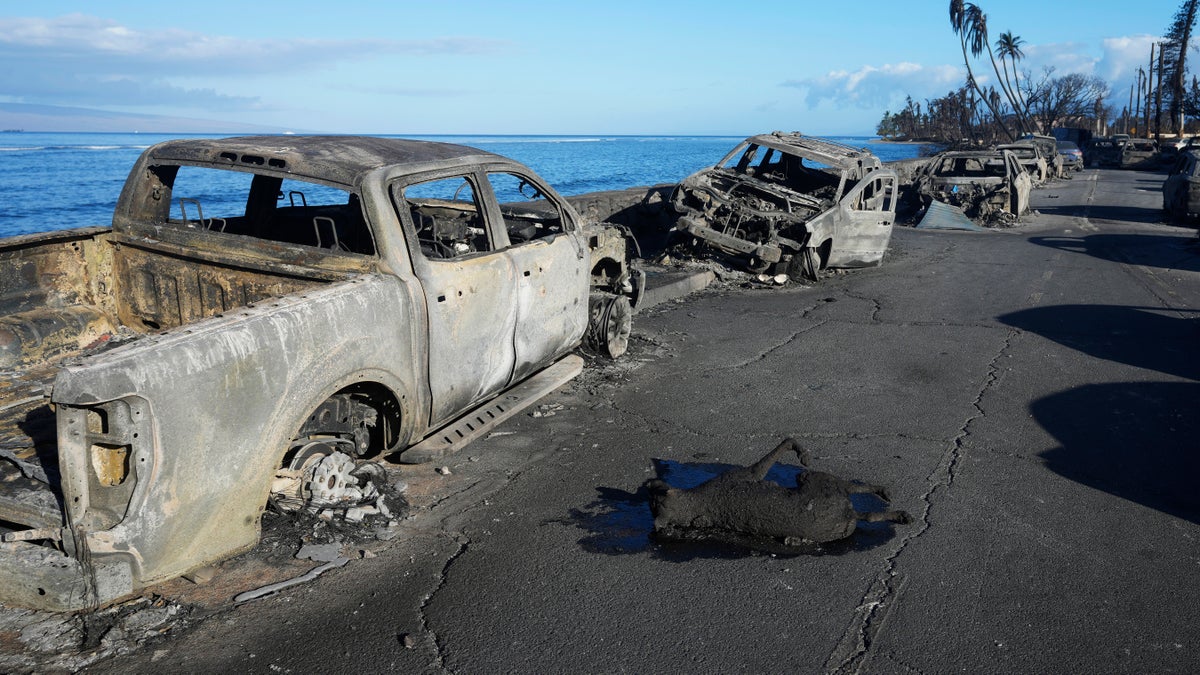 In the hours before a wildfire devastated the city of Lahaina, Maui County officials failed to activate sirens that would have warned the entire population of the approaching flames, instead relying on a series of sometimes confusing social media posts that reached a much smaller audience.
Power and cellphone outages for residents made communication efforts even more difficult. Some survivors reported that there was little radio coverage even as the fire began to ravage the city. Roadblocks then forced fleeing motorists into a narrow downtown street, creating a bottleneck that was quickly engulfed in flames on all sides. At least 67 people have been confirmed dead so far.
The silent sirens have raised questions about whether everything has been done to warn the public in a state that has a sophisticated emergency warning system for a variety of hazards, including wars, volcanoes, hurricanes and wildfires.
Hector Bermudez left his Lahaina Shores apartment just after 4:30 p.m. Tuesday after the smell of smoke woke him from a nap. He asked his neighbor if he would go too.
"He said, 'No, I'm waiting for the authorities to see what they're going to do,'" Bermudez said. "And I said, 'No, no, no, please go.' This smoke will kill us. You have to go. Please. You have to get out of here. Don't wait for nobody.'"
His neighbor, who is in his 70s and has difficulty walking, refused.
Bermudez doesn't know if he survived.
Maui Disaster Management officials did not immediately respond to questions about sirens and other communications issues Friday.
Hawaii Attorney General Anne Lopez said her office will conduct a comprehensive review of decision-making and applicable policies related to the wildfires.
"My department strives to understand the decisions made before and during the wildfires and to share the findings of that review with the public," she said in a statement on Friday, adding, "Now is the time to work with." to begin this process of understanding."
The Associated Press compiled a timeline of the wildfires using information from multiple sources, including county announcements, state and local emergency alerts, and interviews with officials and survivors.
The timeline shows that public information on the fires was patchy and often vague, and much of the county's attention was focused on another dangerous, major fire in Maui's uplands that was threatening neighborhoods in Kula. There is no indication that county officials ever activated the area's hazard siren system, showing that other emergency alerts were scarce.
However, in the hours leading up to the start of the wildfires, there were frequent high wind warnings, which were widely disseminated by the county and other authorities. Local residents were told on Monday that a hurricane moving far to the south is expected to bring gusts of up to 105 km/h.
The inland fire broke out first and was reported just after midnight on Tuesday, and the first evacuations near Kula followed.
The fire near Lahaina started later, around 6:37 a.m. Tuesday. Some homes in the inland-most neighborhood of Lahaina were evacuated, but at 9:55 a.m. the county reported the fire was fully contained. Still, the announcement included another warning that strong winds would continue to be a problem for the next 24 hours.
The power was also out early in the morning, leaving several thousand customers in the Lahaina/West Maui area and inland without power. Several failed power lines had to be repaired.
By 11 a.m., firefighters from several cities and the Hawaii Department of Lands had gathered to battle the blaze in the upcountry, but 80 mph (129 km/h) wind gusts made conditions unsafe for helicopters. At 3:20 p.m., other parts of the country were evacuated.
The Lahaina fire, meanwhile, could not be contained, forcing the Lahaina Beltway to close at 3:30 p.m. However, the announcement didn't make it into a county fire update until 4:45 p.m. and didn't appear on the county's Facebook page until around 5 p.m. when survivors reported that the cars of families trapped downtown were surrounded by flames had been.
But as the fire spread in Lahaina, officials from the Maui County Disaster Management Department and the Hawaii Emergency Management Agency made other urgent announcements — including a Facebook post about more evacuations near the fire in the Upcountry and an announcement that the incumbent governor was making a issued a declaration of emergency.
In the 3:20 p.m. Upcountry evacuation Facebook post, Fire Chief Jeff Giesea shared an ominous warning.
"The fire can be a mile or more from your home, but it can be in your home in a minute or two," Giesea said.
Mike Cicchino lived below the Lahaina Beltway in one of Lahaina's more inland neighborhoods. He went to his home at 3:30 p.m. and minutes later found his neighborhood quickly engulfed in flames.
He shouted at the neighborhood kids to get their mother and go. He ran inside to pick up his wife and the dogs that were watching them. Cicchino then jumped into their cars along with others in the neighborhood to drive off. He listened to announcements on his car radio but said there was virtually no information.
Government attention on social media turned back to Lahaina from Upcountry at 4:29 p.m. when the Hawaiian EMA instructed residents to take refuge at the Lahaina Civic Center north of the city.
Just before 5 p.m., Maui County shared a new fire report from Lahaina on Facebook: "Flareup enforcing closure of Lahaina Bypass; On-site protection is recommended.
Many were already fleeing the flames. Lynn Robison evacuated her home near Front Street on the waterfront at 4:33 p.m
"There was no warning. There was absolutely none. Nobody came by. We didn't see a fire truck or anyone else," Robison said.
Around the same time, Lana Vierra left her neighborhood about a mile (less than 2 kilometers) away. Her boyfriend had stopped by and told her he saw the approaching fire on the driveway.
"He said straight to me, 'People are going to die in this town; "You have to get out," she remembers. There were no sirens, no alarms on her cell phone, she said.
But access to the main road — the only road into and out of Lahaina — has been cut off by barricades erected by the authorities. The roadblocks forced people directly into the danger zone, directing cars onto Front Street.
"All the locals were put in the corner of Lahaina, and I felt like the county put us in a death trap," Cicchino said.
Nathan Baird and his family escaped by driving past a barricade, he told Canadian broadcaster CBC Radio.
"Traffic was everywhere. Nobody knew where to go. They were trying to force everyone to the Civic Center and…it just didn't make sense to me," Baird said. "I was so confused. At first I was like, 'Why are all these people driving toward the fire?'"
Cicchino and his wife were surrounded by walls of flame as Front Street burned. They ran to the sea, crouched behind the seawall for hours, or stepped on water in the choppy waves, depending on which area felt safest in the face of the ever-changing fire.
At 5:20 p.m., Maui County shared another update on the Lahaina fire on Facebook: Evacuations continued in one neighborhood, but access to Main Street was reopened.
The U.S. Coast Guard's first notification of the fires came when the Honolulu Search and Rescue Center received reports of people in the water near Lahaina at 5:45 p.m., said Capt. Aja Kirksy, commander of the Honolulu Coast Guard Sector.
Because of the smoke, the boats were difficult to spot, but Cicchino and others used cell phones to flash the boats and guide them along the way.
Cicchino helped load children onto Coast Guard boats and once lent his mobile phone – stowed in his wife's waterproof case – to a member of the Guard so they could contact the fire department. He said the rescue took hours and he and his wife were finally brought out of Lahaina around 1 a.m. Wednesday.
Maui County Facebook posts around 8:40 p.m. Tuesday urged area residents unaffected by the fires to take shelter and said the smoke was forcing more road closures. A commenter pointed out the communication issues just before 9 p.m.: "You are aware that all communications with Lahaina are down and no one is able to contact anyone on this site," the commenter wrote.
Riley Curran, who fled his Lahaina home after climbing to a neighboring apartment building to get a better look at the fire, doesn't think there was anything the county could have done.
"It's not that people haven't tried to do something. It happened so quickly that nobody had time to do anything," Curran said. "The fire went from 0 to 100."
But Cicchino said it all felt like the county wasn't prepared and government agencies weren't communicating.
"I feel like the county really took a lot of lives and homes that day. I felt that if they had just thought about these things in the morning and taken their precautions, a lot of that could have been prevented," he said. "You live in a fire zone. You have many fires. You have to prepare for fires."
The hazard sirens are tested every month to ensure they are working. During the last test on August 1, three separate incidents in three counties malfunctioned. Maui's siren sound was too short, so officers repeated the test later in the day with success.
Karl Kim directs the National Disaster Preparedness Training Center, a University of Hawaii-based organization that develops training materials to assist officials in responding to natural disasters.
Kim said it's too early to know exactly how the warning and alert system could have saved more lives in Lahaina, noting that wildfires are often more difficult to deal with than volcanic eruptions, tsunamis and even earthquakes because they time is harder to recognize and track.
"I think it's a wake-up call," he said. "We need to invest more in understanding wildfires and the threats they pose, which are not well understood."
___
Boone reported from Boise, Idaho and Kelleher from Honolulu. Associated Press journalist Andrew Selsky in Salem, Oregon; Matt Sedensky in New York City; Haven Daley in Wailuku, Hawaii; Helen Wieffering in Washington; and Christopher Keller of Albuquerque, New Mexico contributed.
___
The Associated Press's climate and environmental reporting is supported by several private foundations. For more information on AP's climate initiative, click here. The AP is solely responsible for all content.