In Gee Chun shoots 3-over 75, sees lead shrink to 3 strokes at Women's PGA Championship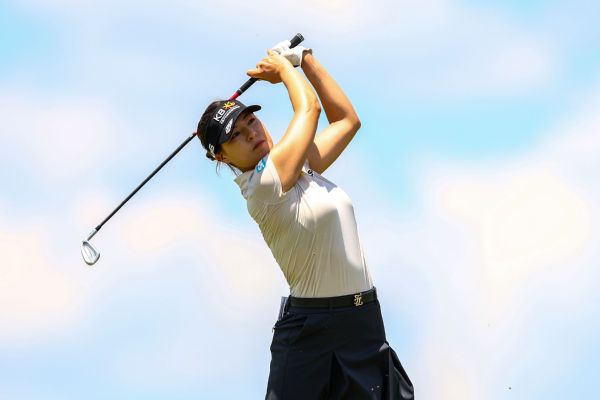 BETHESDA, Md. — That was the moment the rest of the field took: In Gee Chun, she stood next to the trees, considered her situation and finally returned to the point of her previous shot.
A shaky third round cut her lead in the Women's PGA Championship in half.
Chun shot a 3-over-75 on Saturday to go 3 shots into the finals at the Congressional Country Club. On a day when the leaders struggled a lot, Chun was doing well until she double bogeyed the par-5 16th hole.
"I'm already looking forward to an exciting finals," she said. "If it becomes too easy, then I find it boring."
It looked like the final lap might be boring – or at least disappointing – as Chun held a comfortable lead for most of Saturday. She bogeyed the Nos. 1 and 11 but birdied 2 and 12. Her lead was 5 when she had to play her third shot from tall grass in the 564-yard 16th.
This shot got them into even more trouble, in an area with tall grass and some trees. She took an unplayable lie and went back to the previous point to score again.
An 8 iron from there went over the green, but Chun managed to come up and down for a 7. The two-time major champion from South Korea led by 5 after the first round and by 6 at halftime. After the third round, she had a total of 8 under 208.
Lydia Ko (76) and Jennifer Kupcho (74) – Chun's playing partners – had their own problems, but Lexi Thompson and Hye-Jin Choi both shot 70 and took second place with Sei Young Kim (71) at 5-under.
Thompson will play in the final group as she attempts to claim her first major win since 2014.
"You always want to be in the bottom group at every tournament," she said. "I think it's great that the hard work has paid off for me. I put the time in so it means the world to me to see it pay off and pay off."
Ko couldn't take advantage of Chun's struggles. She bogeyed four of five holes during one stretch on the front nine and then shagged four of the next seven. She finished the round with four straight bogeys.
Kupcho had three birdies and three bogeys on the first seven holes and couldn't gain much ground on the leaders.
Kim, who won this event two years ago, had a relatively drama-free round with two birdies and a bogey. Choi shot 34 to the back nine while playing in a group with Thompson. They will be together again on Sunday.
"It was my first time playing with her and I actually saw her as a fan when I was an amateur," Choi said. "It was a good experience playing with her. Of course I tried to concentrate on my game."
Thompson made three birdies on the back nine, including a putt from about 30 feet at No. 15. She has 11 LPGA Tour wins, but none since 2019. She made her way into the competition after 74 in the first round.
Thompson finished second at Crown Colony in February and Upper Montclair last month.
"I know I'm in good shape with my game and my mental state, so tomorrow I'm going out and enjoying the walk with my caddy and hopefully a lot of fans out there supporting us," she said. "What score I shoot, I shoot."
Hannah Green (72) finished fifth with 4, a shot ahead of Atthaya Thitikul (68), who was so far behind early in the day that she was relegated to 10th place in one of the groups. Brooke Henderson (73), Kupcho and Jennifer Chang (73) finished sixth with Thitikul.
https://www.espn.com/golf/story/_/id/34148728/in-gee-chun-shoots-3-75-sees-lead-shrink-three-strokes-women-pga-championship In Gee Chun shoots 3-over 75, sees lead shrink to 3 strokes at Women's PGA Championship