Indigenous representation increases in Washington State Capitol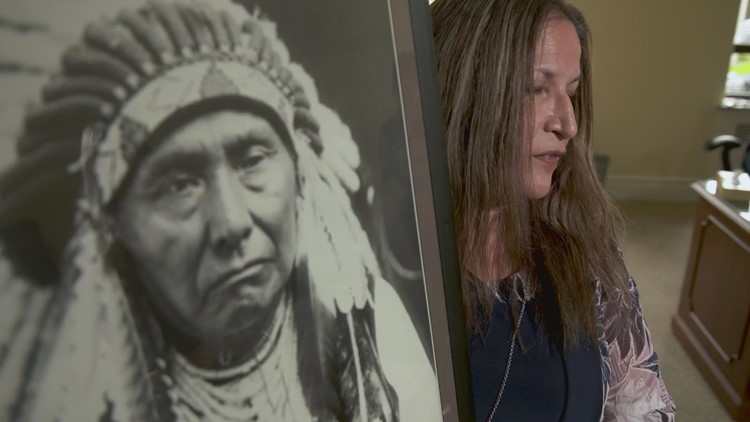 Representation is growing from one Indigenous legislator in 2022 to three in 2023.
OLYMPIA, Wash. The Indigenous population in Washington state is expected to grow by nearly 12% over the next 10 years.
But last year in the State Legislature there was only one native legislator.
This year, change is coming.
For State Senator Claudia Kauffman, change is a struggle for her people. She is a rare indigenous representative in a centuries-old institution.
"Look at me on the wall," Kauffman said.
The flags of the 29 federally recognized tribes of Washington stand in the capitol roundhouse. Symbolize their existence in a place where representation is almost non-existent.
"Triple representation in the Washington state legislature is something we need to celebrate," said Kauffman.
From one representative in 2022 to three Indigenous lawmakers by 2023.
"We need to maintain our presence and understanding and knowledge and life experience, and present it to the state Senate on a regular basis," said Kauffman.
Last year, Representative Debra Lekanoff was the only Indigenous lawmaker in both houses.
This year, Lekanoff kept his seat and was joined by Representative Chris Stearns and Senator Claudia Kauffman.
Kauffman first served from 2007 to 2011. She is currently in her second term, serving the southeastern portions of King County in District 47 – hoping to inspire other Indigenous peoples.
"Achieving that equality is one by one and one by one having the courage to run for office," says Kauffman.
She shows courage – this is evident when you know how many Indigenous women have served in the Senate before her. When she was elected in 2006, Kauffman became the first.
"I have received congratulations from all over the United States saying this is an Indigenous woman in the Washington State Senate," Kauffman said.
Kauffman is part of the Nez Perce Tribe and has worked for 21 years in intergovernmental affairs for the Muckleshoot Indians. Each tribe has its own culture and laws, she said, which should be recognized when state laws are created in Washington.
"It is important to know, understand, and respect the tribal sovereignty that each tribe has in Washington state," says Kauffman.
Ensuring the voices of tribal members are heard is central to her role as the leadership liaison with tribal states for the Democratic Senate Caucus.
Kauffman serves on Capitol Hill today, following the hardships and leadership of those who lived before her — those who now guide her.
"Very patient and caring not only for his work but also for his people," says Kauffman.
Just as she hopes to guide others – actively work to show young Indigenous women that their voices matter.
"I've brought them down here in Olympia many times to say this is your state government, you can sit behind that desk," Kauffman said. If that person can, so can you."
Hoping to bring more change – and more Indigenous people – to the state Capitol.
"I don't think the seed is there, I think the seed is already there," Kauffman said. We just need to cultivate it and provide leadership and understand that this is possible."
https://www.king5.com/article/news/community/facing-race/indigenous-representation-olympia-washington-state-capitol-lawmakers/281-9fcfba7b-adf1-42df-9bbf-d7643a11ffb3 Indigenous representation increases in Washington State Capitol