Indoor masking recommended amid 'very high' flu activity in WA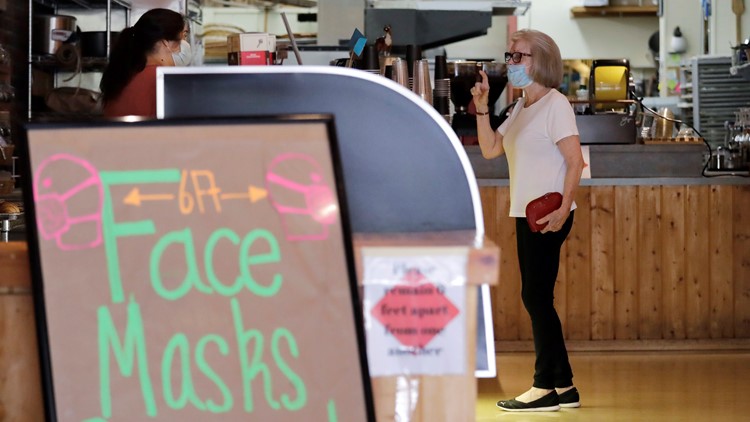 According to the Washington State Department of Health, flu deaths have doubled from last week, and emergency room visits have increased statewide.
SEATTLE — Health leaders in King, Snohomish and Pierce counties on Friday recommended wearing face masks in indoor public places due to high levels of the respiratory virus currently circulating.
According to health officials, communities across Washington state and the United States are experiencing an unprecedented increase in respiratory illnesses, including respiratory syncytial virus (RSV), influenza and COVID-19. -19.
According to the Washington State Department of Health (DOH), flu deaths have doubled from last week, and emergency room visits have increased statewide.
The DOH reported 26 flu deaths on Friday as of December 3, including 23 adults and 3 children, up 13 from the previous week.
The DOH also reported more than 1,400 new flu cases on Friday from November 27 to December 3.
The rate of emergency room visits for flu-like illness spiked in the weeks since late October, reaching nearly 20% in northern and central Washington state along with the Puget Sound area. Emergency room rates hovered around 3% during last year's flu season in all regions.
Rachel Smart's two daughters are both recovering from RSV. Her 8-month-old baby was recently hospitalized with a viral infection.
"She was trying to breathe. This virus is extremely difficult for children. It's really hard on babies and young children," Smart said.
Smart rushed her daughter to the emergency room in Silverdale, where she was told her condition wasn't serious enough to be hospitalized. Things got worse from there. When she returned to the hospital, she was transferred to the already packed Seattle Children's Hospital.
Smart waited 12 hours in the emergency room before checking in.
"We really had to share it with another baby with RSV. They said they were overcrowded so we would have to share and would put two kids with the same virus in the room."
Smart said her daughter was in the hospital for two days.
"As a mother, there is nothing more painful than seeing your child suffer. And that's really hard when it doesn't seem like much can be done," Smart said.
Snohomish County Health officials say one reason for the mask recommendation is to try to reduce strain on the health care system. Dr. James Lewis, Chief Medical Officer of the Snohomish Health District said the county has been hit hard by RSV and the flu.
"The unfortunate thing about the current flu season is that we are seeing a peak very early on. So usually, people have a little bit of time to get the flu shot," said Dr. Lewis.
Dr. Lewis worries about flu hospitalizations and notes shortages of children's medicines like Tylenol and Tamiflu.
"Because people haven't had the flu or RSV much in the past few years, this may contribute to the severity of this flu season and how quickly it started," said Dr. Lewis. speak.
RELATED: Rising RSV infections send children's hospitals in Washington into 'crisis'
Health officials and health care leaders recommend that residents wear high-quality face masks that fit around other people in their homes and are also urging people to update their immunization schedules.
Officials also recommend that residents stay home from school or work if they are sick and get tested for COVID-19 if symptoms develop.
The flu is most dangerous for:
Children under five years old, especially two years old
Adults 65 years and older
People who are pregnant
Anyone living with a health condition such as asthma, diabetes or heart disease.
You can find more information about influenza, RSV, and COVID-19 on the DOH website.
https://www.king5.com/article/news/health/king-pierce-county-health-recommend-mask-indoors/281-f7940e51-4b45-4295-854b-6ce643035627 Indoor masking recommended amid 'very high' flu activity in WA