Inside England's World Cup camp: Relaxation meets motivation
TERRIGAL, Australia — About 50 miles north of Sydney, just set back from the beautiful sweeping sands of Terrigal Beach, is a slice of England. In the England women's team hotel is a cornered-off section: the team base for the duration of the World Cup complete with Yorkshire Tea, rooms named after England legends, and an area where players can craft their own bespoke trainers.
It's blissfully relaxed and against the backdrop of waves lapping on perfect sand, dogs of all shapes and sizes are walked up and down through the various cafes. The venue was chosen by a group headed up by FA women's technical director Kay Cossington and England Women's general manager Anja van Ginhoven off the back of 18 months' work, including a scouting trip in May 2022 where they visited 23 hotels, 18 training venues and boarded nine different flights. The hotel here just off the beach is coupled with the training pitch at the Central Coast Stadium, a 20-minute drive away, which is said to have the best patch of grass for football in the country.
– Women's World Cup: Landing page | Schedule | Rosters | News
On Wednesday, the FA opened up the team base and showed ESPN, among others, where the team relax, carry out their meetings and prepare for what they hope will be a run all the way to the final on Aug. 20. England moved into their Terrigal base the day after their 1-0 win over Haiti in Brisbane and will commute from here to their match against China in Adelaide, and then any potential trip to Brisbane again in the knockout stages.
As you walk into the team base, you're greeted by a wall of balloons in the flag of St George, with "England" written across it. The escalator up to the inner sanctum is adorned with slogans — "Our England, Our Family, Unbreakable Bond" is one, with the whole place decked out in red and white. Everywhere you look there are motivational slogans and messages — "Team Play for the Shirt First" is another — all adorned across the various rooms and stations opened up to the team.
In the middle of the foyer is an arts and crafts work station, next to a Nike pop-up where the players can customize trainers. Nearby is a coffee station where, by the time we'd visited at about 11.30 a.m. on Wednesday, the baristas had already served 40 coffees to the 23 players and 30 staff who form the England operation.
Off to the side of the main foyer are various rooms, including the "Scott Relaxation Room." Back in their successful Euro 2022 campaign, the team used legends' names for their team rooms. Indeed, veteran midfielder Jill Scott was honoured that they'd named one of the rooms at their base in Teddington's Lensbury Resort after her, only to find it was actually named after former England international Alex Scott. But here in Terrigal, there is a common consensus that this Scott room is named after the newly retired Jill. (There are others named after Rachel Yankey, Fara Williams, Mary Phillip, Sheila Parker, Pat Davies and Lily Parr.)
In the Scott room is a table tennis table, two arcade games (one of which is themed around "The Simpsons,") and then two TVs — one connected to an X-Box and another set-up for the matches. Around the corner is another craft wall and a bookshelf filled with autobiographies from the likes of tennis stars Serena Williams and Andre Agassi, as well as Wales rugby legend Alun Wyn Jones, alongside a selection of fiction from Jane Austen to Colleen Hoover, and all the Harry Potter books too. Nearby is a well-used darts board, with the outer wall peppered with remnants of stray arrows.
"A lot of people are doing a lot of colouring in and jigsaws, and we've got a unbelievable set up for the games room. The younger players play more games than the older players, but it's a relaxed camp and the staff make it very relaxed for us," defender Alex Greenwood told ESPN.
"It's got everything we can think of. It's got so much to keep us busy in our spare time, we're very lucky and grateful for what we've been given. Lauren Hemp and Niamh Charles playing table tennis a lot. Hempo is really good. I'm not playing table tennis… it's not for me."
Next to the Scott room is the [Ellen] White room. At the back is a vast projector, a tactics board, and also on the wall is the team's path through the tournament mapped out. There's a map of Australia alongside their potential route to the final, alongside a huge board reading "Real Sisterhood."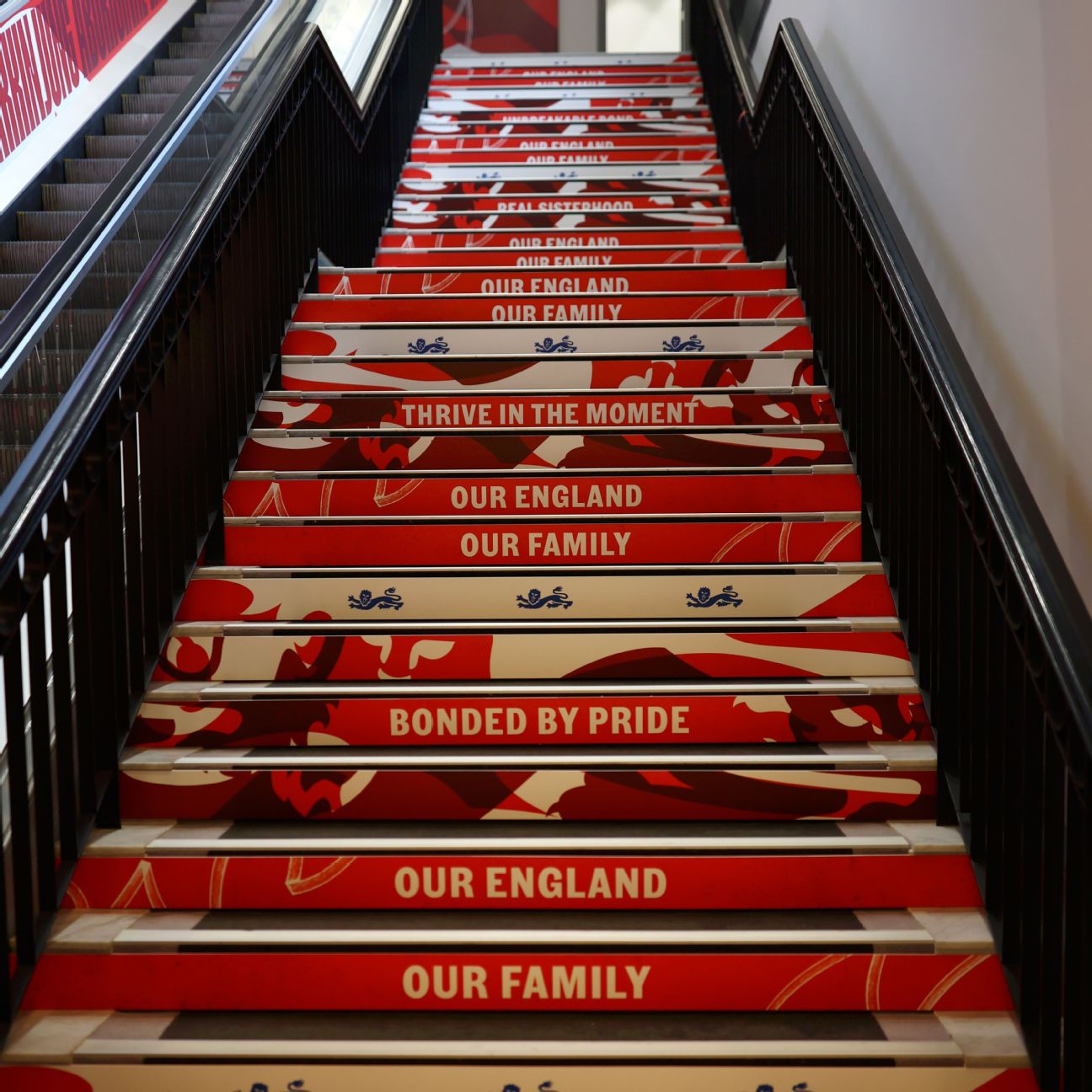 The Parr [dining] room next to it has some tactical reminders pinned to the wall, next to an abundance of home comforts like the 3.25kg bag of Yorkshire Tea, including 1,040 tea bags. This is where the team have all their meals, prepared by chefs Gareth and David. On one wall reads: "From the pitch, to the stands, at home or away, support each other through thick and thin cos that's the England way."
There's also a respectful sign nearby which reads: "We respectively acknowledge the traditional custodians of the land, the Darkinjung people, and pay our respect to their elders, past, present and emerging."
It's incredibly impressive, but perhaps even more impressive is the fact the whole wing of the hotel was put together in just three days. The FA is leaving little to chance. On the flight over, the team had their own compartment on the plane, so they brought along a specific "chrono coach" (someone who specialises in light therapy) to dictate when the lights would be dimmed. The team had already shifted to Australian time (11 hours ahead of the UK's BST) before departure, but they used different coloured sunglasses to help control their body clocks: blue light to keep them awake, orange to encourage their bodies to make melatonin to nudge into sleep.
The goal of England's team base was to make it a home from home. It was also attuned to Van Ginhoven's philosophy of making the tournament resemble a tunnel of transitions. Each step moves the players into a different competition mode, from the light and familiar nature of St George's Park back home, to the casual nature of their pretournament base on the Sunshine Coast, to Brisbane's central business district ahead of their opener against Haiti, then into this base for the remainder.
It's a far cry from Euro 2005, where Cossington remembers how the team environment was signposted with A4 printouts manually stuck to doors and players were handed a small wallet to pay for expenses.
But ask Cossington and Van Ginhoven what they're most proud of, and they turn to this portrait on a wall near the Scott Relaxation Room. It's of this England squad as youngsters, a portrait of the team imagined at the start of their love of the game. It shows where they've come from, how far they've come, and where they are now on a journey in Australia they hope will end in World Cup triumph.