Investigation lays out timeline leading up Idaho murders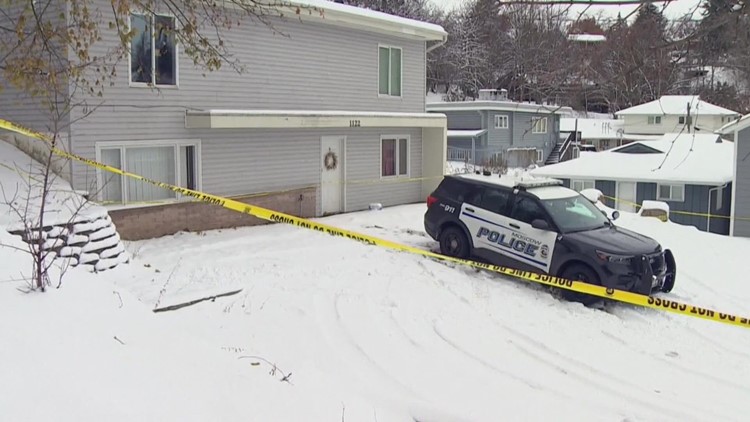 Court documents show that Bryan Kohberger's phone called a cell tower near the victims' homes months before four Idaho college students were killed.
MOSCOW, Idaho — Court documents reveal that investigators found DNA on knife sheaths and used cell phone data to identify Bryan Kohberger, 28, as a suspect in the murders of four University of Idaho students in November.
Students – Madison Mogen, 21, of Coeur d'Alene, Idaho, and Kaylee Goncalves, 21, of Rathdrum, Idaho; Xana Kernodle, 20, of Post Falls, Idaho; and Ethan Chapin, 20, of Conway, Washington – were found stabbed to death on November 13 in a rental home.
Below is a timeline of events leading up to the murder and Kohberger's first court appearance on Thursday.
August 21
Court documents say Kohberger's phone called to a cell tower that provided coverage to the victim's residence between 10:30 p.m. and 11:30 p.m.
According to the documents, Kohberger was arrested by the Latah County Sheriff's Office while stopping traffic shortly after 11:30 p.m. KST. Kohberger is driving a white 2015 Hyundai Elantra with a Pennsylvania license plate that expires on November 30, Kohberger provided the information. his phone number during the traffic stop.
Subsequent data showed that Kohberger's phone was found near the victims' homes at least 12 times before November 13.
October 14
Kohberger was again detained during a traffic stop by a Washington State University police officer. Kohberger was stopped in a white Elantra with Pennsylvania license plates.
November 13-14
9 pm: Chapin and Kernodle were seen by one of their roommates at a house on the University of Idaho campus.
10 hour me: Goncalves and Mogen were seen on surveillance video at a local bar.
1:30 am: Goncalves and Mogen were seen on video at a food truck.
1:56 am: A private party brought Goncalves and Mogen home on their King Road.
2 am: The roommates told investigators that all the occupants of the King Road mansion were at home.
2:47 am: Kohberger's phone left his residence and headed south through Pullman before it stopped "reporting to the network" which investigators say is consistent with the phone being turned off.
2:50 am: WSU surveillance video captures a white 2015 Hyundai Elantra traveling in the direction of SR 270, connecting Pullman with Moscow.
3:30 am: Multiple videos from the King Road neighborhood are said to show Kohberger's Elantra driving multiple times.
4 a.m: Kernodle takes DoorDash deliveries.
Elantra is seen entering the area for the fourth time.
One of the roommates was awoken by what sounded like one of the victims playing with her dog before hearing the victim say, "someone's here."
4:12 am: The profile shows Kernodle using her phone and on TikTok.
The roommate said she looked outside the room but saw nothing. The roommate then heard what sounded like crying from another victim's bedroom and heard a man say something like "it's okay, I'll help you."
4:17 am: According to court documents, surveillance video from a neighboring home next to Kernodle's room captured what sounded like "a voice or a whimper followed by a loud thud." The video also recorded the dog barking repeatedly.
The roommate opened the door a third time after hearing the cries and is said to have seen a man in "black clothes and a mask" walking towards her without her noticing. The roommate told investigators the man walked past her as she was standing in "a period of freezing shock". She said she closed and locked the door when the man left through a sliding door.
4:20 am: The next Elantra was seen leaving the area at high speed on Palouse River Drive, eventually leading to Pullman.
4:48 am: Kohberger's cell phone began reporting to the network providing coverage to Highway 95, south of Moscow.
Investigators said cell phone recordings showed movements consistent with those of the Elantra.
Investigators believe the murder happened between 4 a.m. and 4:25 a.m
11:58 am: Moscow police deal with an unresponsive person at the victims' residence.
November 18
Kohberger registered his white Elantra in Washington state and subsequently received a Washington state license plate.
November 25-28
Moscow police asked regional law enforcement to search for white Hyundai Elantras in the area.
On November 29, a WSU police officer searched for Elantras registered at the university and found the Elantra that belonged to Kohberger.
December 13
Kohberger's Elantra license plates are scanned by a license plate reader in Loma, Colorado.
December 15th
Kohberger was pulled over twice in Indiana for stalking and speeding. The stops happen within minutes of each other.
In the bodycam video, Kohberger talks to an Indiana soldier about where they are going and the confrontation with Pullman's SWAT forces that happened that morning.
December 16
Surveillance video shows a man matching Kohberger's description in a white Elantra in Albrightsville, Pennsylvania, where the Kohberger family's mansion is located.
December 27 – 28
Pennsylvania FBI agents recovered DNA evidence from the trash at the Kohberger family's residence and sent it to the Idaho State Laboratory for testing.
On December 28, the Idaho State Laboratory reported results showing that the DNA from the house was a 99.9% match with the father of the person whose DNA was on the knife.
December 30
Kohberger was arrested by Pennsylvania State Police early in the morning at a home in Chestnuthill Township, according to authorities.
December 31
Kohberger's attorney in Pennsylvania, Jason LaBar, said his client "looks forward to being cleared" and "looks forward to having these matters resolved as soon as possible."
Kohberger dropped out of the extradition hearing to expedite his move to Idaho, according to his attorney.
January 1
In a statement, Kohberger's family said they support his presumption of innocence but are also "deeply concerned for the four families who have lost their precious children."
"No words can adequately describe the sadness we feel, and we pray every day for them," the family said.
January 4th
Kohberger was extradited from Pennsylvania and placed in the Latah County Jail.
January 5
Kohberger goes to court for the first time. He is being held without bail.
https://www.king5.com/article/news/crime/idaho-murders-timeline-events-killings-investigation-arrest/281-64333c86-5a96-4760-8e05-4fb0341943e1 Investigation lays out timeline leading up Idaho murders