Is Sept. 19 cursed in Mexico? There have now been three major earthquakes on that day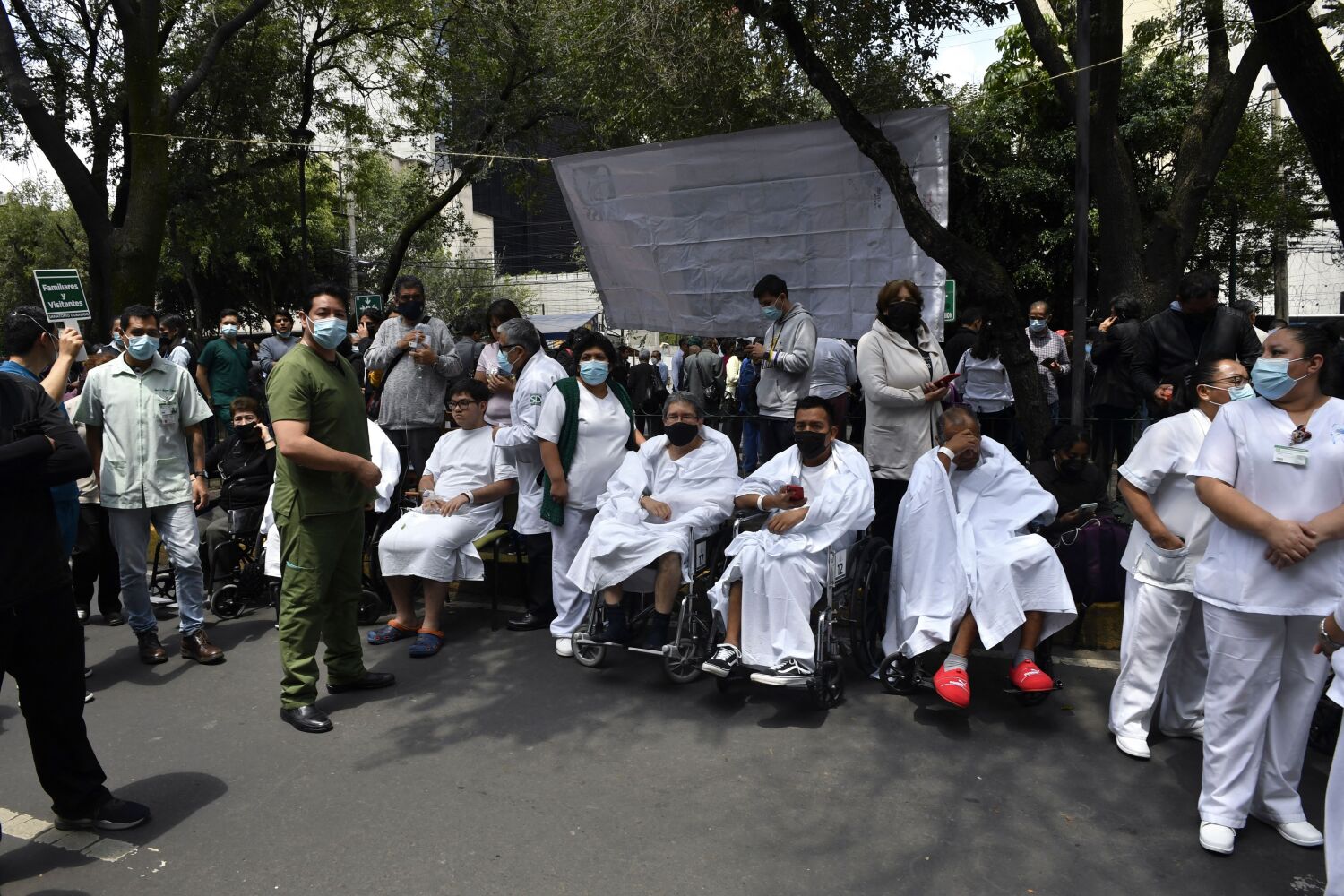 MEXICO CITY –
A powerful earthquake struck western and central Mexico on Monday — the anniversary of the tremors that killed thousands in 1985 and hundreds in 2017.
Tens of thousands of fearful people took to the streets in the capital and elsewhere when the ground began shaking at 1:05 p.m
For a quake that measured 7.6 magnitude according to the US Geological Survey — Mexico's National Seismological Service put it at 7.7 — damage was surprisingly limited, with just one reported death.
That was likely because the epicenter is a sparsely populated region 250 miles southwest of Mexico City in the western state of Michoacán, at a depth of 9.4 miles. The tremors were felt in 12 Mexican states, officials said.
It struck across Mexico City 46 minutes after an earthquake alert went off — a drill city officials now conduct every September 19.
It is a date that has gained significant status in Mexico.
The 1985 quake that day had a magnitude of 8.1 and killed more than 10,000 people as hundreds of buildings collapsed. The 7.1 magnitude quake in 2017 killed more than 360 people.
"I can't believe this happened again on September 19!" said María Refugio Valdés, 55, a homemaker in Mexico City. "This time I was scared at first and then I started crying. In 1985 I lost various family members.
"Thank God we didn't lose anyone in 2017 and neither this time. But it doesn't seem possible! The same date."
Many others wondered if the date is cursed.
"It's surreal how we're living in this country with these earthquakes," said Lourdes Trejo, 46, a nurse in Mexico City. "Maybe it's a message: We shouldn't do anything on September 19!"
Timing was a major topic of conversation as people left their homes and gathered on the streets for protection.
"I don't understand – why September 19 again?" asked Mario Solís Flores, 39, a street vendor in the capital. "What's going on? September 19? It's hard to believe."
On Monday morning, before the quake struck, Mexican President Andrés Manuel López Obrador oversaw a ceremony in downtown Mexico City where a flag was lowered to half-mast for victims of the 1985 and 2017 earthquakes.
Several commemorations were held at the beginning of the quake – including a memorial mass at the former site of the Rébsamen School, where 19 children and seven adults died in 2017. The school became a figurehead in the tragedy and a symbol of corruption in building practices and inspections in the capital.
The school principal was sentenced to prison after being convicted of manslaughter related to construction defects at the school.
Mexico's National Autonomous University stated that the occurrence of three earthquakes with a magnitude greater than 7.0 was a mere quirk with no major significance. "There is no scientific reason to explain the random timing," the university's seismology department said on Twitter.
More than 200 aftershocks were recorded by Monday afternoon.
According to a tweet from López Obrador, the only reported death was a person struck by debris at a mall in the Pacific Coast city of Manzanillo. Footage from Manzanillo and elsewhere in Colima state showed damage to roofs, bridges and other structures.
In the neighboring state of Michoacán, authorities reported that more than 20 hospitals and clinics were damaged in addition to many buildings.
Mexican authorities said they had not issued a tsunami warning but said tidal fluctuations were expected.
Mexico City Mayor Claudia Sheinbaum reported no major damage in the capital, although there were isolated power outages. Failing traffic lights caused congestion on several streets, and some delays were reported on the city's subway network.
In Mexico City's tree-lined Roma neighborhood, residents gathered outside their homes as they waited for the shaking to stop.
Paul Moch, 34, and his girlfriend Jimena David, 31, had grabbed their 5-year-old dog Senshi and left their second-floor apartment with a black backpack full of earthquake gear: a flashlight, face masks, an extra leash, a blanket and a first -Help set.
"It felt ugly," Moch said. "What I have learned from the past is that you don't know when the peak will be reached."
Beside him, Rosario Guerrero, who was visiting Mexico City from Cuernavaca, carried a small white dog. Guerrero, 68, hugged a woman who was crying softly.
"Just cry," Guerrero said to the terrified woman. "Crying to get rid of the tension."
McDonnell is a staff writer and Sánchez is a special correspondent. Contributor Leila Miller and Special Correspondent Liliana Nieto del Río contributed to this report.
https://www.latimes.com/world-nation/story/2022-09-19/strong-earthquake-shakes-mexico-pacific-coast Is Sept. 19 cursed in Mexico? There have now been three major earthquakes on that day