Italy warns people to avoid sun from 10am until 6pm as heatwave expected to hit this week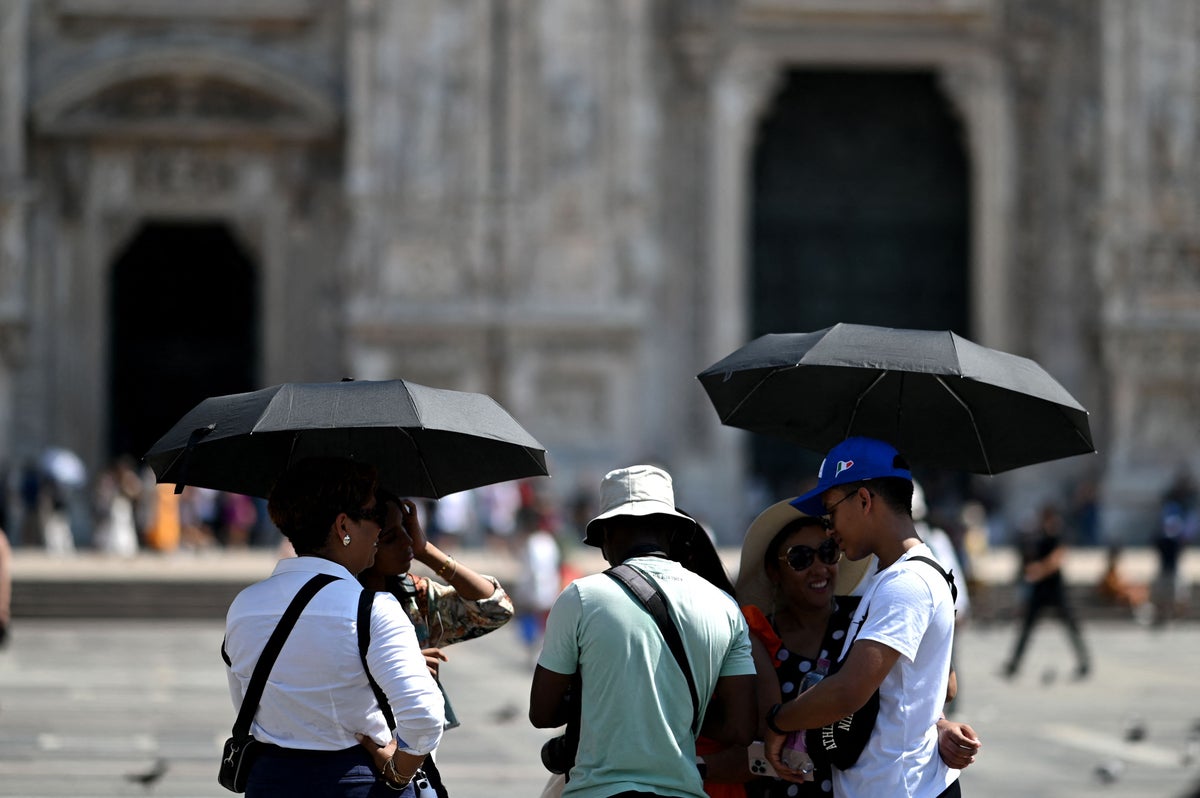 Italian authorities have warned people to stay out of the sun from 10am to 6pm as temperatures soar above 40C.
17 cities have been issued red alert amid the third severe heatwave in just two months, and temperatures are expected to start on Wednesday.
This is the strictest warning, meaning even the young, fit and healthy are at risk of the ill effects of intense heat.
Temperatures rose to 38C today in several of Italy's largest cities, including Rome and Florence, and temperatures are expected to reach 40C on Thursday. This has prompted authorities to warn people to avoid the sun. Anadolu Ajansi reported.
While the UK was battered by torrential rain and storms for most of the summer, Europe was hit by record-breaking heatwaves, with mercury temperatures reaching 48C in southern Italy.
The heat has been so intense that several cities have experienced power outages over the past month due to heat damage to underground cables.
Between 200,000 and 300,000 people were without electricity and running water around the city of Catania.
Italy and other parts of southern Europe also struggled with wildfires.
Large forest fires raged in Greece and the Canary Islands in Spain on Monday. Hot, dry and windy conditions hampered the efforts of hundreds of firefighters to fight the blazes. Two of the fires have been burning for several days.
European Union officials blame climate change for the increasing frequency and intensity of wildfires in Europe, noting that 2022 was the second-worst year on record for wildfires, after 2017.
In Greece, authorities said the body of a man was recovered from a sheepfold in an area in the central Boeotia region that was being evacuated as a forest fire approached. Local media reported the man appeared to have died from smoke inhalation while attempting to rescue his livestock.
Last month, a forest fire on the holiday island of Rhodes forced the evacuation of around 20,000 tourists. Days later, two Luftwaffe pilots were killed when their water-dripping plane crashed while diving deep to fight a fire on Euboea. Another three wildfire-related deaths were recorded this summer.
In the Spanish Canary Islands off the coast of West Africa, a forest fire that police said was started intentionally in Tenerife last Tuesday continued to spiral out of control. More than 12,000 people were evacuated and about 13,400 hectares of pine forest and scrubland were burned.
European forecast
Dubbed the 'heat dome', the high pressure has spread across mainland Europe and spread to the Mediterranean Sea. It is expected to break through on Thursday when temperatures are expected to peak.
Parts of the Iberian Peninsula could reach temperatures close to 45°C, while southern France and northern Italy will see highs of 30 to 40°C.
Weather warnings are also in effect this week in France, where temperatures in the south and east have already reached highs of 40°C.
There are also high temperature warnings in Switzerland, Germany, Poland, Italy, Croatia, Greece, Hungary, Austria and Lithuania.
Spain announced a heatwave on Sunday that is expected to last at least until Thursday. But Spain and France should avoid some of the worst heatwaves through the weekend.