It's the perfect time to make a summer cocktail without the alcohol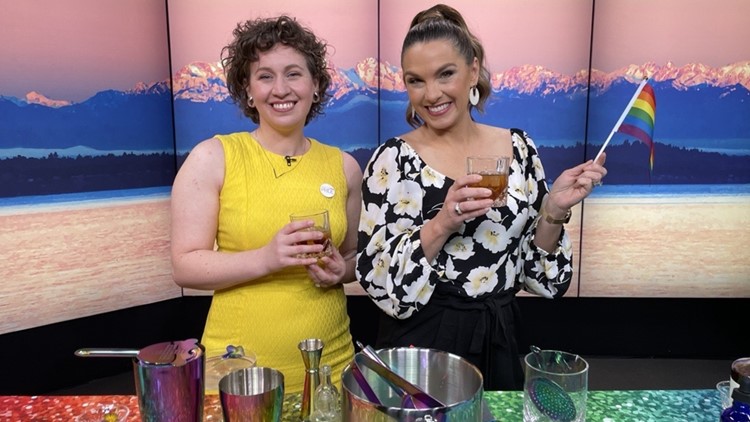 Molly from @mollymakesdrinks is creating non-alcoholic cocktails for this year's Seattle Pride in the Park on June 4th. #newdaynw
Saturday, June 4th is the Seattle Pride in the Park Festival at Volunteer Park.
It kicks off LGBTQ Pride month of celebration across the Northwest. Part of the celebration involves fabulous food and drink.
Here to share some Pride-themed non-alcoholic cocktails is Molly Flynn aka Molly Makes Drinks!
French kiss 75
A classic and refreshing summer favorite with a non-alcoholic Pride twist!
2 ounces NLL
½ ounce fresh lemon juice
½ oz simple syrup
2-3 oz Noughty Sparkling Chardonnay
Garnish: lemon twist
In a shaker filled with ice, mix NLL, lemon juice and simple syrup. Cover and shake until cool. Strain into a coupe and top with noughty. Garnish and enjoy!
BoulivardiGAY
A spirited drink named after the alcohol-based cocktail, the boulevard brings out the bittersweet flavors without the booze
1 ounce The Boy Scout
1 ounce Kentucky 74
1/2 ounce Wilderton Earthen
3 drops of All The Bitter Orange Bitters
½ ounce fresh lemon juice
½ oz simple syrup
Garnish: Orange zest or dried orange slice
Mix everything except the garnish in a mixing glass with ice. Strain over a large ice cube. Garnish and enjoy!
Segment Producer Suzie Wiley. Watch New Day Northwest at 11am on weekdays KING 5 and live streaming at KING5.com. Contact New Day.
https://www.king5.com/article/entertainment/television/programs/new-day-northwest/summer-cocktail-alcohol-free/281-200aad8c-b6a7-4bf0-b98c-49fa8909c231 It's the perfect time to make a summer cocktail without the alcohol