'I've given my heart and soul': Stuart Broad will leave behind a golden England legacy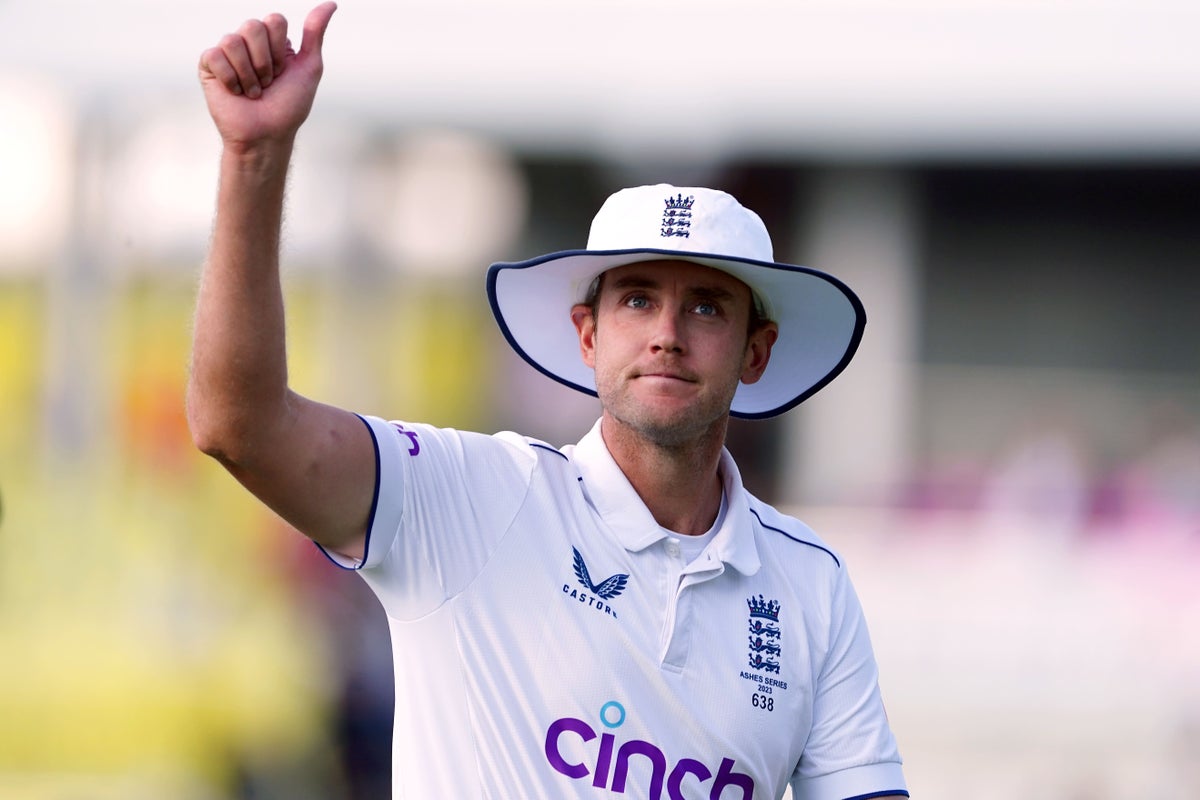 When Stuart Broad gave up his love of cricket after announcing his retirement during the last Ashes Test match, he undoubtedly left a legacy in the game.
In 2009, kids at the age group level were squabbling over who was the best bowler between Broad and James Anderson, and it was unimaginable that the same duo would still be playing at their best in Ashes Test matches 14 years later.
The 37-year-old has 602 wickets in 167 Test games and will emerge as the second-best pace bowler in history, behind team-mate Anderson.
There are moments in his career that can be referred to as falling in love with the game, be it his two Test hat-tricks including one against India in front of his home crowd at Trent Bridge in 2011, or eight for 15 when England secured the Ashes again at Nottingham in 2015.
Broad had a love affair with the Ashes from the start and like many great players, the higher the occasion the more they embrace – much like England captain Ben Stokes did and he declared his love for one of their oldest traditions of the sport and the fight for one of its smallest trophies.
"There is a connection to Ashes cricket in my family. I've been fascinated by it from a young age," Broad said.
"I didn't win many Tests in my influential years as a kid and that grew in my hunger and desire to be part of teams that could win against Australia.
"I had a good record in England against Australia, they are a great side at home coming close except for 10/11.
"But Australia's competitiveness in cricket brings out the best in me. I love this head-to-head fight, I love the energy the crowd brings, the fight and the rivalry, and I know that to be a good bowler my feelings have to be sky high and my competitive spirit has to be sky high.
"I can promise you they were there every time I came into the game with a ball in my hand against Australia.
"It makes me proud to have 150 Test wickets against the Ausssies in that category with Warney [Shane Warne] And [Glenn] McGrath above. I enjoyed every minute against Australia, apart from Mitch Johnson's bowling in Brisbane, that was awful."
There will be questions over the coming months about how England will progress from here. Such is the importance and reliability of the Anderson-Broad partnership that it is difficult to discuss one without mentioning the other.
Broad is no doubt in the process of separating from the top of his game too – he has taken his 600th wicket of the series and is at the top of the bowling charts with 20 and one more inning in the series.
However, Broad is more than just a statistic, he embodies what Bazball England is all about, he is an entertainer. The cheers as he rolls to the slips, or the hand gestures he uses to cheer on the crowd, he lived every moment on the field for England. And the bowler hopes he'll be remembered that way.
"At the end of the day, the way I've been doing my sport, I never wanted anyone in the audience, at home or on the radio to think, 'He's not getting anywhere, he's not giving his all or putting his heart and soul into it.'
"I know I'm not the most skilled player that has ever played. I know that it takes every inch of my competitive spirit, drive and effort to get the most out of my abilities.
"I would say every day that I've put on a Nottinghamshire shirt or an England shirt, I've given my heart and soul.
"I can't imagine there being too many cricket fans who think I've slacked off for a moment."
When it came to telling his teammates, the bowler admitted he had a hard time getting the words out when he tried to tell former captain Joe Root, but he still has a day or maybe two to finally say goodbye to the sport that he has practiced as a professional for 18 years.