Ja Morant thinks he could take MJ one-on-one and more Quotes of the Week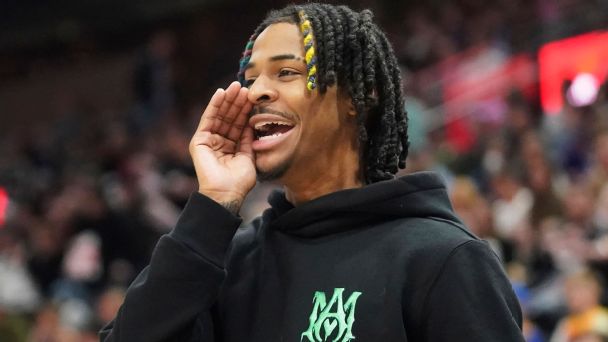 Ja Morant is confident he can take on an NBA legend, JaMarcus Russell wants his career to be properly evaluated, David Ortiz makes the case for a current Red Sox slugger and more from our quotes of the week.
"I would have cooked [Michael Jordan] also… I will never go and say no one will beat me 1-on-1.
– Memphis Grizzlies guard Ja Morant, on playing in Michael Jordan's NBA era, on Taylor Rooks X
"You're telling me the third best defender has to protect me? Much luck."
— John Wall when he joined Paul George and Kawhi Leonard in the LA Clippers
"It's fun. I see why it's addicting."
— Richard Jefferson on his debut as a referee in the NBA Summer League
"If you want to call me a bust, put 'The Biggest' on this m———."
– JaMarcus Russell, former Oakland Raiders draft pick No. 1, was called bust via The Pivot Podcast
"When I first saw him in the big leagues a few years ago, I immediately said to the Red Sox, 'You've got to let this guy in. Devers could be one of the top three straight racquets right now. could,' because right now I'm 100% sure."
— Boston Red Sox legend David Ortiz on third baseman Rafael Devers. Devers has one more year of arbitration after this season before he becomes eligible for free agency
"If [Rasheed Wallace] played in our league today… he would be better than Giannis and I love Giannis.
— Golden State Warriors forward Andre Iguodala comparing Rasheed Wallace to Giannis Antetokounmpo on The Dan Le Batard Show with Stugotz
https://www.espn.com/nba/story/_/id/34245325/ja-morant-thinks-take-mj-one-one-more-quotes-week Ja Morant thinks he could take MJ one-on-one and more Quotes of the Week