Jahan Battu of Granada Hills wins City Section golf title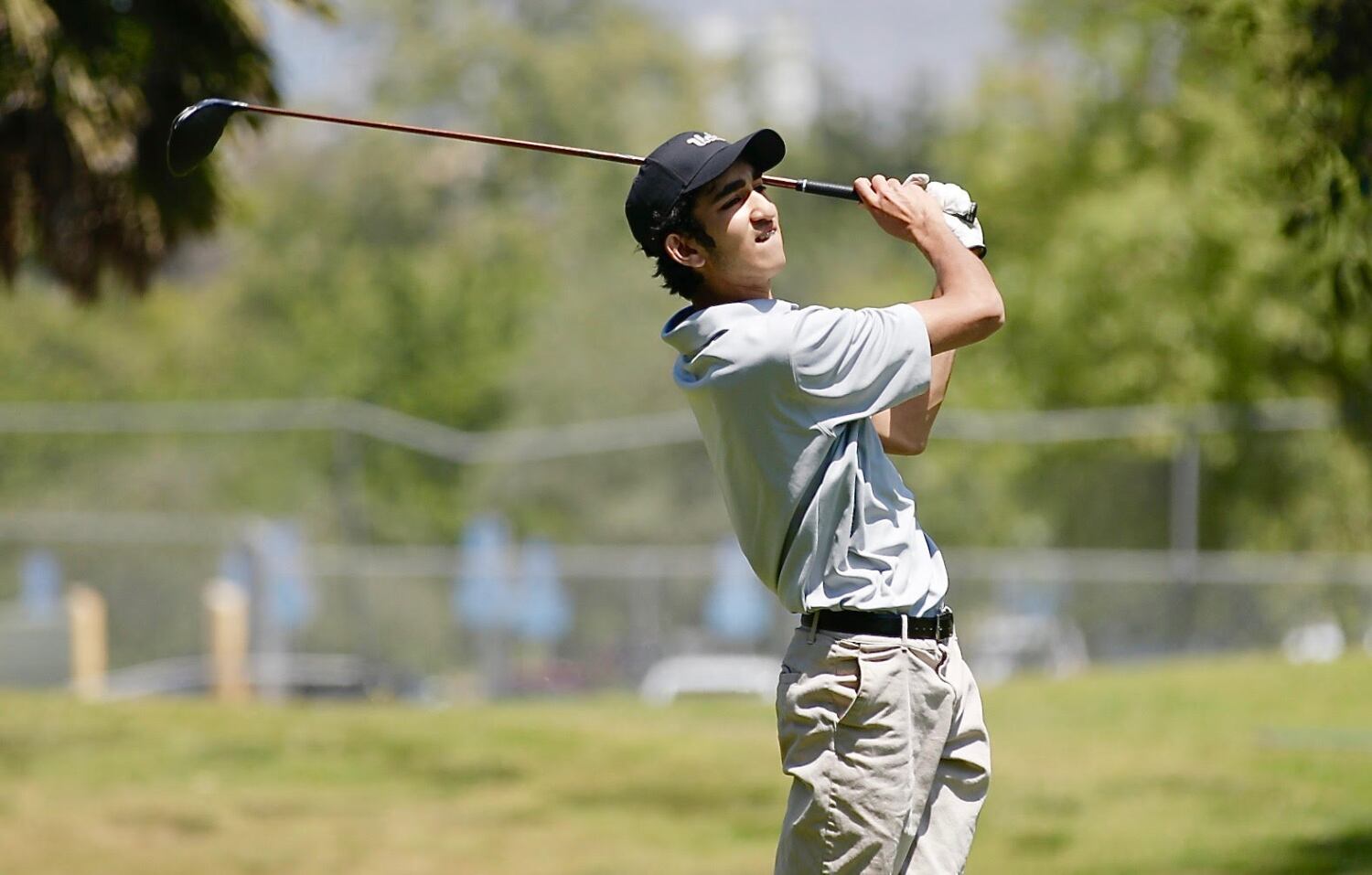 En route to the 18th tee on Wednesday afternoon's Harding Course at Griffith Park, Granada Hills senior Jahan Battu never considered a conservative approach. No chance of winning the City Section golf championship.
With a 1-under par tie and Van Nuys clubhouse leader Isaiah Kim, Battu hit the par 5 green with two and two putts and secured a one-stroke win from there. With nerves of steel, Battu stayed within six inches of the trophy in a 13-foot downhill eagle attempt, then tapped in for the birdie and received a hug from teammate Joseph Wong.
"I knew I needed par or better, but my mentality was birdie all the time," said Battu, who had six birdies and four bogeys after a one-over-73 and finished seventh last year. "I hit the driver to the fairway and the 5 iron to the green. What concerned me on the putt was getting the speed right, and off the club it felt good."
The Porter Ranch resident wore a UCLA cap to indicate where he'll be going in the fall and felt comfortable despite the windy conditions, which helped all but two of the 58 players in the field outperform.
Kim, a sophomore, also birdied on the 18th and spent the next hour on the putting green in case there was a sudden death playoff.
"I was happy to be leading, but this is golf and anything can happen," Kim said. "I'm happy for Jahan. … That's his lowest ever competitive round, so he picked a good day for it."
Playing alongside Kim was defending champion Turner Osswald of El Camino Real, who finished first with a four-under shot last spring. He was eliminated on Wednesday after a double bogey eight on the 16th hole and tied for fourth place with Wong with 74 points.
"I guess the group in front of us played his ball by mistake, so he had to make another tee shot, which upset him a bit," Kim said.
"Wearing my Bruins hat brought me a lot of luck today," said Battu. "Growing up in LA, it was my dream school. I've played this course six or seven times and I like it better than Wilson. You can do fades and draws off the tee and I like that aspect. There are definitely opportunities for birdies. Our goal today was to win the team title, so hopefully that's the icing on the cake."
That came two hours later as the Highlanders clinched their first team title since 2019 with a total of 27 over par – 10 shots better than runners-up and defending champions Palisades, who were playing without their top player Gavin Loughran, who finished second last spring. Loughran woke up with a sore neck and couldn't keep up.
"It hurts – it was really stiff and I still can't move it," Loughran said at the awards ceremony after appearing to cheer on his teammates. Palisades' Kourey Patterson finished third alone with a 73.
Granada Hills and Palisades have won the last 10 team titles together.