Jamaal Williams will run over opponents while crying, plus more quotes of the week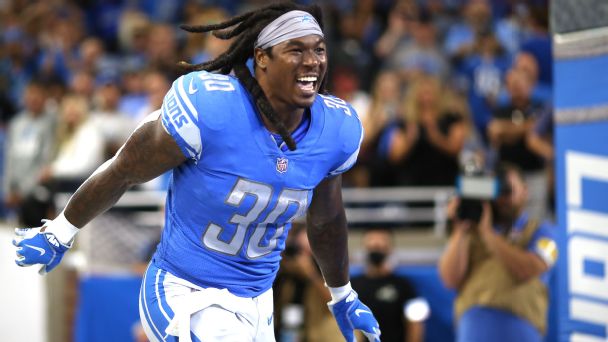 Jamaal Williams is on fire, the Razorbacks seek respect and more from our quotes of the week.
"I left my crystal ball in my other pants."
— Carolina Panthers offensive coordinator Ben McAdoo on whether there will be tension in the locker room between Baker Mayfield and Sam Darnold. Both quarterbacks compete for the team's starting spot.
"It wasn't last year! That's not us! We can do it!'
– Detroit Lions running back Jamaal Williams speaking to his team at training camp about "hard knocks." The Tigers were 3-13-1 in 2021.
"Don't think these tears are from a weak mind, I'll run over you crying"
— Williams, about his speech, about his Twitter account
"Have you ever seen a Lamborghini commercial? I don't have to advertise.'
— Cleveland Browns running back Nick Chubb, responding to a question from former teammate Hunter Long about why he never tweets or uses Instagram
"For the past few years, Arkansas has always been slept in, and we're still dirt under a rug. … This program is on the rise, and we will continue to build and get back to the top where Arkansas belongs.
— Arkansas Razorbacks junior redshirt quarterback KJ Jefferson on the team's prospects this year
"I didn't feel anything. I didn't feel anything. I literally scored and passed out until I saw my first base coach and just started laughing.
— Atlanta Braves prospect Vaughn Grissom as he hit a home run on his MLB debut over Bally Sports South
https://www.espn.com/nfl/story/_/id/34384607/jamaal-williams-run-opponents-crying-plus-more-quotes-week Jamaal Williams will run over opponents while crying, plus more quotes of the week