James Anderson says 'nobody in the world can cope with' an on-song England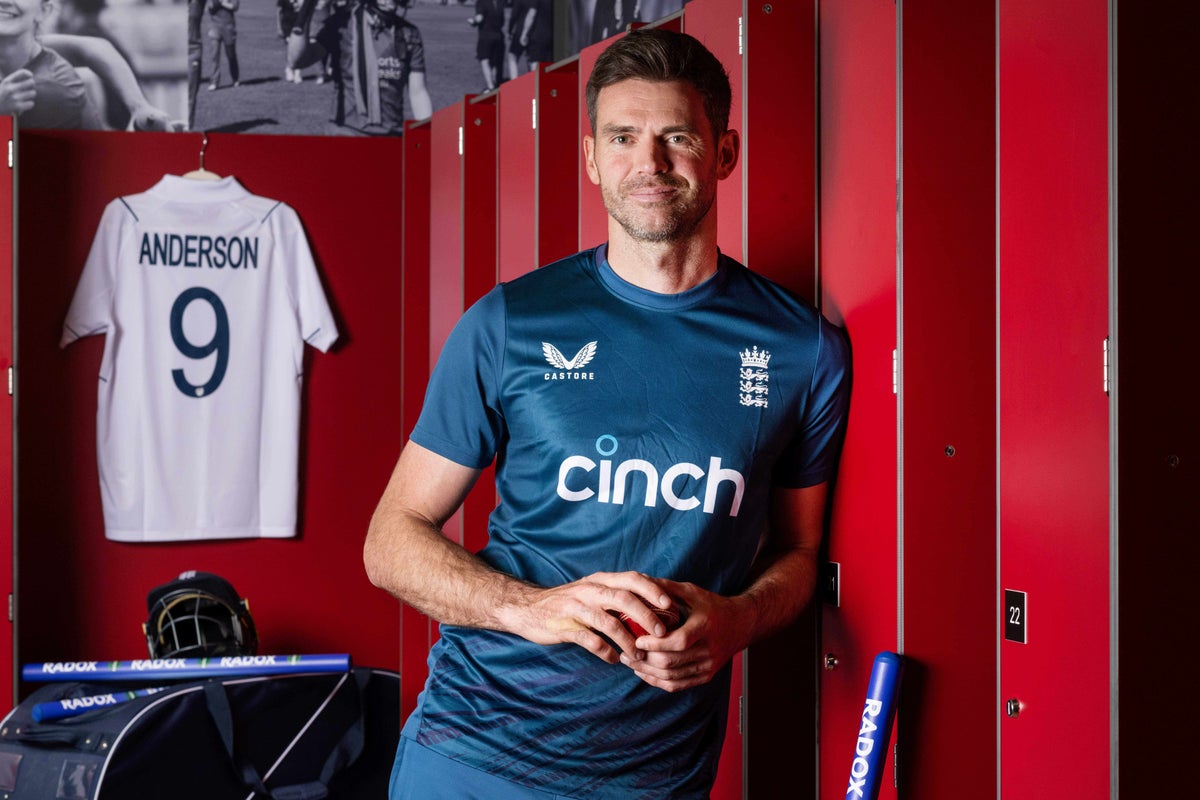 James Anderson is optimistic ahead of the Ashes and insists England can reach a level that 'nobody in the world can handle'.
As the elder statesman of English cricket, Anderson tends to eschew pre-series mind games, leaving the needling to fellow players Stuart Broad and Ollie Robinson. But as he prepares to play Australia in his ninth series, he can't hide his optimism the summer is upon us.
A minor groin strain means Anderson is likely to sit out the first home test of the year against Ireland at Lord's so he can focus on the Ashes' opening game at Edgbaston on 16 June.
Anderson has lifted the ballot box four times in 2009, 2010/11, 2013 and 2015 but has endured some difficult experiences in recent years with injuries and an underperforming team. In his last ten games against the old enemy, he has lost eight and drawn two.
His longtime bowling partner Broad recently declared England's 4-0 defeat Down Under in the 2021/22 season "void" due to the ongoing Covid-19 restrictions and while Anderson is taking that assessment lightly, he is firm convinced that the current team does this is a completely different proposal.
"I see what he means about the Covid stuff but for me I've voided the last three away series. I think I lost four out of five. That's his coping strategy," he said with a smile.
"I'm aware of what happened, but I've played long enough to put aside everything that happened before, good or bad, and focus on what's to come.
"I'm just thrilled with the way we played. It's about entertaining people and trying to have fun while doing it. If you look at our team, if we do our best with that attitude, I don't think anyone can match us. If we do what we've been doing and play as well as we can, I don't think anyone in the world will be able to handle it."
Anderson's confidence is built on solid foundations, not blind optimism. Since head coach Brendon McCullum and captain Ben Stokes took office last summer, England have won ten of their 12 Test matches, playing a kind of daring, innovative cricket that tore up several chapters of the old rule book.
Stokes' total commitment to the ethos as a batting unit and bowling group is the driving force behind reinventing a team previously associated with conservative methods.
And Anderson, who has served under numerous England captains including Nasser Hussain, Michael Vaughan and Sir Andrew Strauss, has the highest praise for the all-rounder.
Speaking at the launch of Radox's partnership with English cricket, he was asked if Stokes was the best of them all. He paused for a long time before replying, "Yes. It's hard to say over a short period of time, but he got off to a fantastic start.
"He's a born leader. I think he's completely different from any captain I've ever played with before and I really enjoyed it. The way he trains, whether it's in the gym, catching, batting or bowling, he's the ultimate pro."
"For me, it's the finer details, not just on the field, that really showcase his tactical acumen, but also his emotional intelligence off the field and how he speaks to everyone in the group."
Anderson grins and admits he has "old man's muscles" but assuming his current problem doesn't get worse he's a substitute capable of picking up new ball in the series opener in Birmingham. But with five Tests in a window of less than seven weeks, he is aware that rotation will likely be an important feature in both sides' seam attacks.
"I think playing all five is a little bit optimistic, and not just for myself," he said.
"If you said to one of the bowlers (they're going to play), three out of five, I think that's probably more realistic and sensible. If it's four then that's great, but you have to take it game by game."
:: Jimmy Anderson spoke at the launch of a partnership where Radox was announced as the Official Partner of England Cricket.