James Gunn reveals DC Studios slate of films, television shows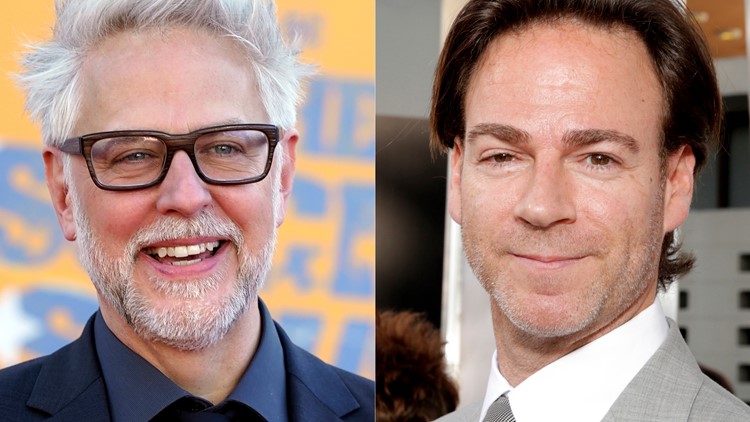 DC fans have five new movies and five TV series to look forward to.
NEW YORK – New DC Studios bosses, James Gunn and Peter Safran, have announced their plans for a new unified and improved DC Movie and TV Universe, including a new Superman movie in 2025, a Wonder Woman prequel and a Batman movie will not feature the stars. Robert Pattinson.
All in all, Gunn and Safran laid out their plans for five new movies and five new series in a presentation Tuesday that they said will make up the majority of the first chapter — with the theme being "Gods and Monster" — in an ambitious eight- to 10-year plan to reshape the DCU. After years of consistent success and some goofs, Gunn and Safran are working hard for fresh coherence and creativity in Warner Bros.' Comic empire.
After several legacy projects launch over the next two years — including "The Flash" with Ezra Miller, which Gunn says "resets the entire DC Universe" — their vehicle will debut with "Superman: Legacy." " on July 11, 2025. Gunn is writing that movie, which is described as about Superman balancing his Kryptonian heritage with his human upbringing. No actors have been announced yet. announced, although Henry Cavill has left the role despite a recent cameo in 2022's "Black Adam" – a sequel also isn't part of Gunn and Safran's plans despite passionate lobbying by Dwayne Johnson.
Who's in and who's out in DC has been the subject of much conjecture since October, when Gunn and Safran were named co-chairs and co-CEOs of DC Studios. Among the shortlisted films: Viola Davis' Amanda Waller, the Swamp Thing and Batman and Robin.
First, Robert Pattinson's Batman will return in Matt Reeves' "The Batman Part II," which opens October 3, 2025. That movie, although it will be outside of the DCU and — like a sequel to "The Batman," will return. Todd Phillips' 2024 Joker — labeled "DC Elsewhere" to signify that it stands outside the central, overlapping DC universe. However, another Caped Crusader movie will premiere at an unspecified date : "The Brave and the Bold," a Batman and Robin story inspired by Grant Morrison's comic book series.
There's also Supergirl: Woman of Tomorrow, based on the Tom King comics, and the big-screen indie for Swamp Thing. Wonder Woman's female island birthplace will also be the setting for a TV series titled "Paradise Lost". Some series will incorporate animated interpretations and live action of DC characters. The animated film "Creature Commandos," the first season of which was written by Gunn, features Davis' Waller and a team of black ops, while the live-action film "Waller" will star Davis and be written by Christal Henry ("Watchman") and Jeremy Carver ("Supernatural"). The series is expected to "Lanterns" will have many Green Lanterns.
Gunn first came to DC after directing Marvel's famous Guardians of the Galaxy. When Walt Disney Co. Temporarily giving up Gunn, he jumped to DC and made the supervillain "The Suicide Squad," a blockbuster genre remake of David Ayer's "Suicide Squad." He and veteran producer Safran appear alongside several upcoming DC films that are on their way to theaters, including "Shazam! Fury of the Gods" (out March 17), "The Flash" (out March 17), released June 16) and "Aquaman and the Lost Kingdom" (released December 25).
"I knew this was a once-in-a-lifetime opportunity and very different," Gunn said. "One of the things that is very important to me in all of these movies and TV series is the vision of the director and the vision of the writers and all the creators to be unique and something special. separate. Storytelling is always king. That's all that matters to us."
DC movie projects:
"Superman: Legacy": A Look at Superman balancing his Kryptonian heritage and human upbringing, written by Gunn. The film's release date is set for July 2025.
"The Authority": Based on the WildStorm comics, well-intentioned but morally gray characters set out to fix the world on their own.
"The Brave and the Bold": The story of Damian, the son of Bruce Wayne, who was raised as a "child killer and assassin" without Wayne's knowledge. Based on the comics by Grant Morrison. Gunn noted that this movie will be separate from "Batman" starring Robert Pattinson and its upcoming sequel.
"Supergirl: Woman of Tomorrow": A "harsh" look at Supergirl based on the Tom King comics.
"Swamp Thing": A film about Swamp Thing's "dark origins".
DC TV projects:
"Creature Commandos": An HBO Max animated series, written by James Gunn. Gunn noted that animation projects and video games will also tie into the DC universe.
"Waller": A live-action HBO Max series starring Viola Davis as Amanda Waller from the "Peacemaker" series.
"Booster Gold": A live-action series about a "loser" who goes back in time using futuristic technology to play a superhero.
"Lanterns": A live-action mystery series starring Hal Jordan and John Stewart Green Lanterns.
"Paradise Lost": A "Game of Thrones-style story" that directly tells Wonder Woman's birthplace.
Val Lick of TEGNA contributed to this report.
https://www.king5.com/article/news/nation-world/dc-studios-reveals-plan-for-movies-shows/507-57db626e-8c3b-4bb3-ae75-5303db7001f1 James Gunn reveals DC Studios slate of films, television shows