Jill Biden, Katy Perry among guests at King Charles' coronation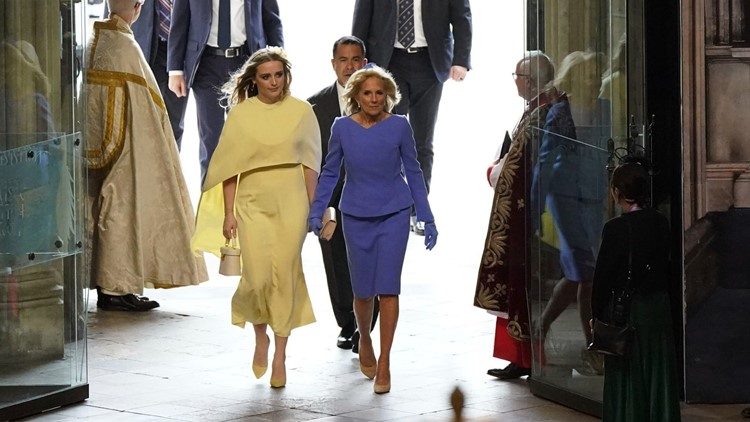 More than 2,000 guests, including world leaders, aristocrats and celebrities, gathered at Westminster Abbey for Charles' coronation.
WASHINGTON — More than 2,000 guests including world leaders, nobility and celebrities witnessed the coronation of King Charles III at Westminster Abbey on Saturday.
When the guests arrive, the church is bustling and filled with fragrant flowers and colorful hats. Among them are US First Lady Jill Biden, French President Emmanuel Macron, Canadian Prime Minister Justin Trudeau, eight current and former British prime ministers as well as Judi Dench, Maggie Smith, Andrew Lloyd Webber and Emma Thompson.
Hundreds of heads of state attended the ceremony, including Spain's King Felipe and Queen Letizia. President Joe Biden did not attend the ceremony, holding the record for a president who never attended a British royal coronation.
"American Idol" judges Katy Perry and Lionel Richie were also present.
The couple are leading the coronation concert, a major event at Windsor Castle to honor newly crowned members of the royal family.
The concert began Sunday in front of a crowd of 20,000 and will be broadcast live to the rest of the world. Perry and Richie join a collection of global icons and artists performing at the show.
Both Perry and Richie have close royal ties to King Charles, having served as ambassadors for the King's charities.
RELATED: WATCH LIVE: King Charles III crowned in ancient rite at uncertain time
According to the BBC, the Coronation Concert aims to "celebrate a new chapter in the nation's history, with themes of love, respect and optimism." The concert will also feature a "Light up the Nation" performance that will illuminate featured venues across the UK using lasers, projectors and drone displays.