Jody Cundy wins 14th straight kilo world title as Britain's para-cyclists shine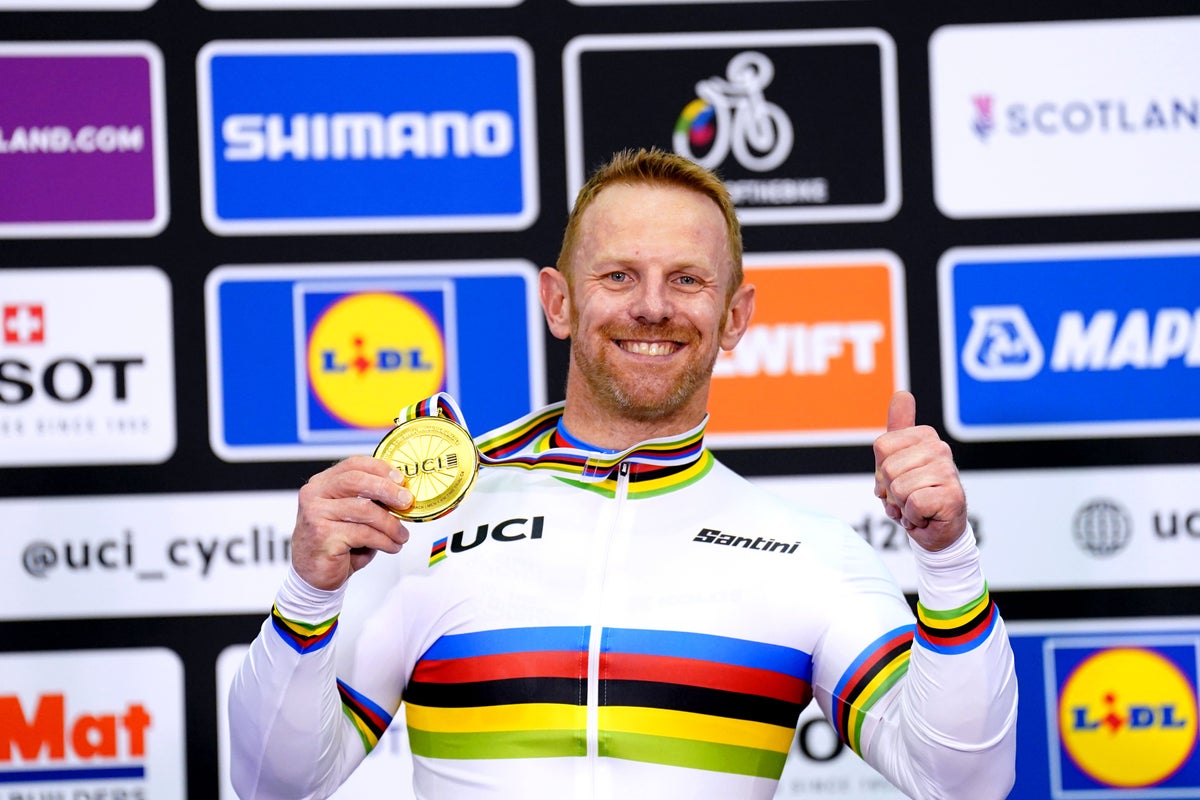 Jody Cundy won the remarkable 14th consecutive kilo world title while the British paracyclists enjoyed a golden night on day two of the UCI World Cycling Championships in Glasgow.
Competing on home boards in Scotland, Neil Fachie clinched his 17th world title led to glory by Matt Rotherham in the men's B-kilo time trial ahead of his compatriots James Ball and Steffan Lloyd before Jaco Van Gass defeated teammate Fin Graham passed gold in the men's C3 kilo time trial.
Sophie Unwin and Jenny Holl then clinched two gold medals in a matter of days by defeating their British compatriots Lora Fachie and Corrine Hall in the women's B individual pursuit.
These combined 'Super' World Championships are the first to fully integrate track and para-track cycling and the Brits took full advantage of the partisan home crowd as Fran Brown and Daphne Schrager also took silver medals.
Cundy has held the men's C4-kilo crown since debuting in 2006. But after a period of injury and illness, the 44-year-old has been considering retiring from the sport in recent months before rediscovering his mojo and using it to secure another rainbow jersey.
"It's probably for the best just for the fact that I've had an absolutely shocking year," Cundy said. "I've been in really bad shape, depression, those are just things in life but I've had massive support from the team, my fiancé, my kids, my mum and dad and a great network within British Cycling…
"It got to a point where every time I got on the bike I had absolutely no motivation and it was getting harder and harder and I just wasn't looking forward to it…
"But luckily I kind of changed my world and here we are with another world title under our belt. That's probably for the best."
Cundy said next year's Paraylmpics would likely be his swan song, but having just set his best time at sea level of 1min 3.648s he added: "You can't say never and if I get better then it will so will i. hard to walk away."
"If I come to Paris and get on the podium or whatever, that would be a nice way to get out."
Crowd favorite Fachie claimed the 17th world title of his career and praised the Glasgow crowd for cheering him on as he and Rotherham needed a big push in the final laps to beat Ball and Lloyd by 0.042s.
"This is my first big race (back in the velodrome) since 2014 and the Commie Games, which was one of the absolute highlights of my career. It's just great to be back and it's my first world title with my son in the audience watching, so that was special too.
"The crowd was great, that's why we won today. We have no idea on the bike if we are up or down (on time) we could only hear the roar of the crowd.
"I assumed we were doing really well because they were cheering us on. I had no idea we would be left behind, but the crowd got behind us and we just made it."
Van Gass took his fifth world title when he beat Graham by 0.263 seconds and then enjoyed the cheers of the crowd.
"It's really amazing," said the 36-year-old. "Every time a British rider takes the lead the crowd goes wild and to be honest I needed them today, they kept me going. It's a great experience and what the sport deserves."
Unwin and Holl won the women's B-pound on Thursday, doubling their performance with a convincing win over Fachie, who is married to Neil, and Hall.
"We knew how the race was going to go, we knew we were behind in the first half and hopefully we would come back and it was great to be able to do that the way we wanted to," said Unwin.
"Yesterday it was nice to see the stamina and speed in our legs and that gave us the confidence to know that today we can compete and do what we wanted."