Joe Biden to meet King and PM during July visit to UK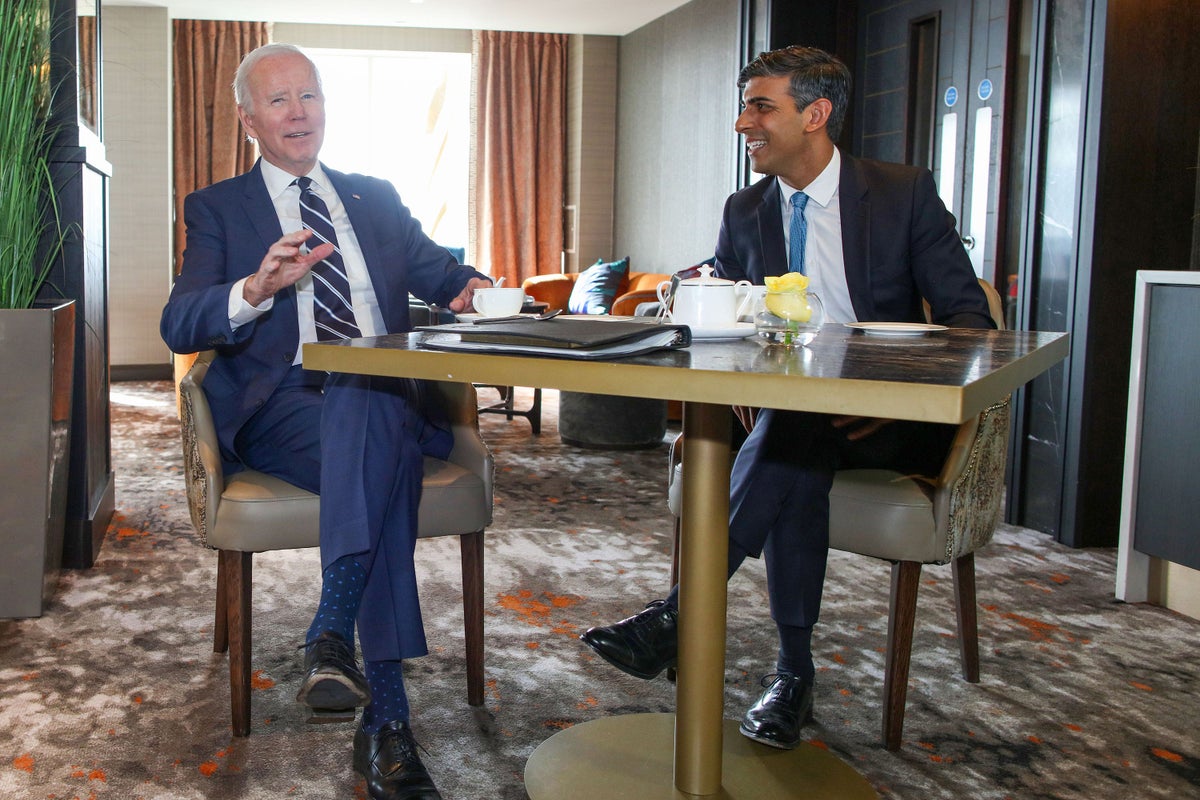 Joe Biden will meet the King and Prime Minister Rishi Sunak when he visits the UK later this month.
A visit to the UK has been long-awaited and comes after Mr Sunak visited Washington for talks with the US President last month.
"President Biden is expected to travel to the UK, Lithuania and Finland on July 9-13.
"President Biden will first travel to London (UK) to meet with King Charles III. and Prime Minister Rishi Sunak to further strengthen the close ties between our nations," White House Press Secretary Karine Jean-Pierre said in a statement.
Buckingham Palace confirmed the King will meet Mr Biden at Windsor Castle on July 10.
To mark the 25th anniversary of the Good Friday Agreement, Mr Biden made a brief trip to Northern Ireland earlier in the year and met the Prime Minister for brief talks in Belfast.
The White House said that after his visit to the United Kingdom, Mr. Biden "will travel to Vilnius, Lithuania, on July 11-12 to attend the 74th NATO summit."
"On July 13, President Biden will visit Helsinki, Finland for a summit of US and Nordic leaders."
Mr Biden's seemingly brief trip comes after the US and UK announced a new partnership, the "Atlantic Declaration," to strengthen economic security.
Announced during Mr Sunak's visit to the White House, it included commitments to reducing trade barriers, closer ties with the defense industry and a privacy agreement.
While both sides used this visit to Washington to praise the strength of the US-UK relationship, Mr Biden was not afraid to occasionally criticize London.
Mr Biden claimed in May he visited the island of Ireland earlier in the year to ensure "the British are not doing anything wrong" as the US remains concerned about Brexit's impact on the peace process.
During that visit, the President told the Irish Parliament that he believed the UK should work more closely with the government in Dublin to support Northern Ireland.
Mr Biden and First Lady Jill Biden traveled to London for the funeral of the late Queen last September.
The US President did not attend the king's coronation, instead his wife attended.
Mr. Sunak will also attend the NATO summit in Vilnius, which is seen as a crisis summit aimed at negotiating a compromise on Ukraine's demand for membership of the alliance.