John Caldwell says 'we will get through it together' after winning award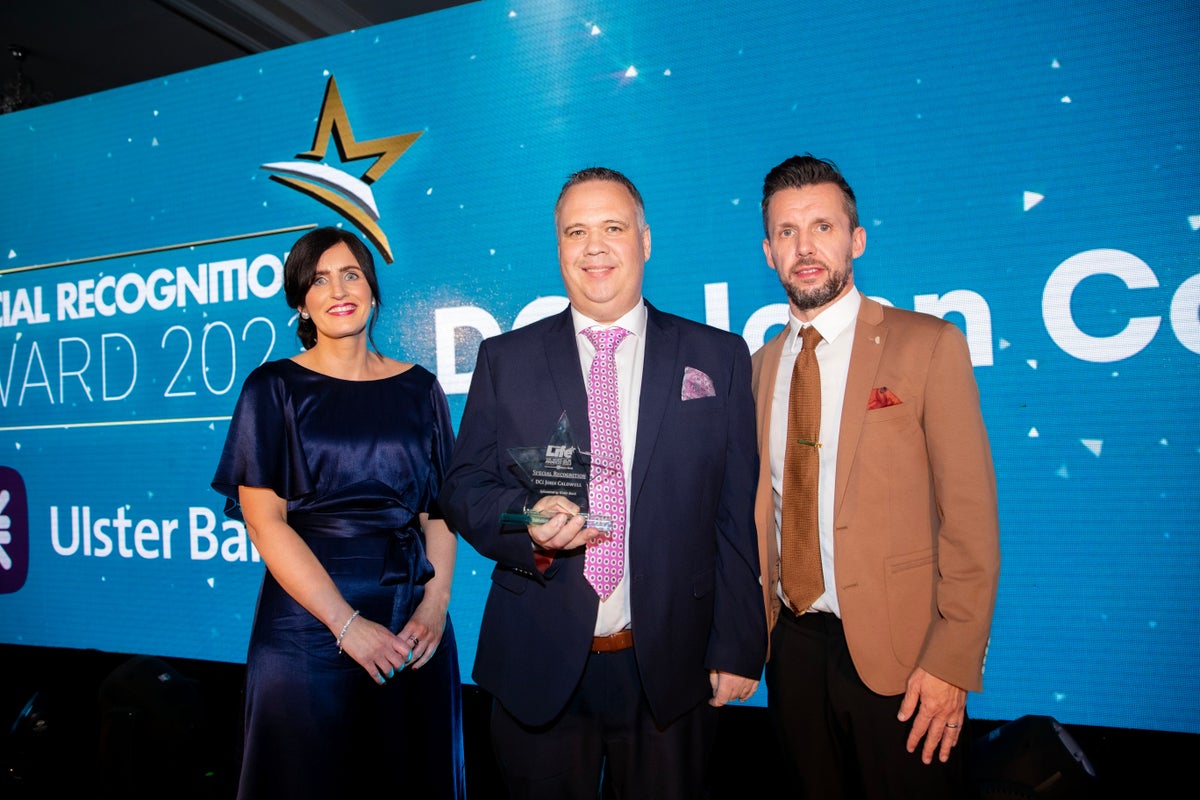 A senior detective who survived an attempted murder was greeted with a standing ovation at an awards ceremony and thanked his "amazing family" for helping with his recovery.
DCI John Caldwell was awarded the Special Recognition Gong at the Sunday Life Spirit of Northern Ireland Awards on Friday night.
The high-profile detective has not spoken out publicly since surviving an attack by dissident Republicans in Co Tyrone in February.
He said he was "incredibly honored" to receive the award.
"I am just sorry that these innocent children, including my own son, have been subjected to such cruel ordeal," Mr Caldwell said.
"You witnessed horrors that night no child should ever experience.
"I'm so glad my son and his friends were not hurt, although I realize it will take longer to recover from the early psychological trauma. We'll get through it together.
"These are amazing kids and I am very humbled to be nominated."
Mr Caldwell was seriously injured after being shot multiple times at a sports center in Omagh, Co Tyrone, in February after coaching a youth sports team.
His son had been with him as he was loading soccer balls into the trunk of his car when the gunmen approached.
Mr Caldwell thanked the rescue workers who helped him with his recovery and those who ran to help him after he was shot.
He said: "To the brave people who rushed to my aid when I was shot, it took a lot of courage because they were putting themselves in danger. And thank you to the EMS and amazing medical staff who have taken care of me in so many ways for many months.
"A special thanks to my amazing family… there is still a long way to go but with their love and support I will get through it."
British Prime Minister Rishi Sunak spoke about the event via video link and presented Mr Caldwell with the special recognition award, saying he was someone he admired greatly.
Mr. Sunak said: "A police officer, a father, a husband, a football coach. A man who, when his own life was in danger, still thought of others – and shouted to the children around him to get to safety.
"When I visited him in his hospital bed, he was still thinking about the future of the society he loves.
"A great man and a true hero of Northern Ireland, DCI John Caldwell."
Mr Caldwell was first seen publicly in May, at a garden party in Royal Hillsborough during a visit by the King and Queen, where he was having a private audience with Charles.