John Forsyth: What we know about the missing Missouri doctor found dead in northwest Arkansas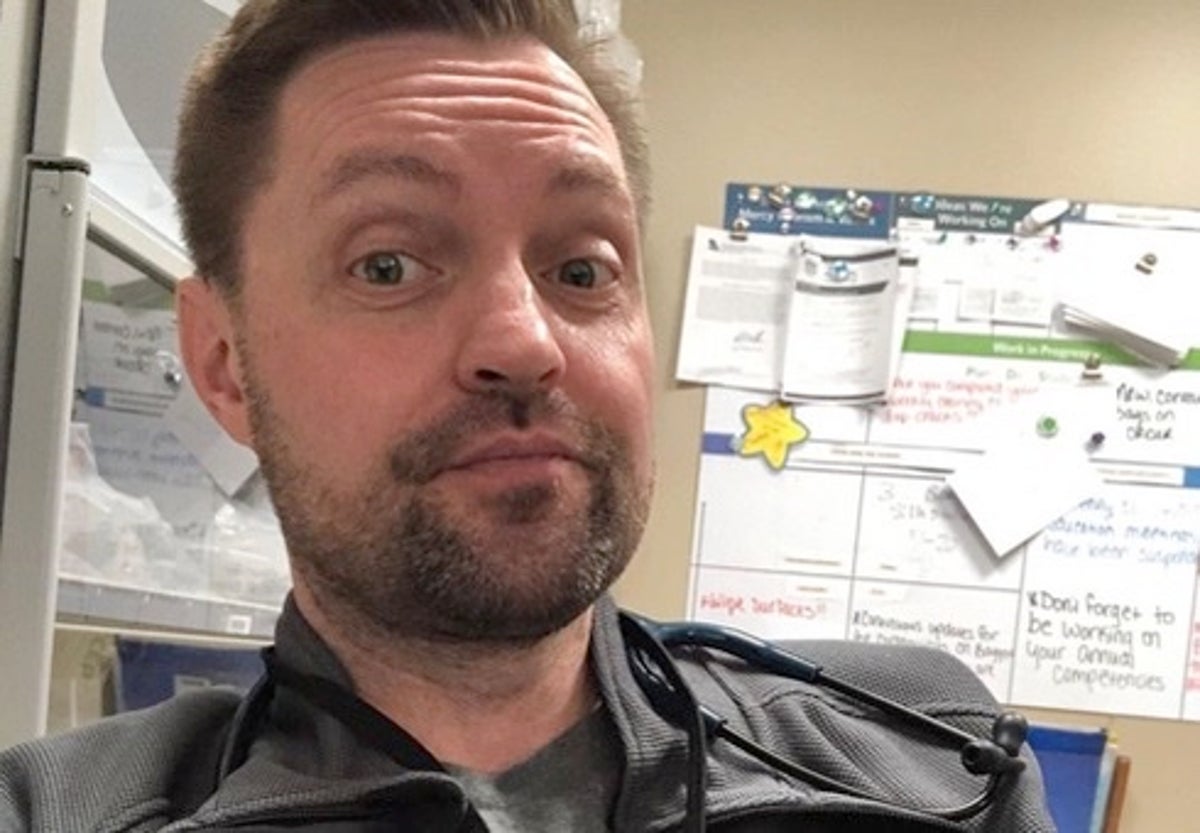 Dr John Forsyth was the happiest his family had seen in a long time.
His divorce had recently been finalized and he had just asked his new partner to marry him.
Three days after the marriage proposal, Forsyth, 49 – who had also started a cryptocurrency business with his brother – left his shift at the hospital in the Missouri Ozarks and told his new fiancé that he would be seeing her soon.
The father of seven was never seen or heard from again.
On Tuesday (May 30), Forsyth's body was found in a lake in northwestern Arkansas by a passing kayaker after a frantic nine-day search.
His car had been found unlocked and abandoned at a water sports center days earlier – with his passport, wallet, two phones, laptop and keys to his camper van inside.
What caused the doctor's fate to take such a disastrous turn remains a mystery, and his grieving family members are now desperate for answers.
Here's what we know about the case so far:
Last known movements
Forsyth, 49, was last heard from around 7am on May 21.
The ER doctor had just finished his shift at Mercy Hospital in Cassville, a remote town of 3,100 people deep in the Missouri Ozarks.
As he left the hospital, he texted his new fiancé and made plans to see her.
"He texted her like, 'Hey, my shift's over' and 'See you later,'" his brother Richard Forsyth said The daily beastlast week.
"And then minutes later he stops responding to text messages and finds himself walking toward his RV."
Forsyth often parked his RV in the hospital lot so he could sleep in it while on call.
Just minutes later, at around 7:15 a.m., Forsyth was caught on surveillance footage driving his second vehicle — a black Infiniti — into the Cassville Aquatic Park parking lot.
A few minutes later, a white SUV was caught driving close to the vehicle, Richard said.
The SUV pulled away a few minutes later, before Richard said footage showed his brother getting out of his vehicle and walking around about 10 to 15 minutes later.
"And then he walks away from his car," he said.
The alarm was raised later in the day when Forsyth failed to show up for his next shift at the hospital.
Both the hospital and his brother said it was completely out of character for him to miss work.
In the 15 years he worked at Mercy Hospital, the dedicated doctor had not missed a single shift.
"Dr. Forsyth has never missed a shift in the past without notifying us. So when he didn't show up for his scheduled shift and we couldn't reach him, we got concerned and alerted the authorities," the hospital said.
"We invite everyone to pray with us for his safe return."
Richard told The daily beast "He wouldn't miss a shift even if his eyeballs were lolling out of their sockets."
"It was an immediate red flag," he said.
His hospital colleagues reported him missing to the Cassville Police Department that day.
The search
Two days later, on May 23, Forsyth's Infiniti was found abandoned in a remote area near the Cassville Aquatic Center.
The car had been left unlocked and investigators found his two mobile phones, laptop, keys, wallet and passport inside.
Several law enforcement agencies, including the Missouri State Highway Patrol, conducted extensive searches within a nine-mile radius of the park.
Thermal imaging drones and K9 dogs were called in to assist in the search, but they found no clues to the doctor's whereabouts.
As the search continued, Forsyth's desperate family members set up a Facebook page titled "Find Dr. John Forsyth" to raise awareness of the case and gather information from the public.
On Monday, Forsyth's sister Tiffany posted an update about her brother.
"My brother has been missing for a week now. I'm sad, I'm scared and it feels like the world has descended into pure chaos," she wrote.
"I often felt that Johnny and I were two sides of the same coin. Our lives have taken us in very different directions, but over the past few years we have been bound by our intense desire to understand the mysteries of the universe, and I have cherished those conversations like precious jewels. I rarely meet anyone with whom I can exchange ideas as good as he does.
"Now he's gone, seemingly vanished into thin air. We have so much more to talk about. I'm so scared he's just gone. Please don't let this end up like this. The hole left in my life will be empty forever. Please help us find him."
speculation
Forsyth's family said there were no warning signs before his disappearance as speculation and theories circulated around the internet.
Richard said he last saw his brother just days before he disappeared and he appeared to be the "happiest" he had seen in a long time.
"We had dinner on Wednesday before he disappeared and we sat and talked for three hours," he told the AP.
"I told him it was the happiest thing I've seen in a long time. His divorce came on May 11th and I think that gave him strength for the future."
Forsyth had also made plans for the future and proposed to his new girlfriend just three days before he disappeared.
He was a loving father to his seven children and genuinely cared about his patients, Richard said.
As the case drew attention online, speculation grew that the doctor's disappearance could be related to his recent divorce or the cryptocurrency business he started with his brother.
Upon his divorce, Forsyth received a court order to pay his ex-wife nearly $20,000 in child support and alimony.
Richard told OzarksFirst that the amount of money "didn't worry" his brother.
A second rumor suggested there could be a link between his disappearance and the brothers' crypto business.
Richard told the local outlet that one person was angry with Forsyth and vowed "revenge."
However, he said the person in question was somewhere abroad and insisted that neither the person nor the business venture was connected to his brothers' disappearance.
"He expressed extreme feelings to us that he would retaliate. And ultimately his campaign failed and we never heard from him again," Richard said.
"I don't think that's enough motivation for someone to cross the Atlantic and cause trouble."
While the family tried to dispel the rumours, Richard said his brother's disappearance was "suspicious".
"There are many curiosities about his disappearance and the police, after an investigation, agreed that the circumstances are quite suspicious," he said.
The tragic discovery
The search ended in tragedy Tuesday (May 30) when Forsyth's body was discovered in a lake in Benton County, northwest Arkansas.
"My brother has been found and he is dead. Thank you to everyone who helped with the search," Richard wrote in a heartbreaking Facebook post.
The Benton County Sheriff's Department confirmed that the body was found by a kayaker. The cause of death appeared to be a gunshot wound.
While the full circumstances surrounding the tragic discovery are not yet clear, the Cassville Police Department said Associated Press that there was no evidence of foul play.
Forsyth's family told KOLR they are meeting with detectives Wednesday for additional information.