Johnny Depp's self-portrait, taken during a "challenging period" in the actor's life, is up for sale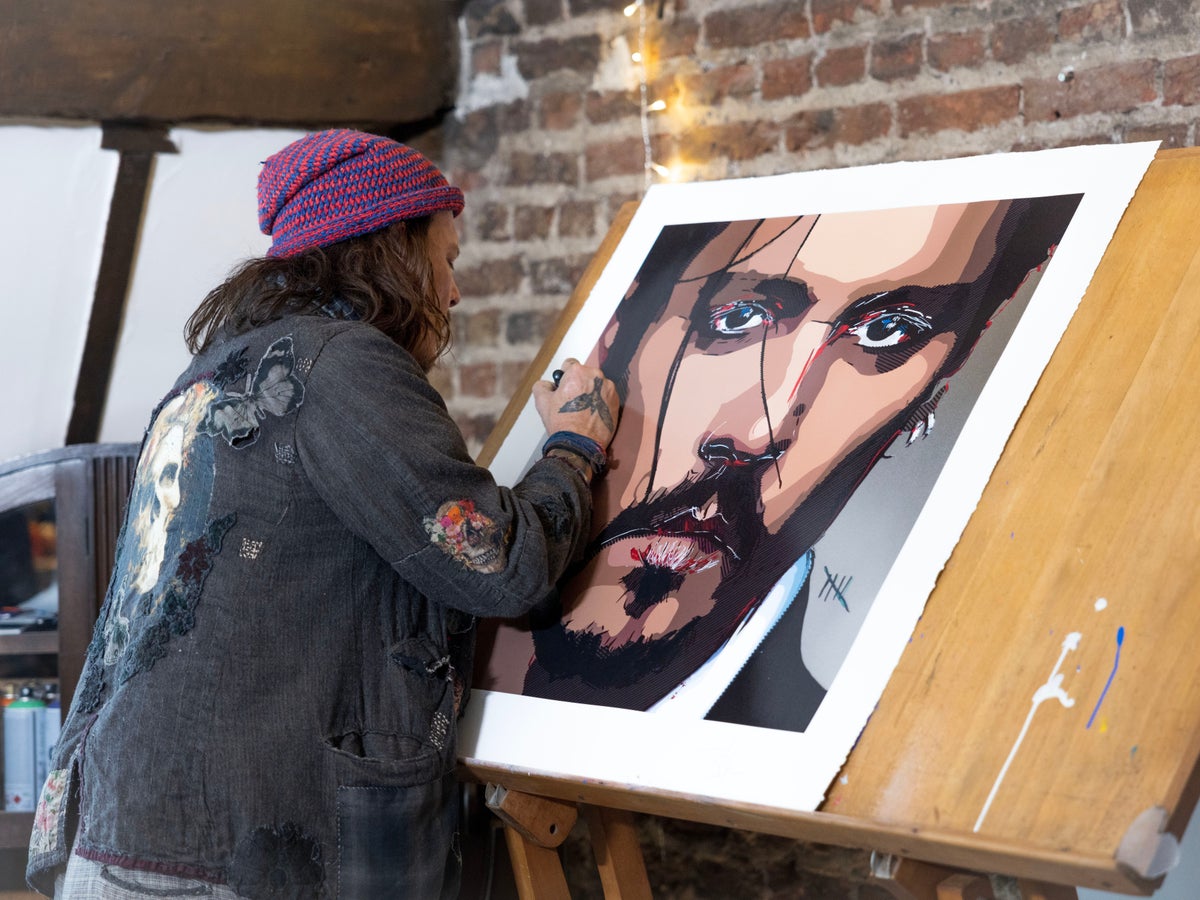 A self-portrait created by Johnny Depp at a 'challenging time' in his life is up for sale.
The artwork entitled Five, was created by the Pirates of the Caribbean star earlier this year.
The work is being sold as a limited-time edition, giving potential buyers just 13 days from Thursday (July 20) 17:00 GMT buy the piece. $200 (£155) from each sale in the exhibition will go to Mental Health America, with pieces starting at £1,950.
Five The title dates to the time it was created earlier this year, when Depp "entered the fifth year of a challenging period in his life," according to a press release.
In recent years, the 60-year-old has struggled with a series of high-profile legal issues relating to his ex-wife, fellow actress Amber Heard.
Depp previously released a series of paintings titled "Friends and Heroes," which featured vibrant color-block portraits of pop culture icons. Five is designed in the same style and is based on a photo taken in 2015 for a campaign for Christian Dior perfumes.
Speaking about the project, Depp said he became immersed in creating the work as a means of creative healing.
"It's not particularly pleasant to do a self-portrait," he said, adding, "If the piece resonates with even one person, then this art has a purpose."
In 2018, Depp filed a defamation lawsuit against News Group Newspapers in the UK over an article in The sun this referred to him as a "wife beater".
The court dismissed his claims, finding that Heard's allegations of violence were essentially true. Depp then stepped down from his role as the evil wizard Gellert Grindlewald in the Harry Potter spin-off Fantastic Beasts and Where to Find Them.
Four years later, Depp and Heard returned to court after he sued her for defamation in 2019 after he claimed in a 2018 comment that she had implied Depp had abused her The Washington Post.
Aquaman Star Heard counter-sued Depp, claiming that Depp's lawyers defamed her by calling her claims fraudulent. The jury ultimately ruled in Depp's favour, awarding him $10m (£8m) in damages and $5m (£4m) in punitive damages. Heard, meanwhile, was awarded $2million (£1.5million) in compensation for her counterclaim.
In May, Depp returned to screens as his French-language film Jeanne du Barry premiered at the Cannes Film Festival.
At the press conference that followed, the actor discussed claims that he had been "boycotted" by Hollywood, saying, "Do I feel like I'm being boycotted by Hollywood?" To feel, one would need to have no pulse at this point [like]"None of that happens, it's actually just a funny joke – you've been asleep for 35 years!"
"Of course, when you're asked to resign from a film you're making because of something that's just a bunch of vowels and consonants floating in the air, you feel a little boycotted."