Johnny Sexton demands Ireland 'make it count' after win over South Africa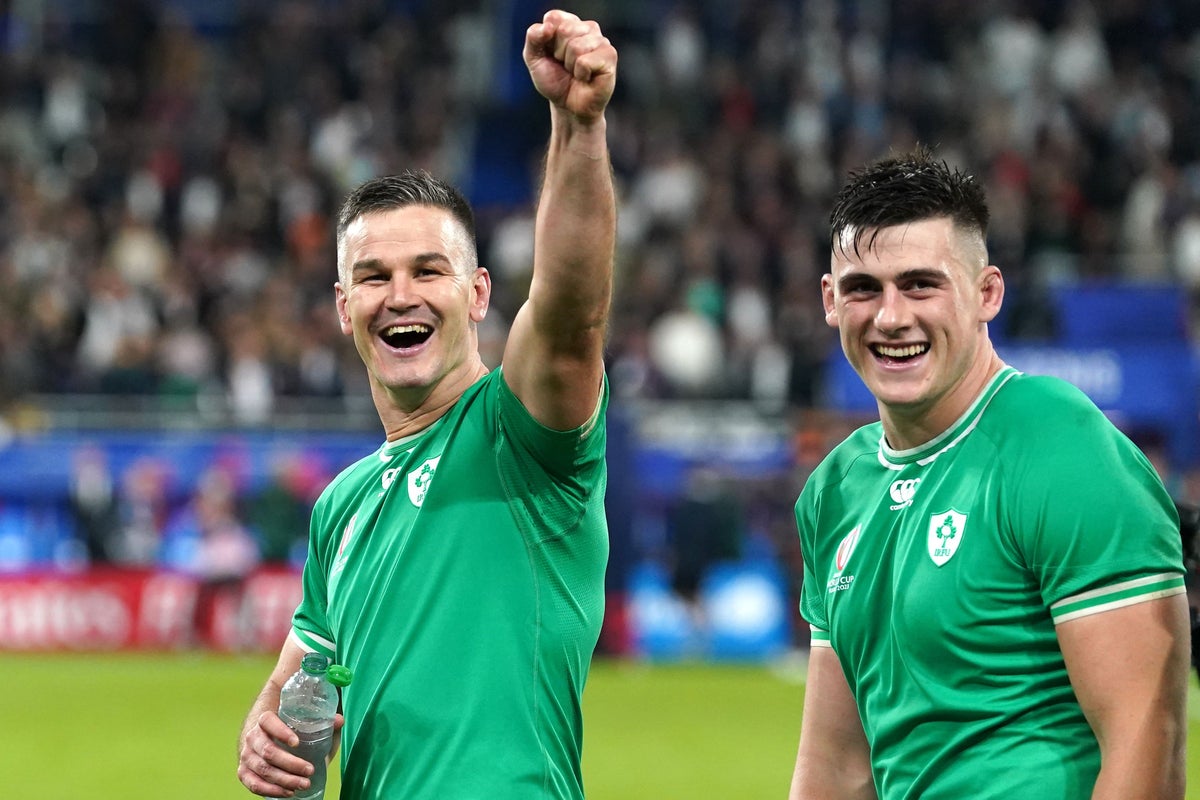 Johnny Sexton says victory over defending champions South Africa is among Ireland's best Rugby World Cup victories but insists his team must push on and "make it count".
Andy Farrell's men got a foothold in the quarter-finals of the tournament by defeating a classic Paris game 13-8 for their 16th successive win.
The world's top team has a two-week break before returning to the Stade de France for their Pool B games against Scotland.
"I think we've had some big wins in group stages, that's right up there," said captain Sexton.
"When you play against the reigning world champions it's always going to be incredibly tough and it was.
"They didn't let us down in terms of the physicality of the game, but I think we came out on top and did some good performances ourselves in that aspect.
"Yes, it's at the top, but we have to make it count now.
"We have some time off this week with the bye week, then we regroup and have to take on Scotland and make sure we do the business to get out of the pool."
Mack Hansen's first-half try, plus five points from Sexton's foot and a late Jack Crowley penalty put the Six Nations champions within touching distance of the knockout stages.
South Africa stayed in the contest until the final whistle thanks to Cheslin Kolbe's goal and a penalty from Manie Libbok, but paid a heavy price for some erratic shots on goal.
An estimated 30,000 Irish fans celebrated Ireland on an unforgettable evening in the French capital.
Veteran fly-half Sexton felt the "insane" support was a crucial factor in the statement win.
"We've had some great days in terms of results in the pools, but I've never seen a crowd like this," said the 38-year-old.
"Someone said there were 30,000 fans there, but there was no way it was 30,000.
"It wouldn't surprise me if there were 60,000 and they were crazy all the time. They gave us the lift we needed.
"Honestly, it's not lost on us. We talk a lot about this, about inspiring the people who put their hand in their pocket week after week.
"They probably saved for four years to get here and that's something we refer to all the time and I mean it.
"We play for them and they gave us the advantage, fair play to them."
Springboks captain Siya Kolisi urged his side not to worry about the disappointing result as they look to bounce back in a crucial clash with Tonga.
"The intensity of the game was exactly what we needed for a lot of players who have never played with such intensity before," said the flanker.
"The whole atmosphere on the field was great but we know exactly what we have to do as a group.
"We have to lift our heads, we have a big game ahead of us and if we focus too much on what happened we will forget about performing next week.
"We have to get through this and then we can start thinking about it. Tonga is an important game."