Join New Day at T-Mobile Park for a special Mariners-themed show!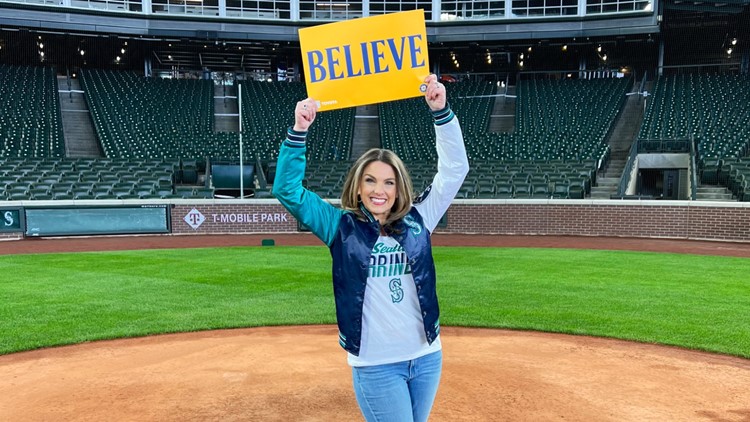 Released: 2:22 PM PDT Apr 14, 2022

Updated: 10:53am PDT Jun 2, 2022


Mariners Special Events & Giveaways
:
Walking through the gates to a Mariners game is always exciting, but getting something for free is a home run! Amity talks to Gregg Greene, Mariners VP of Marketing, about some of the special promotions taking place this season.
April 16: Ken Griffey Jr. "42" Bobblehead Night
Celebrate Jackie Robinson Day with a special Ken Griffey Jr. No. 42 bobble head. This year marks the 25th anniversary of Ken Griffey Jr. wearing the number 42 and the 75th year since Jackie breaks the color barrier. Bobbleheads are available to the first 20,000 fans.
April 22: Mariner's Puffy Vest Night
The first 10,000 fans through the gates will receive a gray puffy vest with the Mariners "S" logo on the chest.
April 23: Edgar Martinez Replica Statue Night
The franchise legend is immortalized at the corner of Edgar Martinez Drive and Dave Niehaus Way. The first 20,000 fans will receive their own replica of the statue.
May 6: JP Crawford Bobblehead Night
One of the best shortstops in the game makes his bobblehead debut with the Mariners. Available for the first 20,000 fans.
May 7: Salute to Armed Forces Night: Mariners Military Hats
The Mariners will honor those who serve in our nation's military. The first 10,000 fans will receive a special armed forces-themed hat.
The M's are taking it back to the '90s with neon pink hats available for the first 10,000 fans.
June 19: Father's Day Seattle Steelheads Hats
The Mariners players will wear uniforms paying tribute to the 1946 Seattle Steelheads Negro Leagues team on Saturday, June 18. If you take your dad to the game the next night, he gets a Steelheads hat.
June 30: Mariners Pride Night Hats
The first 10,000 fans will receive a Mariners rainbow cap!
https://www.king5.com/article/entertainment/television/programs/new-day-northwest/t-mobile-park-mariners-baseball-opening-day/281-174d618b-78cd-488d-89bc-7d18e52958a3 Join New Day at T-Mobile Park for a special Mariners-themed show!