Judge rules that Bryan Kohberger murder trial will happen in October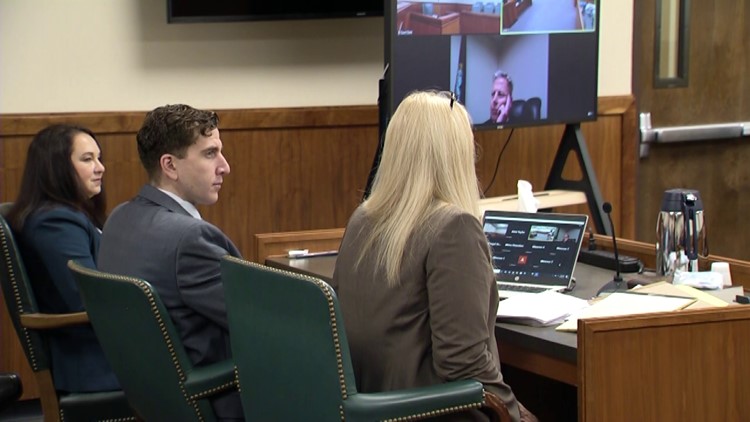 The judge stated that he did not see the release of evidence from the prosecution and that the trial would resume in October.
MOSCOW, Idaho — Bryan Kohberger, the man accused of killing four University of Idaho students, returned to court on Friday. Kohberger's defense presented several petitions to the judge, but most of the day was spent reviewing DNA collected in the case. The judge confirmed the trial would still take place this year.
The state recommended maintaining the trial date to October 2, 2023, expressing concern about the potential delay affecting the victim's family and the overall integrity of the trial.
The defense also made a motion for adjournment due to irregularities in the grand jury process but was denied by the judge, who found no significant flaws in the process.
The judge stated that based on the information provided, he did not believe there had been a failure on the part of the prosecutor. The trial is scheduled for October, with jury selection taking place the week before. Up to 1,000 potential jurors can be summoned for the trial.
If convicted, Bryan Kohberger faces the death penalty.
The defense group argued that it needed all the raw materials, including what was tested, how it was tested, and what it compared to. They assert that without access to all DNA evidence, it is not possible to determine whether the test was conducted correctly or if there were any rule violations.
Anne Taylor, Kohberger's attorney, specifically pointed to three unidentified male DNA samples taken from the murder scene that the defense had not yet received. Prosecutor Bill Thompson countered, arguing that the defense owned everything the state had access to.
Thompson said, "All I heard was speculation that they wished there was something there. We couldn't react to something that didn't exist."
Thompson concluded that the three samples in question were not uploaded to the Combined DNA Index System (CODIS) database due to disqualification. He claimed that defense attorney Anne Taylor was informed of this by the lab.
The state argues that the release of the material has the potential to invade the privacy of hundreds of individuals in the genetic database, leading to calls for a protective order.