'Jurassic World Dominion' unseats 'Top Gun' at box office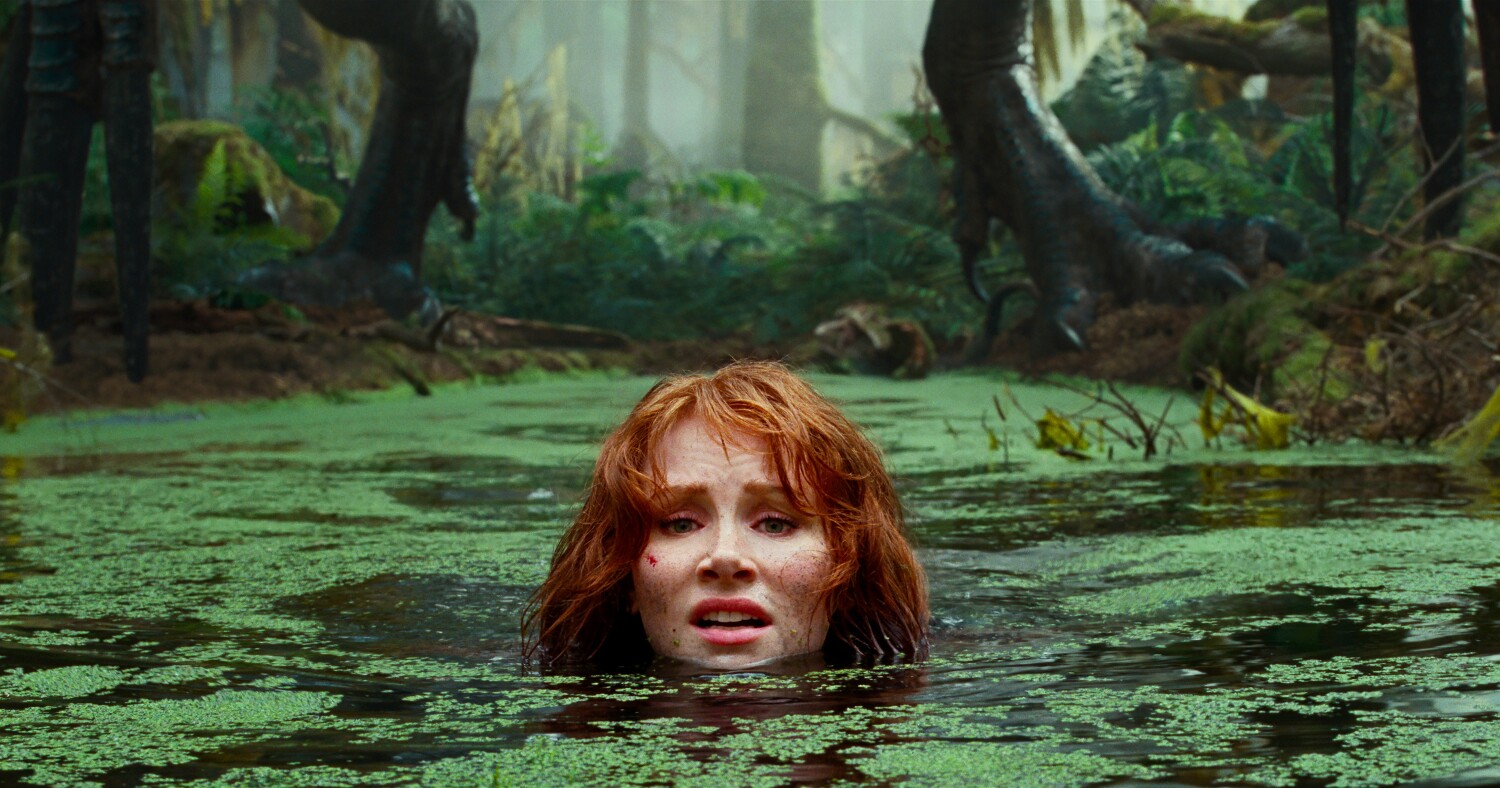 Jurassic World Dominion was the top-seller at the domestic box office this weekend, starting at $143.4 million, according to Comscore estimates.
Internationally, the latest film in the Jurassic franchise earned $176.6 million this weekend for a total of $389.1 million.
"Top Gun: Maverick" was down just 44% in its third weekend with an estimated $50 million, putting it in second place, taking its North American total to over $393.3 million.
The strong debut underscores the ongoing box office recovery this summer, fueled by blockbusters like Doctor Strange in the Multiverse of Madness, Top Gun: Maverick, and now Jurassic World 3.
"This weekend saw a rare pandemic-era event where we had two blockbusters topping the charts instead of just one movie dominating," said Paul Dergarabedian, senior media analyst at Comscore.
"We're finally having a summer film season… after two years of almost non-existent."
The Jurassic World and Top Gun franchises date back about three decades, which could have lured older moviegoers – who were initially reluctant to return to theaters during the pandemic – back to the movies. Almost half of Dominion's audience was aged 18 to 34, while 31% were aged 35 and over.
Featuring the highly anticipated – and heavily marketed – homecomings of original Jurassic Park stars Sam Neill, Jeff Goldblum and Laura Dern, Dominion has made a concerted effort to attract both old and new fans of the dinosaur saga.
"Despite the film's critical thrashing, this is one of those situations where [there's a] Separation between the critics and the audience, for whom seeing these original characters back on screen was enough to encourage them to go to the movies," said Dergarabedian.
"If you're trying to appeal to the more mature moviegoers who may have seen the first one ['Jurassic Park'] In 1993 you must… emphasize the fact that you will have many of the original stars in this new film. And that's a lot done… where that's really the selling point, but that doesn't always mean the film will do well at the box office.
This weekend marks only the third of the pandemic era, which has seen the total domestic box office surpass $200 million, according to Comscore.
Co-produced by Universal Pictures and Amblin Entertainment, Dominion is the third film in the Jurassic World trilogy, which began in 2015 and introduced characters played by Chris Pratt and Bryce Dallas Howard.
Colin Trevorrow, who directed the World trilogy and directed the first film, returned to Dominion, which is devoid of dinosaurs and locusts threaten the world's food supply.
"The underlying story, which stretches back to Michael Crichton's book ['Jurassic Park']is fascinating to audiences – that dinosaurs could live among us, and what would that mean?" said Jim Orr, President of Domestic Sales at Universal.
"The movies themselves have done excellent work on that premise, including… 'Jurassic World Dominion,' which takes us to a whole other level where they're not just among us, they exist around the world."
Despite its consistent blockbuster performance, the Jurassic World trilogy has seen its box office decline since the flagship revival film premiered in 2015 at $208.8 million — the then-biggest domestic release of all time.
The second Jurassic World film, Fallen Kingdom, started 2018 with $148 million, while the latest sequel came in at third place, just behind that number.
The miserable critical reaction to the dinosaur epic was possibly the slightly weaker performance of "Dominion". (Justin Chang of the Times called it "an unimaginable, overly protracted farewell to this phase…of a blockbuster franchise that's long overdue to die out").
Moviegoers gave it an A-CinemaScore and an 81% viewership rating on Rotten Tomatoes, suggesting word of mouth will be strong in the coming weeks. The film was shown on 4,676 screens in the United States and Canada and reportedly cost $185 million not including the production, marketing and advertising.
"While it may not be catnip for critics, it certainly was for audiences, who came out in greater numbers than expected," Dergarabedian said.
"Part of that is experience. … Even if the critics don't love it, audiences still get a kick out of this old-school cinematic experience."
Compare this phenomenon to "Top Gun," which was critically acclaimed and recently in its second weekend, saw the lowest drop in ticket sales of any film that grossed $100 million or more. For Dominion, weekend #2 will be the real test, Dergarabedian said.
"'Top Gun' is holding up incredibly well…because the film is so good and both critics and audiences agree," said Dergarabedian. "That's usually a recipe for long-term success."
Another critically acclaimed title that has shown remarkable staying power is Daniel Kwan and Daniel Scheinert's Everything at Once, which finished seventh at the domestic box office in its 12th weekend.
The fantasy drama starring Michelle Yeoh – which added $1.3 million this weekend, which equates to $63 million in North America – officially has Ari Aster's Hereditary as its highest-grossing film worldwide, according to Deadline A24 surpassed.
"If you look at Michelle Yeoh and the other actors in the play … it's so refreshing to see people doing what they're doing — with that kind of action element — but you also bring the left and the right Brain with brain in this film and the critics love it," said Dergarabedian.
Ahead of its release, the filmmakers said Dominion would be the last of the Jurassic World films, which were hugely profitable with over $3 billion in ticket sales. The first earned over $1.7 billion worldwide alone. Including the original Jurassic Park trilogy, that number jumps to $5 billion.
Given its dominance at the box office, will Dominion really be the last Jurassic adventure?
"We'll see with those numbers now," Dergarabedian said. "Maybe the dinosaurs didn't die out after all."
The Associated Press contributed to this report.
https://www.latimes.com/entertainment-arts/business/story/2022-06-12/with-jurassic-world-3-dinosaurs-rule-again-at-box-office 'Jurassic World Dominion' unseats 'Top Gun' at box office