Sports
Kansas City Royals second baseman Whit Merrifield traded to Toronto Blue Jays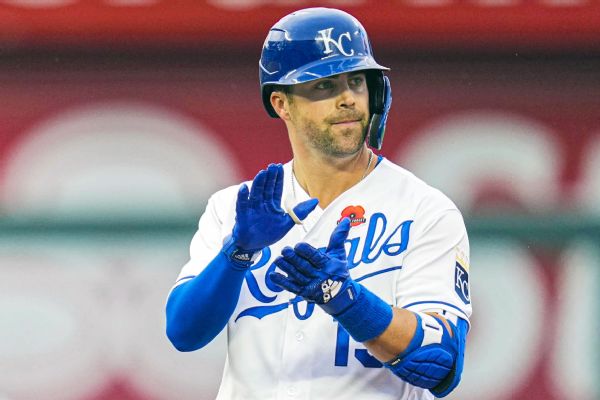 Kansas City Royals second baseman Whit Merrifield was traded to the Toronto Blue Jays in exchange for right-hander Max Castillo and infielder Samad Taylor before Tuesday's close.
Merrifield, a two-time All-Star, was among 10 Royals players who did not travel to Toronto for a series last month because of their COVID-19 vaccination status.
Back then, Merrifield drew the wrath of Royals fans by suggesting he could get the vaccine if it was sold to a contender.
"If something happens and I happen to get on a team that has a chance to play in Canada in the postseason, maybe that will change," he said. "But as we sit here now I'm comfortable with my decision, my teammates support me, support the rest of the guys here who made that decision and that's it."
Merrifield later tried to smooth things over by saying he "poorly articulated" his point of view.
"If that vaccine came between me and the playoffs, I would consider getting it. I didn't say I would get him for another team or not for this team, it was just to show how much I appreciate playing in the playoffs," he said.
The 33-year-old, whose 553-game Iron Man streak ended last month with a toe injury, was a fan favorite in Kansas City, where he has played his entire career.
He's .240 this season with 42 RBIs and 15 stolen bases.
The Blue Jays also acquired right-hander Mitch White and minor league infielder Alex De Jesus from the Los Angeles Dodgers before Tuesday's close in exchange for minor league pitchers Nick Frasso and Moises Brito.
Earlier Tuesday, the Blue Jays reinforced their bullpen by acquiring relievers Anthony Bass and Zach Pop (plus a player to be named later) from the Miami Marlins for shortstop prospect Jordan Groshans.
The Associated Press contributed to this report.
https://www.espn.com/mlb/story/_/id/34337186/kansas-city-royals-second-baseman-whit-merrifield-traded-toronto-blue-jays Kansas City Royals second baseman Whit Merrifield traded to Toronto Blue Jays