Karim Benzema's Real Madrid exit a 'surprise for everyone' – Carlo Ancelotti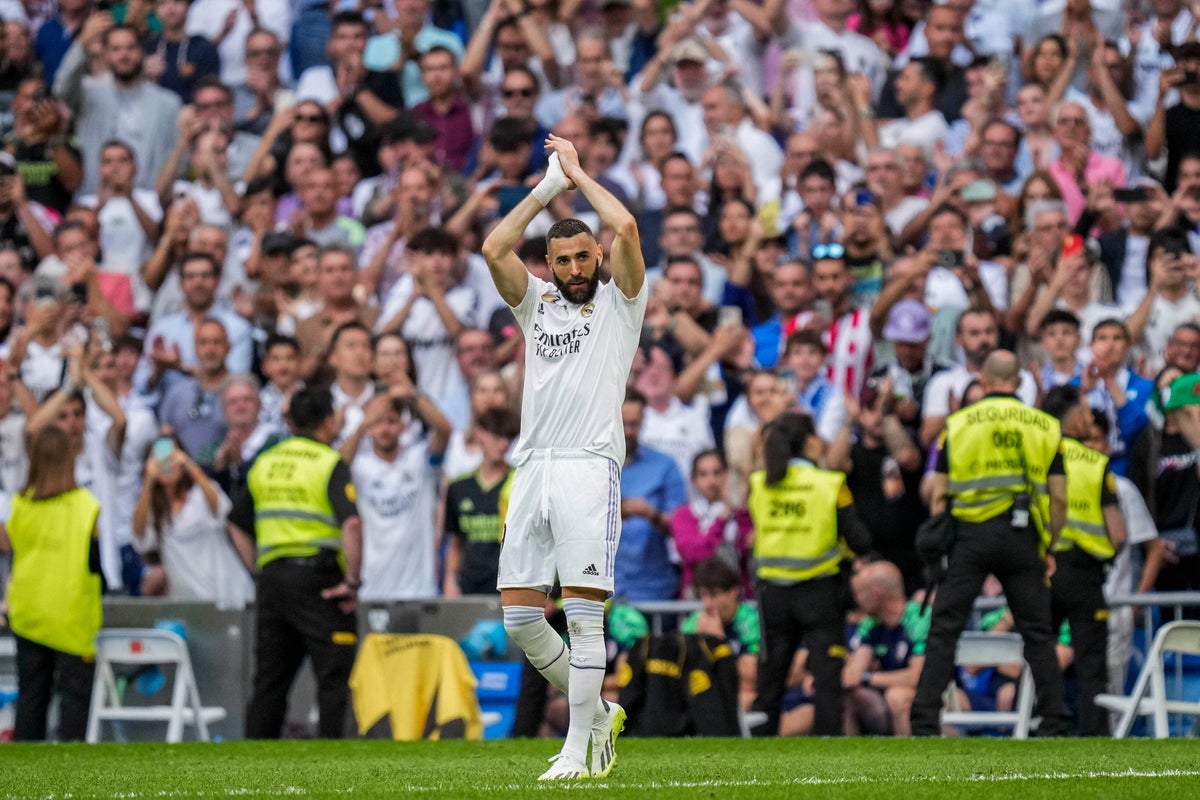 Real Madrid manager Carlo Ancelotti claimed Karim Benzema's decision to leave the club after 14 years was a surprise 'last minute' decision on the final day of LaLiga season.
Benzema's exit was announced by the Spanish club hours before the striker's last goal in Real's last game of the season on Sunday night, equalizing from the penalty spot in their 1-1 draw with Athletic Bilbao.
As a result, Real's most decorated player has scored 354 goals in 648 appearances and leaves the club as the second-best scorer of all time after Cristiano Ronaldo.
Ancelotti told a press conference: "His departure came as a surprise to everyone, but you have to understand it. It was a last minute decision. Yesterday he trained normally and today he made this decision.
"We understand. I spoke to him this morning and he said he was leaving and I got it. He has done very well in these four years with me and also in the club. Thank you all for that.
"He has thought it through carefully and his decision is part of the transition of this club which is ongoing and will continue next year. We have time to think about what we need to do. We will have a competitive squad next year.
"I am sending him away knowing that I have coached one of the best players in the world and one of the best strikers. He is a very kind, humble and serious person.
"We cannot be happy about his departure, but we have to respect his decision. He won the right to vote and we all thank him for what he was able to achieve at this club. It was legendary, something unforgettable and will be remembered by this club forever."
Oihan Sancet put the visitors ahead four minutes after the break after Real keeper Thibaut Courtois saved a first-half penalty from Mikel Vesga.
The hosts earned a penalty of their own after Eder Militao was fouled in the penalty area, which Benzema coolly converted into his last goal for the club after 72 minutes.
Two minutes later, the 35-year-old was replaced by Luka Modric and left the pitch to a standing ovation.
Benzema, the Ballon d'Or winner and current UEFA Player of the Year, joined Real from Lyon in July 2009 for a fee of €35m and has been linked with a move to Saudi Arabian club Al-Ittihad.
The former France international won 25 trophies during his time at Madrid.
He sits fifth on Real's all-time list and his trophy haul in Spain includes five Champions League titles, five Club World Cups, four European Super Cups, four La Liga titles, three Copa del Rey wins and four Spanish Super Cups.
Courtois paid tribute to his team-mate, telling the club's website: "It was a pleasure to play with Benzema. He's a superb player and a true legend. It's a shame he's leaving, but we understand. He has the right to decide his future. I hope he and his family are doing well.
"Today and yesterday were farewell days and it is sad because important players are leaving. We have to thank them very much, especially Karim, for his career and the trophies he has won with the club. One of the greatest players in Madrid history walks away with the Ballon d'Or."
Earlier in the day, Real Madrid released a statement saying the club and Benzema had "agreed to end his brilliant and unforgettable" stay at the Bernabeu.
It added: "Real Madrid want to show their gratitude and affection to a player who is already one of our greatest legends.
"Karim Benzema's career at Real Madrid has been a shining example of behavior and professionalism and he has represented our club's values.
"Karim Benzema has earned the right to decide his future.
"Madridistas and all fans around the world have enjoyed his magical and unique football that has made him one of the great icons of our club and one of the great legends of world football."
"Real Madrid is and will always be his home and we wish him and his whole family all the best in this new phase of his life."
Real have confirmed they will hold an "institutional act of homage and farewell" for Benzema on Tuesday in the Spanish capital in the presence of club president Florentino Perez.