Kent School District: First day of class canceled due to strike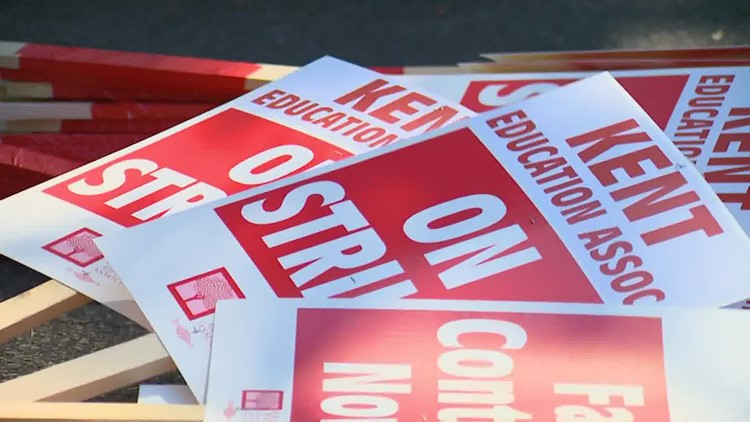 Among other things, the educators are seeking a "modest salary increase," which the union claims the district has enough money to pay for.
KENT, Wash. — The first day of school is being delayed for Kent students after the school district and teachers' union failed to complete contract negotiations on Wednesday.
The Kent Education Association said teachers would picket Thursday 25 August, originally scheduled to be the first day of classes.
The high school and middle school offices, as well as the district headquarters office, will remain open Thursday, according to the Kent School District website. They also continue high school athletic programs. All elementary and middle school activities are postponed until further notice. The meal service will resume when school starts.
The union claims it is still negotiating "several anti-union proposals – including contractual protections against discrimination in the workplace".
The union is also advocating a state-funded cost-of-living increase that it believes the district has the means to pay. Teachers are also looking for "manageable" classroom sizes and case loads.
Officials from the Kent School District and members of the Kent Education Association negotiated a new contract over the summer, according to the union.
Kent Education Association vice-president Layla Jones said negotiations, which began in July, had not gone well.
On Wednesday, the Kent School Board union and Superintendent Israel Vela awarded a vote of no confidence.
"We elected the board to govern the district and the district is not governed," said Edyte Parsons, a fourth grade teacher in Kent.
During Wednesday's regular Kent School Board meeting, Superintendent Vela addressed the ongoing contract negotiations.
"I want to acknowledge that we are working with KEA partners to reach an agreement and get our students back to school as soon as possible," Vela said. "We agree that the students are at the heart of everything we do and the reason we are all here. Our priorities as a school district have always been, and always will be, teaching and learning.
"We respect and value our employees and recognize the incredible work they do," he continued. "Our goal is to find an amicable solution that continues to reward our valuable teachers while being wise with taxpayers' money." By focusing on finding a fair and tax-responsible back-to-school solution, it is in the students' best interests."
The school district plans to update families on current labor negotiations on its website.
https://www.king5.com/article/news/education/kent-teachers-strike-first-day-school/281-cc07f06b-f8d9-469c-923c-56a9079c54b3 Kent School District: First day of class canceled due to strike