Kenya's Eliud Kipchoge clocks 2:01:09 for world record in Berlin Marathon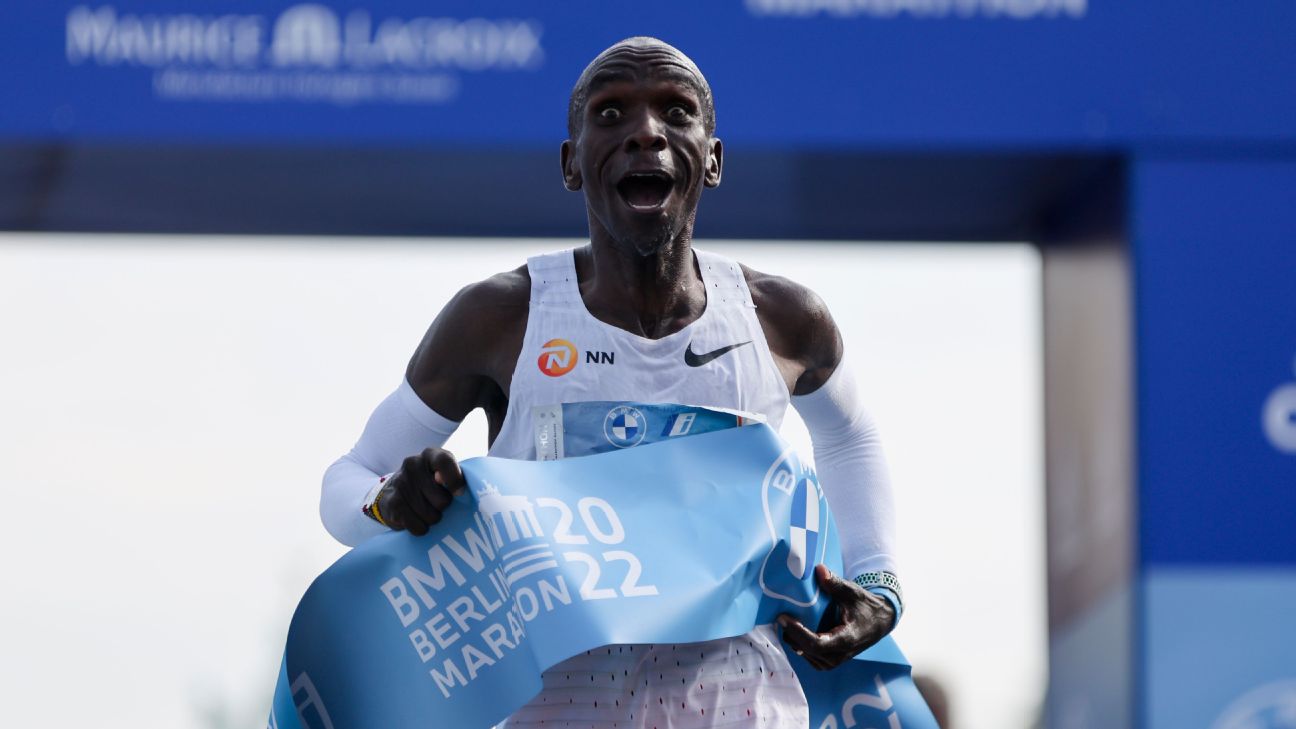 BERLIN – Two-time Olympic champion Eliud Kipchoge improved his own world record at the Berlin marathon on Sunday.
The Kenyan runner ran 2 hours, 1 minute and 9 seconds to beat his previous best of 2:01:39, set at the same course in 2018, by 30 seconds.
Ethiopia's Tigist Assefa unexpectedly won the women's race in a course record of 2:15:37 – 18 minutes faster than ever. It was the third fastest time ever.
The conditions in the German capital were ideal for fast races – cool, around 11 degrees Celsius after a showery night, no more rain and no wind. 45,527 runners from 157 nations were registered for the first Berlin marathon without restrictions since the beginning of the corona pandemic.
Attendance was reduced by nearly half over the past year, when each attendee was required to show proof of vaccination, recovery from COVID-19, or a negative PCR test result. The 2020 race was canceled due to the pandemic.
Kipchoge started Sunday at a blistering pace, covering the first 10km in just 28:23 and clocking 42:32 at the 15km mark, pointing to a sub-two-hour attempt.
Defending champion Guye Adola and fellow Ethiopian Andamlak Belihu were able to keep up, but Adola fell back a few meters as Kipchoge clocked between 2:47 and 2:50 kilometers.
Kipchoge and Belihu completed the half marathon in just 59:51. Adola and Kenyan runners Abel Kipchumba, Mark Korir and Bethwel Yegon followed in 01:01:25.
The last pacemaker broke off at the 25k mark, leaving Kipchoge alone, but Belihu stayed on his heels.
Kipchoge slowed down slightly reaching the 30K mark in 1:25:40. Belihu was unable to keep up and followed, 21 seconds back before falling further behind.
At that point, it was just a question of whether Kipchoge would break his own record. He has.
https://www.espn.com/olympics/trackandfield/story/_/id/34661329/kenya-eliud-kipchoge-clocks-20109-world-record-berlin-marathon Kenya's Eliud Kipchoge clocks 2:01:09 for world record in Berlin Marathon