Khu.eex shares the lessons of Native American ancestors in music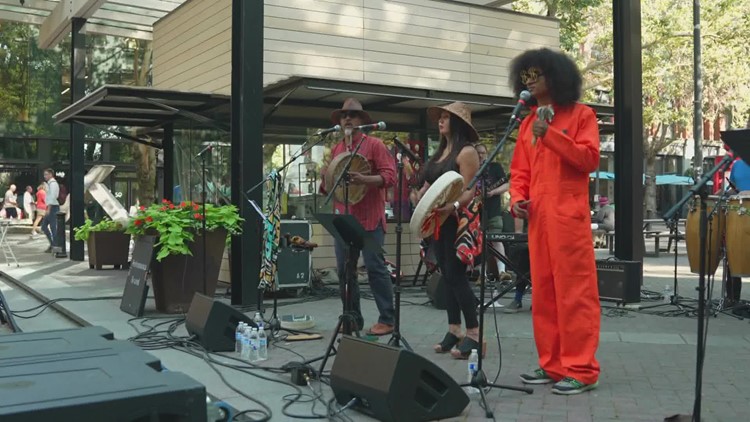 Khu.eex sounds like modern rock music. But listen more closely and you'll get elements of cultures that are thousands of years old.
TACOMA, Wash. — From a back porch in Tacoma, traditional indigenous hymns mingle with the sound of an acoustic guitar. Musician Gene Tagaban is on a lifelong mission to answer a question.
"Who am I? What am I doing? Which way will I go?"
The closest he got to the answer was music.
"When we sing our songs, that is what we ask for – we are expressing ourselves and our own pride and love. But we're also reaching out to people and asking 'who are you,'" Tagaban said.
Tagaban is a founding member of the band Khu.eex. At a distance, it can sound like modern rock. But listen more closely and you'll get elements of cultures that are thousands of years old. His culture is a culture of storytelling – passing on knowledge across generations – and that's the point of this band.
Bring the lessons of their ancestors to a new audience. Stories of pain and healing are captured in song and featured on stage and on albums. From "Sunrise Song" written as a greeting for a new day, to the song "Song of the Water Guardians" about the struggles of tribal members against the Aqueduct Dakota Access.
"And that is the foundation of who we are, the culture that is the foundation of who we are, if we get lost," Tagaban said. "If you've ever lost your way or gone astray, there's a foundation that keeps you up."
What sets this band apart is its members. Most are Native Americans, representing tribes including the Tlingit, Haida, and Blackfoot.
"We bring the songs, we bring the stories, we bring the language within it… we are bringing ourselves to the table. It's just who we are."
Founded in 2013, Khu.eex was born from a chance meeting between bassist Preston Singletary and artist Bernie Worrell of the Rock and Roll Hall of Fame. Worrell made music history when he brought synthesizer sounds to funk – and later in life he would inspire Indigenous artists to blend Indigenous sounds with modern music.
His life's mission is to preserve and share the lessons of his ancestors' experiences – something that happens on and off the stage. Tagaban often brings his knowledge and life experience to the classroom of high school students, especially native students.
On a weekday evening north of Seattle, there were dozens of students immersed in lessons that most of you wouldn't be able to walk into the classroom.
"Because that's not what we talk about," says Jazell Jenkings, a high school student. "We don't have these conversations. We never talked about this at school."
And like his music, drumming is the backbone of the lessons and songs.
"I feel a responsibility to continue passing on this knowledge and how to teach it," says Tagaban.
A lifestyle that precedes his music will outlast the band and the fans. Now, music brings us closer to the answer to that looming question: who are we, who are you?
"I am a dream," said Tagaban. "I am a living dream of my ancestors. And that's who I am and they go with me."
Clock: KING 5 Head-to-head Race series on YouTube
https://www.king5.com/article/news/community/facing-race/local-band-lessons-native-american-ancestors/281-ae48204b-e943-40c1-b037-3fee14c45db7 Khu.eex shares the lessons of Native American ancestors in music