Kia, Hyundai thefts: 17 states call for vehicle recall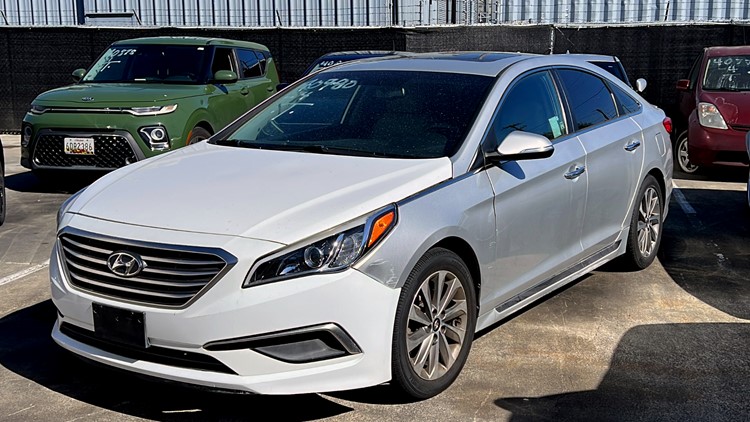 Videos on social media have shown how people can start these cars with just a screwdriver and a USB cord.
Attorneys general in 17 states on Thursday called on the federal government to recall millions of Kia and Hyundai vehicles because they are too susceptible to theft, a response to a sharp increase in thefts caused by a viral challenge. on social networks.
Some Kia and Hyundai cars sold in the United States over the past decade do not have an engine immobilizer, a standard feature on most cars that prevents the engine from starting unless the key is present.
Viral videos on social networking service TikTok have shown how people can start Kia and Hyundai models with just a screwdriver and a USB cable. In Los Angeles, thefts of Hyundai and Kia cars increased about 85% by 2022, now accounting for 20% of all auto thefts in the city, according to the California attorney general's office.
These social media-inspired thefts often end in tragedy, with the National Highway Traffic Safety Administration blaming a trend of stolen vehicles for 14 crashes. reported and 8 deaths. In October, a police commissioner said an auto accident in Buffalo, New York that killed four teenagers could be related to the TikTok challenge. Buffalo police said in the incident, there were a total of six teenagers in the Kia speeding and crashing into each other. The vehicle has been reported stolen.
"The bottom line is that Kia and Hyundai's failure to install standard safety features on many of their vehicles puts vehicle owners and the public at risk," California Attorney General Rob Bonta said in a statement. newspapers. "Rather than taking responsibility with appropriate corrective action, these automakers have chosen to pass this risk onto our consumers and communities."
Bonta and other attorneys general sent letters on Thursday to NHTSA asking for a nationwide recall. The letter was also signed by attorneys general from Arizona, Colorado, Connecticut, Illinois, Massachusetts, Maryland, Michigan, Minnesota, New Jersey, New Mexico, New York, Oregon, Pennsylvania, Rhode Island, Vermont, Washington and the District of Columbia.
Kia said in a statement that it is focusing on the matter, "and we continue to act to address the concerns raised by attorneys general." The automaker says more than 165,000 customers have installed the software, and more than 2 million owners have been contacted about the software. The company says the vehicles comply with federal safety standards, so a recall is not necessary.
Hyundai also says its vehicles comply with federal anti-theft requirements. The company said it rolled out a software upgrade to stop the thefts two months ahead of time, but it did not respond to a question about how many vehicles received it. "We are in communication with NHTSA regarding our many actions to support our customers," the company statement said.
The letter adds to the pressure on South Korea-based automakers. Many cities, including St. Louis, Cleveland, Milwaukee, San Diego, Seattle and Columbus, Ohio, sued the automakers.
In September, the Highway Loss Data Institute, a unit of the Insurance Institute for Highway Safety, found that Hyundai and Kia cars without immobilizers had the required rate The compensation for vehicle theft is 2.18 per 1,000 years of insured vehicle. The rest of the industry combined has a ratio of 1.21.
Hyundai and Kia announced in February that they would provide software updates to vehicles that require the key to be plugged into the starter switch to start the vehicle. This change also updates the car's burglar alarm software to extend the alarm duration from 30 seconds to 1 minute. About 3.8 million Hyundai vehicles and 4.5 million Kia vehicles are eligible for the software update.
But the Korean automaker's service campaign is not a recall, comes with reporting requirements and is closely monitored by NHTSA.
The agency said the thefts of Hyundai and Kia vehicles related to the offenses fall under the jurisdiction of law enforcement. Even so, NHTSA said it has been meeting with automakers to discuss the theft vulnerability as well as software and hardware in the affected vehicle models.
The agency said it is receiving regular updates on the companies' plans. "NHTSA will continue to monitor this issue, spread awareness of the next updates to local governments, and support its expertise in efforts to increase motor vehicle safety," the agency said. this said.
But Michael Brooks, executive director of the nonprofit Center for Automotive Safety, said there's no way for the public to track the effectiveness of the company's internal service campaign. During a recall, NHTSA requires quarterly reporting and monitoring to see if the recall fixes the problem, he said. The agency also requires automakers to notify individual owners by mail.
"We won't know how many people are having trouble on the road," Brooks said with a company service campaign. "We wouldn't know if the recall was effective, if the announcement was made properly."
Brooks said NHTSA has been slow to respond to auto thefts, even though stolen Hyundai and Kia vehicles are causing safety problems on the road.
Hyundai says all models manufactured after November 1, 2021 will have the immobilizer as standard equipment.
Krisher reports from Detroit.