King County Elections opens voting centers ahead of state primary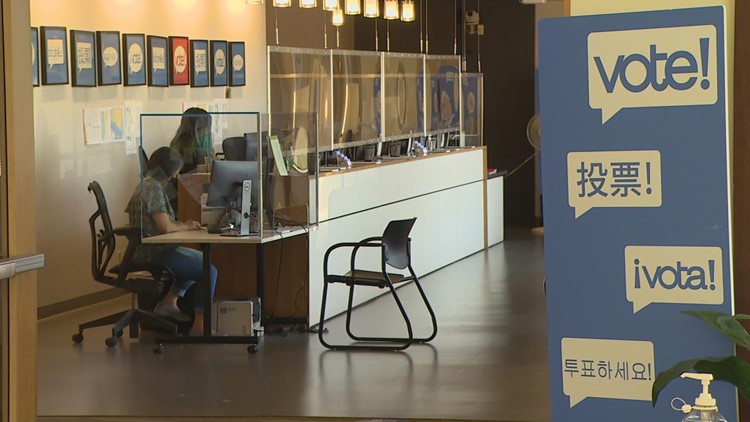 King County election officials opened six voting centers to register people to vote, obtain replacement ballots, or use assisted voting machines.
RENTON, Wash. – Ahead of Tuesday's primary election, the King County elections Saturday opened six in-person voting centers to help people get their ballots.
"People can come to us to register to vote, get a replacement ballot, or use a supported device if they need a little extra help," said Haley Watkins, communications officer for King County elections.
Election officials helped Mohamad Elchami vote for the first time after he recently became a citizen.
"Ever since I got my citizenship, the first thing I want to do is vote. I'm doing my duty as an American. You could say there's some pride, but I'm doing my duty, so there's a mix of both," Elchami said.
Election officials want every vote to be heard and have special machines to help voters who are visually impaired or blind.
"You can use large fonts or very large fonts, you can adjust the contrast in whatever way is easiest to read," Watkins said.
There's also an audio ballot for people to listen to, or a keyboard navigator with Braille.
Election officials have said turnout has been a bit slow.
"We're sitting at around 18% to 19% today. We have forecast a turnout of 45% for this election. So when we get there it looks like we're going to have a very busy Monday and Tuesday," Watkins said.
A recent poll shows that when it comes to trusting Washington's all-mail voting system, 71% of people trust the system. Of those surveyed, 43% have a high level of trust, 16% have a low level of trust, and 12% have no trust
The survey was commissioned by KING 5, The Seattle Times, the University of Washington's Center for an Informed Public, and Washington State University's Murrow College of Communication, and conducted by SurveyUSA.
Election officials believe these personal polling centers can help build voter confidence.
"Anytime we get to see each other in person, it helps you remember that it's your friends, neighbors and community that are conducting our elections," Watkins said.
Personal voting centers will also be open on Monday, August 1, from 8:30 a.m. to 6:00 p.m. and on Election Day, August 2, from 8:30 a.m. to 8:00 p.m. These voting centers are located in Bellevue, Federal Way, Kenmore, Kent, Renton and Seattle.
People can still register to vote, but they must do so in person at a voting center.
Voters must have their ballots stamped by Tuesday or drop them off at one of the county's 76 mailboxes by 8 p.m. All mailboxes are occupied.
https://www.king5.com/article/news/politics/king-county-elections-opens-voting-centers/281-2a653e1e-2cab-4d83-a8a4-e59da28f458a King County Elections opens voting centers ahead of state primary