Kraken fans can find a feast for your eyes and mouth at The Octopus Bar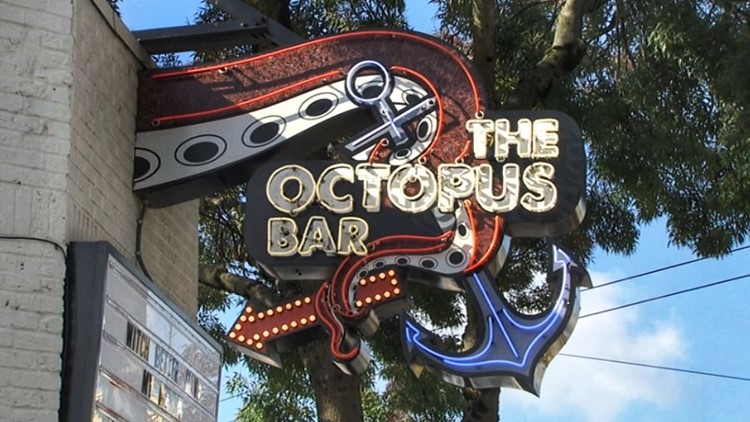 SEATTLE – It's one of the most eclectic bars in Seattle.
"Everywhere you look is a story. It's a chapter in a person's life. Maybe not yours, but the fact that you overlap with it, that's the beauty of this place," said Thaleia Sundquist-Carr, who works at Octopus Bar in Seattle's Wallingford neighborhood. "This is a place where you are welcome regardless of your race, your gender, your background, you are family."
The Octopus Bar has recently reopened in a new space that quadruples its capacity. But their menu remains as solid as ever.
"We have the Chicago Dog," Thaleia said. "It's a bun, a dog, relish, pickles, diced tomatoes, Mama Lil's peppers, yellow mustard, and poppy seeds. The sandwich there is called All Aboard. It's our version of a club sandwich. Our fries are smashed. They're baked nice and crispy for you."
And you can wash down all that food with some octopus-inspired cocktails.
"This drink is called The Puck. They start with Kraken Dark Spiced Rum, some ginger beer and a lemon wheel right on top. This drink we have here is called Bone Breaker. It will be Kraken, triple sparkling wine, blackberry, lime and pineapple juice. And a little bit of bone on top and that's how you'll stir it up."
The Octopus Bar in Wallingford: a cheesy place that goes well with the Kraken.

"It should be a good time as long as you're okay with the cheering."
https://www.king5.com/article/entertainment/television/programs/evening/octopus-bar-dive-happy-hour-climate-pledge-arena/281-8beb0ffb-ba7b-4ac6-a604-88e32ae508e0 Kraken fans can find a feast for your eyes and mouth at The Octopus Bar