Labour 'plan to allow EU citizens and 16-year-olds to vote'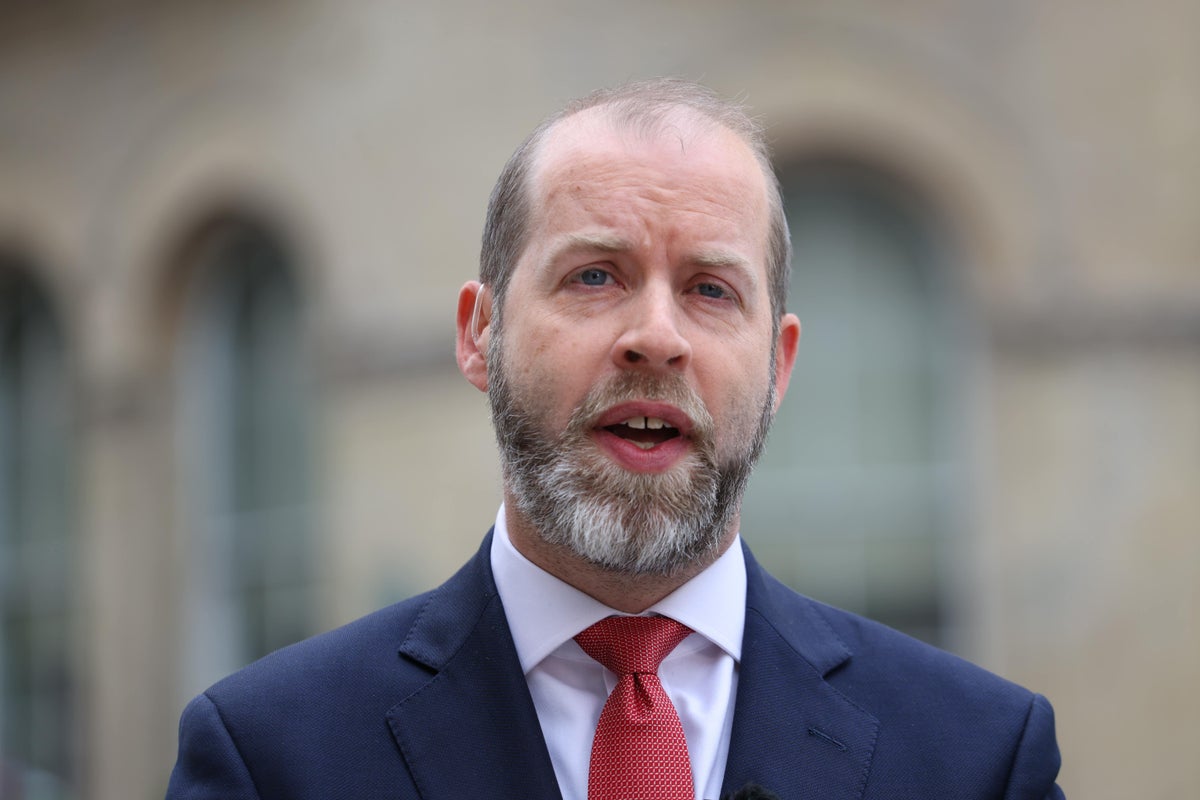 Sir Keir Starmer is considering plans to allow millions of EU citizens to vote in general elections under a Labor government.
Labor is considering extending voting rights to 16 and 17-year-olds and some 3.4 million EU citizens who have settled status in the UK after Brexit.
The Tories were quick to criticize the prospect of change, accusing Sir Keir of trying to 'fix' the election by giving voters more likely to vote for Labour.
Shadow business secretary Jonathan Reynolds said expanding the franchise is "something we'll look at afterward." Sunday telegraph reported that Labor wanted to give EU citizens with residency status the right to vote.
The newspaper said Labor is also considering bringing in 1.4 million 16- and 17-year-olds, increasing the UK electorate as a whole by more than 8 per cent.
Mr Reynolds stressed that it was not yet policy as Labor continued to draft its manifesto. But he didn't deny reports, saying "there is a case for extending voting rights" and that Labor wanted to "celebrate" migrants who contributed in the UK.
Mr Reynolds told Sky News Sophy Ridge on Sunday Program: "It's not our manifesto, it's not a partisan statement, it's the way we do it."
The frontbencher said: "But of course we are always looking for ways to strengthen our democracy and get as many people involved as possible [as] It is possible and there will be an element of it…in the Labor Manifesto, that's for sure."
Digging deeper into giving EU citizens the right to vote, he said, "I think there's a case for extending voting rights… That's something we're going to look at." But some of the reports — I must stress – are not the definitive plans for the Labor Manifesto."
Asked if this would aim to give Labor more votes, Mr Reynolds said it should not be "viewed through a partisan lens" – stressing that "it would not be a consideration of partisan advantage".
It continues with BBC Sunday with Laura KuenssbergMr Reynolds said: "We believe that if people live here and they make a contribution to this country, there is a case for them to get involved." [voting] Process… When people contribute to the UK, we celebrate that."
EU citizens with residency status can already vote in local, Scottish and Welsh general elections – with campaigners pushing for "equalization" of voting rights.
Sir Keir backed "full voting rights for EU citizens" during Labor's leadership campaign in 2020. Extending voting rights to 16 and 17-year-olds was in the Labor Party's last manifesto.
The electoral policy could affect around 3.4 million EU citizens permanently resident and paying taxes in the UK, while a further 2.6 million with pre-settled status could also be eligible to vote in general elections in the future, it said telegraph.
A Labor spokesman said: "Keir believes fundamentally that if you work hard and contribute to this country, not only can you get ahead, but it is fair and right that you should also have a say in decisions , which are made for one's own community." ."
However, a Tory spokesman claimed that the move was aimed at rigging and "rigging" the outcome of another referendum on EU membership in order to undo Brexit.
"Allowing foreigners the right to vote is Sir Keir Starmer's admission that he doesn't trust the British people," they said. "He is laying the groundwork for a referendum on EU re-entry, which he has campaigned so passionately for. And now he wants to manipulate the result."
Conservative Energy Secretary Grant Shapps also accused Starmer of wanting to "reopen" Brexit.
"This is an agreement that we have with EU countries to make mutual arrangements to allow UK citizens abroad to vote in, for example, local elections in Spain and here," the cabinet minister told Sky News.
Mr Shapps added: "What he has in mind is actually reopening the Brexit deal." What else is he going to reopen? The Windsor Framework, the cooperation agreement with Europe?"
The row comes as Sir Keir said he doesn't care if people think he's Conservative – promising the next government will be New Labor "on steroids".
In a speech on Saturday, he told think tank Progressive Britain that his party needs to go further than Tony Blair when he reworded the so-called "Clause Four" and rejected public property.
Meanwhile, former LibD leader Vince Cable has said he doubts his party would agree to a full coalition government with Labor should there be a stalemate in Parliament at the next general election.
Sir Vince told observer The "bad experiences" of a coalition with the Tories between 2010 and 2015 would have thwarted the idea.
"I have always felt that even a coalition with Labor is highly unlikely," said the former party leader. "If after the election there was an understanding, [I don't believe] it would be structured like that."