Labour tells Jeremy Hunt his advisers must not undermine Bank of England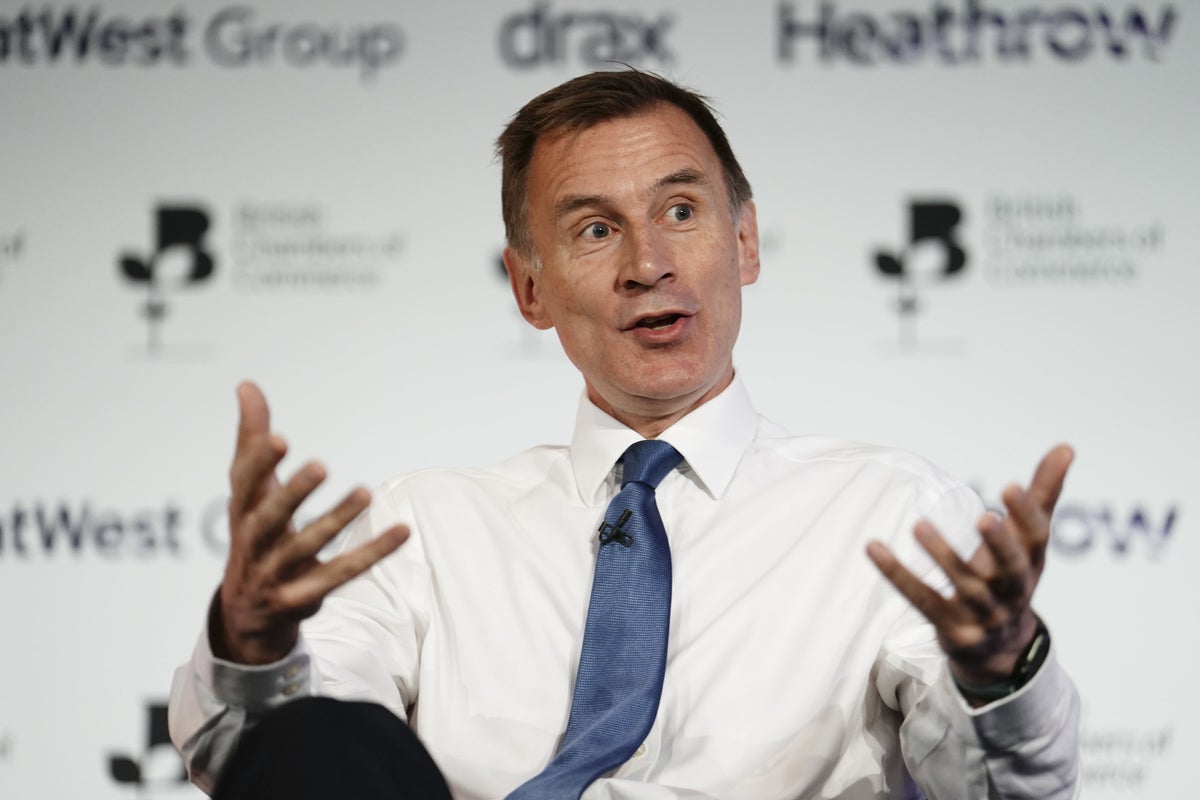 Labor has warned Jeremy Hunt his advisers' criticism of the Bank of England could result in a "damaging" repeat of the economic turmoil during Liz Truss' tenure.
Shadow Chancellor Rachel Reeves has warned in a letter to the Chancellor that any attacks on the bank's approach could "undermine" its role at a critical time.
Mr Hunt said the bank had his "full support" after the bank lifted criticism for the 13th straight month last month. He said there had been "problems" with the inflation forecast – which the bank itself admitted.
But comments from members of Mr Hunt's Economic Advisory Council, who said the bank was "trying to be too cute" by not being clear enough on the need for rate hikes, raised eyebrows.
Ms Reeves warned of a return to the approach adopted by Ms Truss and her Chancellor Kwasi Kwarteng, who questioned the bank's wisdom as they began the unfunded tax cuts that have unleashed economic chaos.
In her letter, shared with The IndependentThe Labor leader said: "On the same day as families watched interest rates rise for the 13th straight day, it was reported that some of your economic advisers have turned against the Bank of England."
Ms Reeves added: "As you know, it was the repeated and protracted undermining of independent economic institutions like the Bank of England that played a role in the Conservative government's collapse of the economy in September 2022." That's why it's vital to her , never to repeat this serious and damaging mistake again."
Sushil Wadhwani, a member of the chancellor's advisory board, said last month the bank "tried to be too nice and in raising rates frequently, they nullified the benefits by talking servilely."
Ahead of the latest rate hike, Karen Ward, an adviser at Hunt, also weighed in on the debate – she suggested it was time for the bank to "create a recession" by raising rates.
"The difficulty for the bank is that it has to create a recession to create uncertainty and frailty because it's only when companies are nervous about the future that they think they won't be able to sustain price increases," she said. "There is no way around."
Mr Hunt announced in October that he would set up an economic advisory board to offer "independent, expert advice". It's not clear what impact the unpaid, seven-member body had on Treasury Department policymaking.
Ms Reeves asked Mr Hunt if he agreed with the comments and urged him to explain what type of advice he accepted from his council. "How does advice feed into day-to-day policy-making and government decision-making?" she asked.
A Treasury spokesman said: "The Economic Advisory Council provides independent, expert advice on economic policy to support economic growth – its views do not reflect those of the Government." 2 percent target."
Conservative MPs have accused Governor Andrew Bailey and his team of "sleeping at the wheel" in dealing with rising inflation after the bank was forced to hike interest rates to 5 percent last month.
No10 has been faced with questions in the wake of the latest rate hike and initially refused to say whether the Prime Minister thought Mr Bailey was doing a "good job". But Mr Sunak later offered his personal support, saying the governor had a "track record" of managing inflation "appropriately".
The Truss administration, during its tumultuous six-week tenure as No. 10, was widely seen as at odds with the bank, which is entirely independent of government.
The bank had begun raising interest rates and was on the verge of "quantitative tightening" to slow the economy and curb inflation when Ms Truss and Mr Kwarteng embarked on a "Go for Growth" plan in September.
Their disastrous mini-budget, with its debt-financed wave of tax cuts, caused the pound to plummet, lenders to divest mortgage contracts and forced the central bank to buy £65 billion worth of government bonds to prevent the collapse of pension funds.
Mr Kwarteng had openly criticized the Bank of England in August when he was Economic Secretary for the Tory party, saying that the institution was "clearly wrong" in its efforts to keep inflation at 2 per cent.
The Truss ally suggested that the central bank's mandate could even be reviewed by a Truss government, when it was expected that Mrs Truss would win the Tory leadership with her promise to embrace economic orthodoxy.
After Mr Kwarteng was sacked in the final days of the Truss government, Mr Bailey claimed the ex-Chancellor had been "flying blind" with his disastrous mini-budget. And former Fed Governor Mark Carney accused Ms Truss of "undercutting" the Fed and having "opposite intentions" with it.