Lake City Way business owner concerned after another vacant building catches fire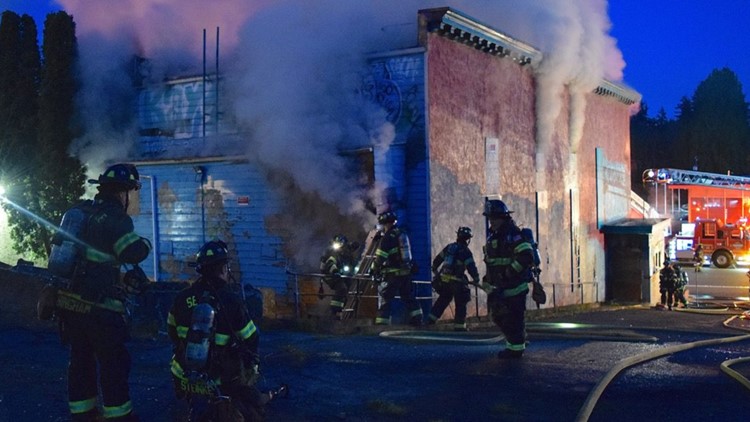 The latest fire occurred Wednesday morning in the 13500 neighborhood of Lake City Way NE.
SEATTLE — Goodies Mediterranean Market has been operating on Lake City Way for 15 years. But owner Jay Hosn said he was concerned about two fires in nearby vacant buildings.
The latest fire occurred Wednesday morning in the 13500 neighborhood of Lake City Way NE. When the Seattle fire brigade arrived just before 4:50 a.m., they saw smoke and flames coming from an empty two-story apartment building.
Firefighters attempted to reach the building but determined it was unsafe to enter the building due to the high heat, smoke and unprotected conditions of the building.
Seattle Police and the Seattle Department of Transportation closed Lake City Way NE as crews worked to extinguish the fire.
Just after 5 a.m., it was upgraded to a fire alarm twice, and additional resources were sent in to protect adjacent buildings.
By 6 a.m. the fire was under control
No injuries have been reported.
The cause of the fire is under investigation.
It's not clear how long the building has been vacant, but Seattle Fire Department officials said the building has been vacant for "a number of years."
This is the second fire at a vacant building in the past few months. In early March, another vacant building in the 14000 neighborhood of Lake City Way NE was demolished. That building was scheduled to be demolished.
The Seattle Fire Brigade requires businesses to protect their property. That includes windows, doors and trash cans – as a safety precaution.
That's a concern for business owners like Hosn, who says homelessness needs to be addressed to help those in need and protect businesses.
"I hope the city, the mayor and Governor Inslee, you know, look at this from a bigger angle and do something about it," Hosn said.