Largest-ever London Marathon set to raise £60 million for charity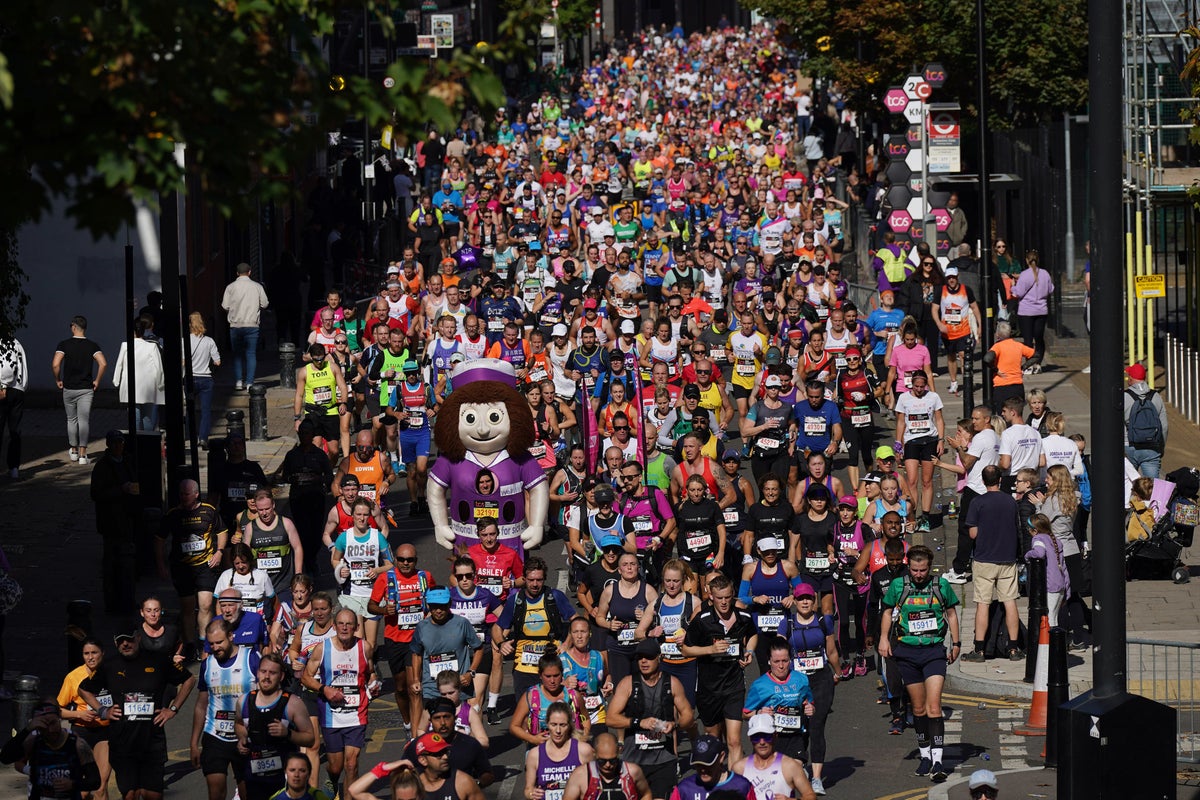 The biggest ever London marathon takes place on Sunday, with tens of thousands of runners set to raise over £60million for charity.
At least 45,000 people are expected to take part – including those classified as non-binary for the first time – up from 40,643 in 2022, making this year's mass participation race the biggest ever, organizers said.
The Met Office has warned that runners in both the elite and mass races are likely to be hit by torrential downpours.
The ages of the racers range from 90-year-old David Picksley to Lana Dales, who turns 18 the day before the race.
This year, for the first time, runners were also able to identify themselves as non-binary in their applications, and 118 gender-neutral people will take up the challenge.
Organizers said it was part of an effort to make the race the "most diverse, equitable and inclusive marathon in the world".
They added that an LGTBQI-friendly "carnival energy" will be channeled along a 250-meter course just past the 21-mile mark on Butcher Row, renamed Rainbow Row for the race.
This track launched in 2022 and directors have said it will be "bigger and better" this year.
Women will also have access to free toiletries throughout the race for the first time and will be able to use 'peequals' – female urinals tested at music festivals such as Glastonbury.
Meanwhile, new moms can take advantage of breastfeeding areas located just before halftime and after the finish line, provided by the charity Best Beginnings.
Famous faces such as Marcus Mumford, frontman of folk band Mumford & Sons, and actor Josh O'Connor, who played Prince Charles on Netflix series The Crown, will be among those in attendance.
Mumford is raising money for the Grenfell Foundation, a charity that supports the bereaved and survivors of the 2017 fire.
EastEnders actors, past and present, will also take on the challenge in memory of Dame Barbara Windsor, raising money and awareness for Alzheimer's Research UK.
The Great Ormond Street Hospital (GOSH) children's charity is the Official Charity of the Year and will use the partnership to launch their appeal for funds for a new children's cancer centre.
Sir Mo Farah will be among the elite marathoners for the last time and he admitted there could be tears after the race.
With a personal best of 2:05:11, Farah, 40, will compete with the world's fastest marathoner, Eliud Kipchoge, 38, of Kenya, whose record stands at 2:01:09.
Hugh Brasher, Events Director of the TCS London Marathon, said this year's event also hosts "arguably the largest field ever assembled for a women's distance race".
Marathon record holder Brigid Kosgei, 10km record holder Yalemzerf Yehualaw and Olympic champion Peres Jepchirchir will be among the participants.
Kenya's Kosgei holds the women's record of 2:14:04.
Runners start the 26.2-mile route from Greenwich Park before passing London landmarks like Tower Bridge and Trafalgar Square.
They will cross the finish line in front of Buckingham Palace on The Mall.
Met Office forecaster Stephen Dixon has warned heavy rain showers are expected to hit the course throughout the day and advised spectators to "bring an umbrella".
"It's unlikely to be a completely dry London Marathon, with showers in the area on Sunday," he said.
"The heaviest of these showers tend to come earlier in the day, but that aside, showers follow behind this early risk of rain and some of these could also be inherently heavy.
"However, later in the day temperatures are expected to peak at around 15C – so it's a relatively mild picture and not disablingly hot."
The marathon also coincides with the third day of an Extinction Rebellion (XR) protest that could see as many as 50,000 activists on the streets nearby.
Climate group members have said they are coordinating with race organizers and have no plans to disrupt it, although spectators have been warned to avoid Parliament Square.
The elite races and mass participation event will be streamed live on the BBC, Red Button and iPlayer from 8:30am.
For those wishing to participate in the 2024 race, voting begins on April 22nd and ends on April 28th.
Next year's entry fee has increased from £49.99 to £69.99 as 'inflation and the current economic climate' have pushed up the cost of running the event.
Organizers have stressed that this fee is "still a great deal lower" than the domestic entry fees of other major international marathons – like Tokyo, which costs £140, and New York, which costs £238.