Lauren Boebert denies claim husband flew into rage after being served divorce papers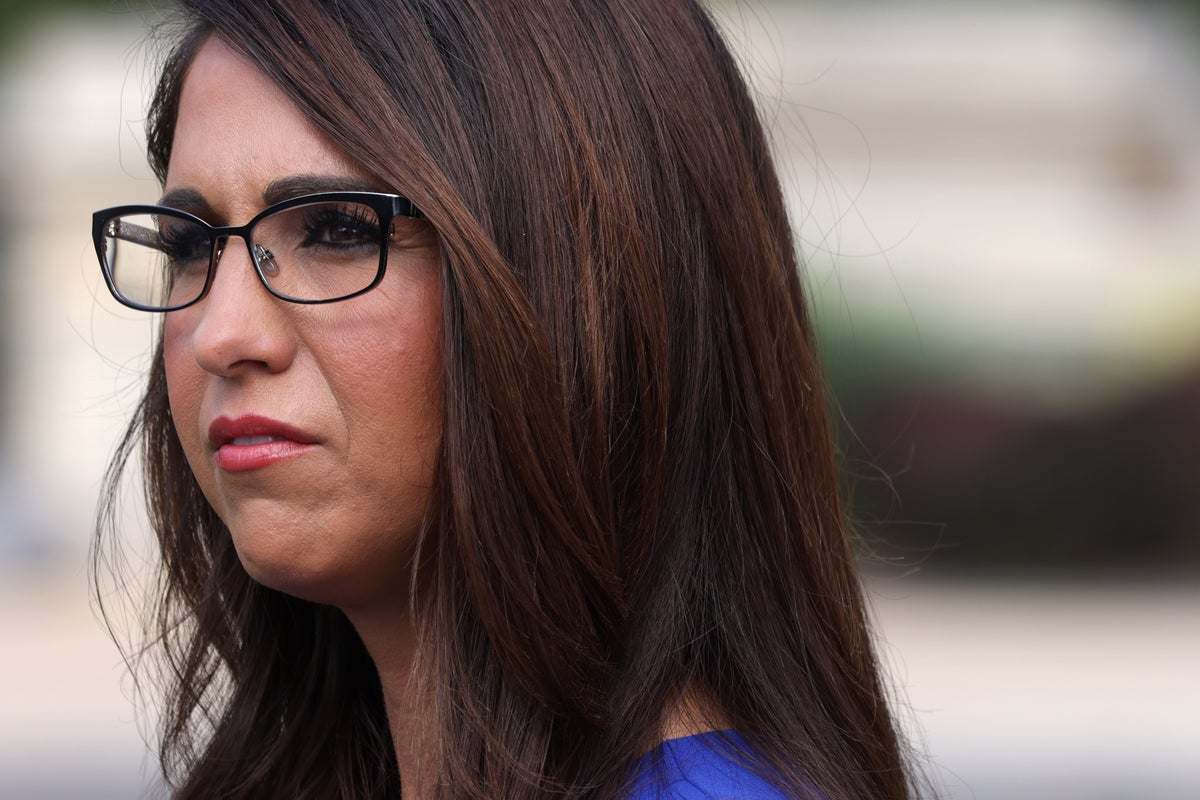 Lauren Boebert has denied claims that her husband got angry and let his dogs loose on a man after he was served with divorce papers.
The Colorado Republican called a state attorney's claim that Jayson Boebert was handed the divorce papers an "utter lie."
The allegations were made in an affidavit that said Mr Boebert drank a beer "out of a glass" and cleaned a gun while being waited on at his home in Silt, Colorado last month. reported The daily beast.
Now Boebert has denied the claims in a text message to the outlet.
"Jayson doesn't sit around cleaning guns and he certainly doesn't drink beer out of a glass, just like he doesn't drink Bud Light." she saidand referred to the recent right-wing controversy.
She added that the dogs were already in the garden when the papers were delivered.
"Our divorce is a private matter, but the misrepresentations need to be addressed." Ms. Boebert added. "Jayson deserves his privacy, no slanderous stories."
Ms Boebert announced on Tuesday that she was ending their marriage.
"It is with a heavy burden on my heart that I have filed for a divorce from my husband," the Colorado congresswoman said in a statement.
"I am grateful for our years of marriage together and for our wonderful children, all of whom deserve privacy and love as we work through this process. I have always been faithful in my marriage and have a strong belief in marriage, which makes this announcement all the more difficult.
"This is really about irreconcilable differences. I do not intend to discuss this matter further publicly out of respect for our children and will continue to work hard to represent the people of Colorado's 3rd congressional district."
Ms. Boebert and her husband Jayson have been married for more than a decade and a half. They live in Silt, Colo. with their four sons and operated a restaurant in nearby Rifle until last summer, when the company's lease was not renewed.
Ms Boebert, a staunch conservative and outspoken Christian, announced in March that her 17-year-old son and his girlfriend were expecting a baby, making her a grandmother at 36.
The MAGA supporter regained her seat in November after the race between the mother-of-four and Aspen Democrat Adam Frisch became so close it required a recount. Mr. Frisch launched a second campaign to get her removed.
Along with Georgia Rep. Marjorie Taylor-Greene, Ms. Boebert is one of the Republican Party's most scathing and controversial stars, following in the footsteps of the 45th President. Targeting her nationwide presence, Mr. Frisch argued that she appeared far less concerned with matters within her district.
He ran on a moderate platform; In the end, the congresswoman retained her seat with just 546 votes.
Mr. Frisch continued, "Ranchers and farmers in western and southern Colorado are pragmatic and they don't see a representative doing the job they want to see," Mr. Frisch said The Independent a day after announcing his new campaign earlier this year.
He said the campaign chose to make the announcement as early as February 14 because "the momentum we had from the last campaign was still there" and because he believes Boebert could "make a potential course correction." … it's pretty clear that's not happening."
He outlined "three hurdles we had last time: we only had a short time, we had very little notoriety, and although we raised more money than she did from July to the end of the campaign, she had more money saved." as we.
"And I think if we had another quarter of a million dollars or another two weeks of racing, we probably would have won," Mr. Frisch said The Independent. "And I think if the race had happened a week later we would have won."